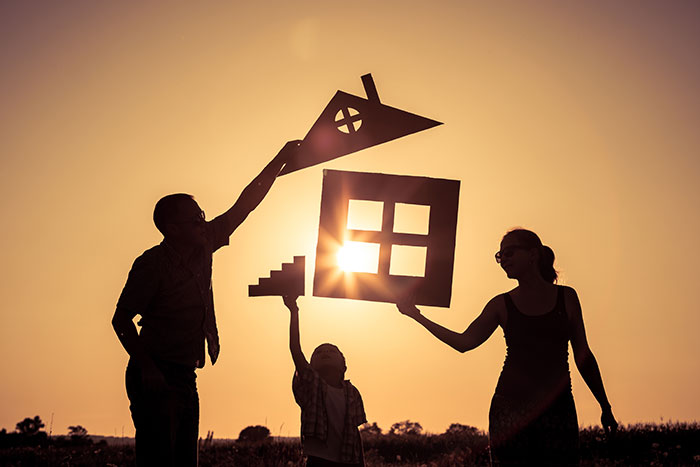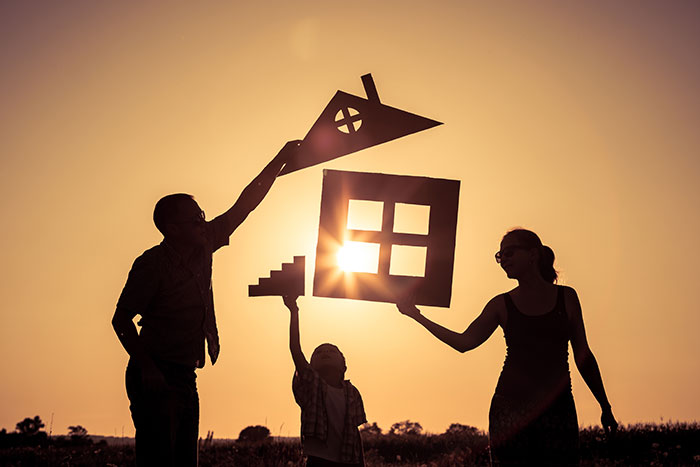 By Patricia Gaylor I'm sure you can all agree we are living in an unprecedented time. Before COVID-19, our industry was experiencing exponential growth (in a good way), with the onslaught of new technology that we all witnessed at KBIS…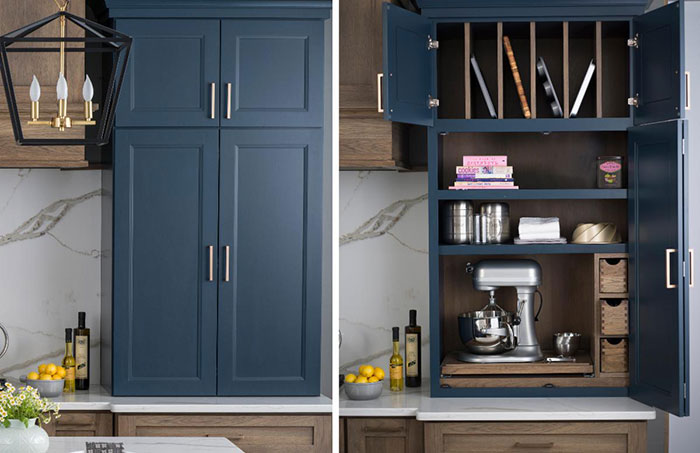 Dura Supreme announces a series of new customized pantry cabinets, Larder Storage Centers. As homeowners seek more kitchen storage solutions to help keep their countertops clutter-free while still offering all of their everyday items close at hand, the need for…

Graham & Brown has introduced a wallpaper and paint decorating app. Perfect for visualizing paint and wallpaper options from the comfort of the couch, designers and clients can easily benefit from the app while home during social distancing. The app was created to empower designers and consumers…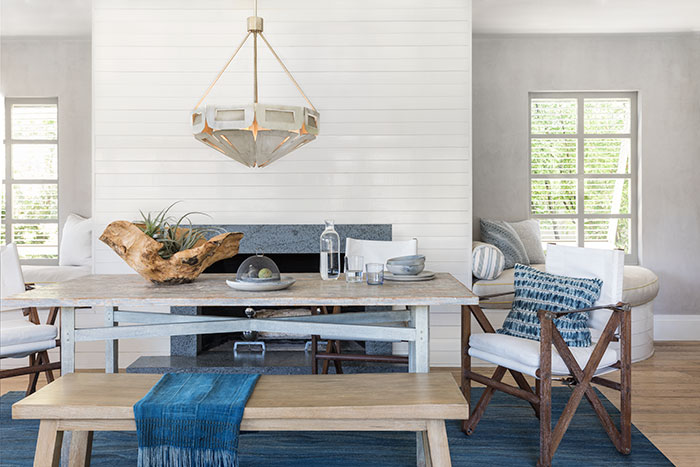 If you are seeking some creative fuel for your next home renovation or another décor project, Progress Lighting has you covered with their online coloring book, Color Your World with the Jeffrey Alan Marks Point Dume Collection. "Progress first introduced…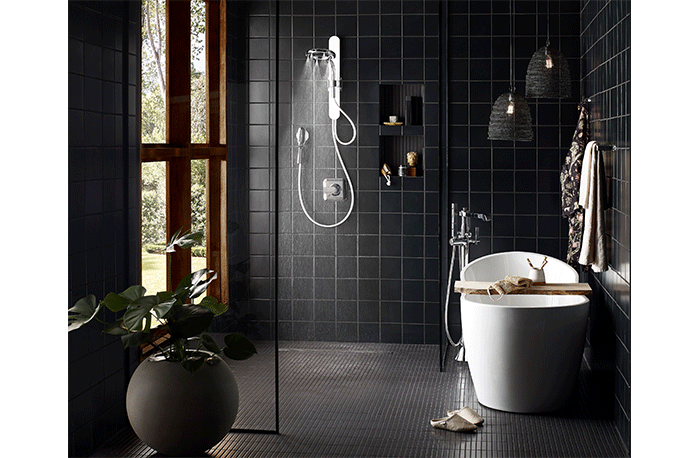 Moen is turning its strength toward making a large, new commitment to conserve water for the planet on Earth Day through what it is calling Mission Moen. Mission Moen is focused on helping preserve and protect our planet's most precious resource…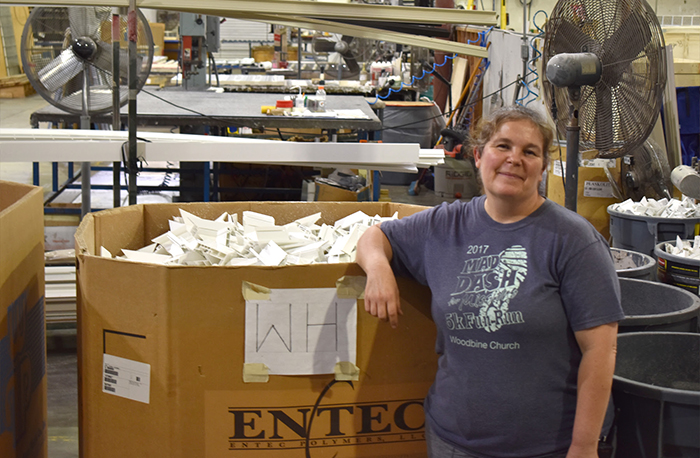 In honor of the 50th anniversary of Earth Day on April 22, Hy-Lite is sharing information on the company's efforts to reduce, reuse and recycle. Each year, the Hy-Lite manufacturing operation in Pensacola, Fla., reports recycling statistics like 18,777 pounds…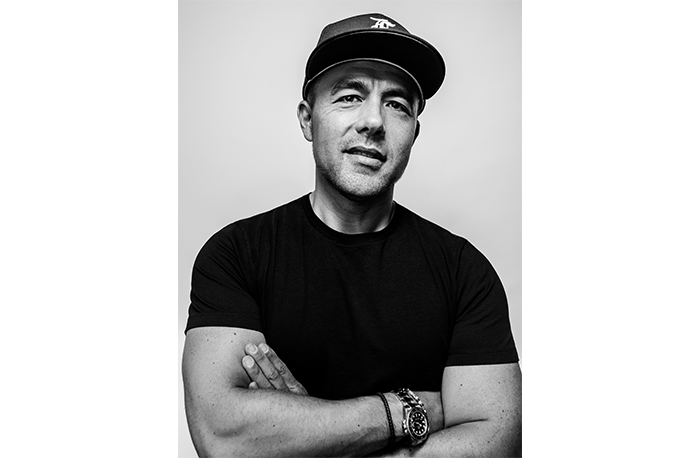 Sensio Inc., now known as Made by Gather, has announced a new phase of growth following founder Shae Hong's purchase of the company in 2018 supported by the infusion of institutional capital from Backcast and J.P. Morgan. Sensio's new brand identity…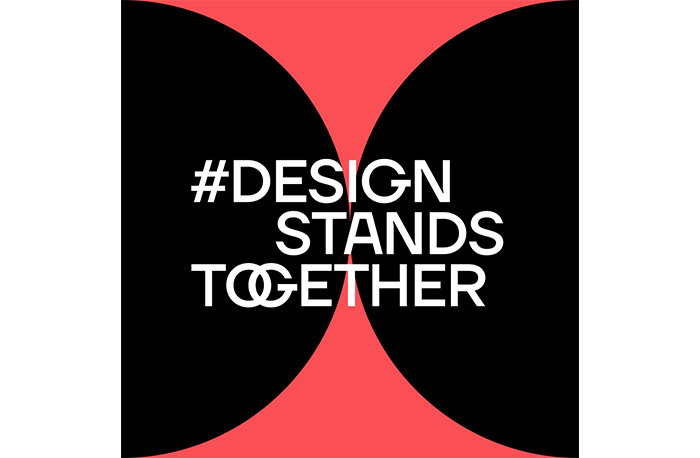 With the latest news regarding the novel Coronavirus, Novità Communications, the 25-year old public relations and marketing agency with headquarters in New York and Milan, has decided to launch a social media campaign in order to bolster spirits in this…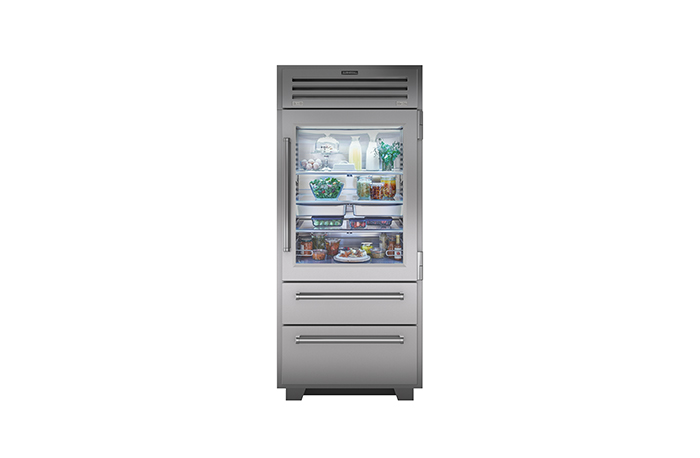 Editor's Note: We featured an article on this topic in our January 2020 issue, but we had more information we wanted to expand on in an online feature. Timeless and classic can describe a design style, a type of material…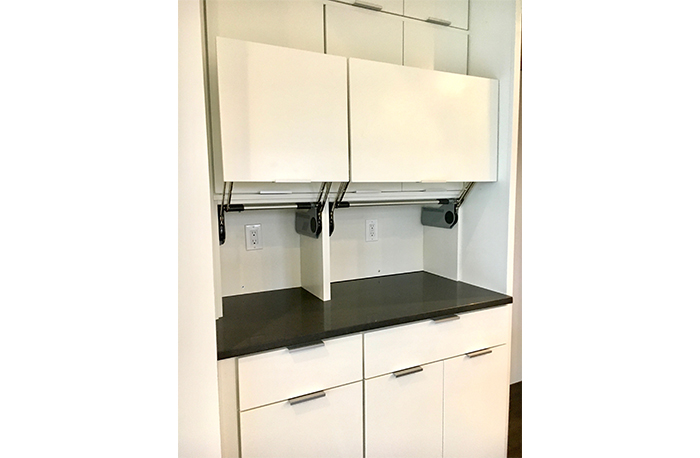 We've all seen the Top 10 lists of electronics, colors, wellness features and other design elements that are supposed to be key if you want to give your projects a fresh, up-to-date look for the new decade. But how do…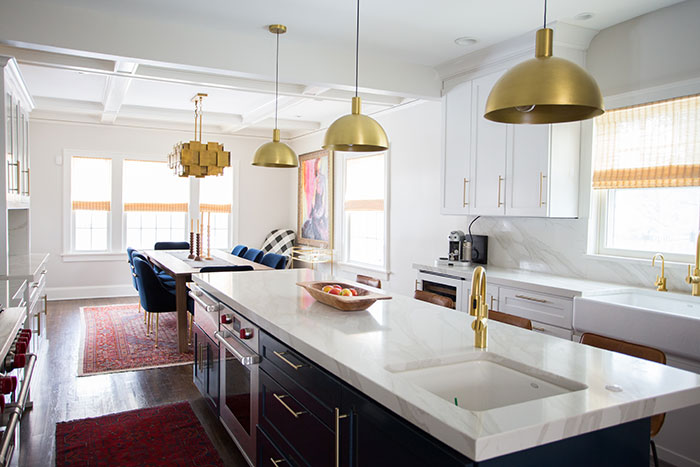 Large Islands continue to be a prominent feature in renovated kitchens, according to the 2020 Houzz Kitchen Trends Study. The survey of nearly 2,600 U.S. homeowners using Houzz who are in the midst of, are planning, or recently completed a…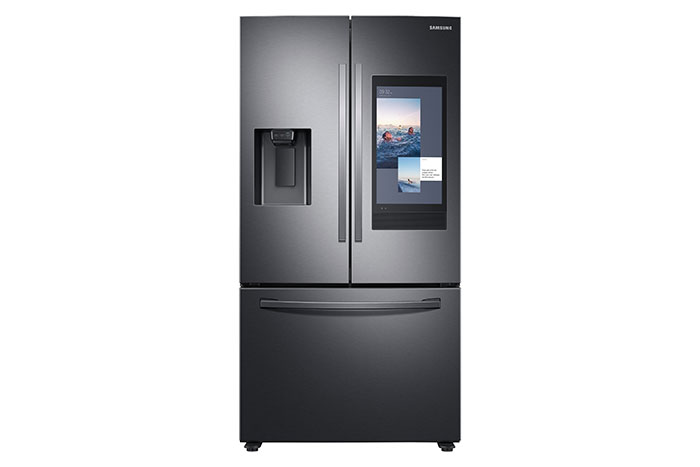 Samsung Electronics Co., Ltd. today unveiled the latest edition of its Family Hub refrigerator, with intelligent new features that automate meal planning and other daily tasks and deliver a more personalized experience. Family Hub for 2020 will enable families to…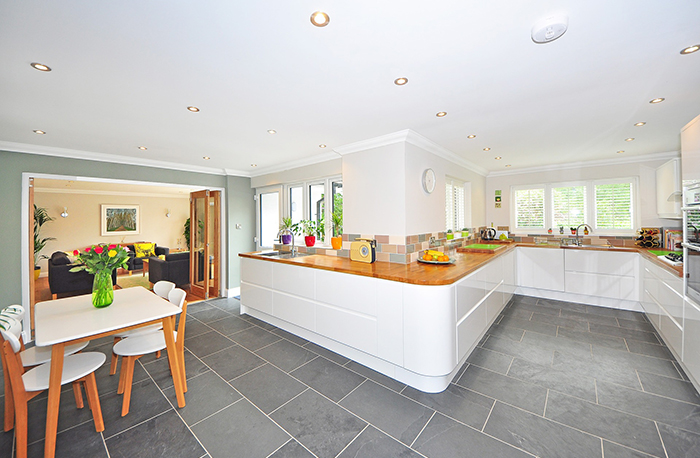 Think granite countertops are passé? Think again – they're almost twice as preferred as quartz. That's just one of the findings of a national survey of U.S. homeowners conducted on behalf of Erie Insurance. The company commissioned the survey to…

Hausera, a new kind of online kitchen & bath specialty retailer that is launching this fall, has released the findings of its inaugural "The Truth about Kitchen and Bathroom Renovations" survey. With the goal of uncovering facts, trends and challenges…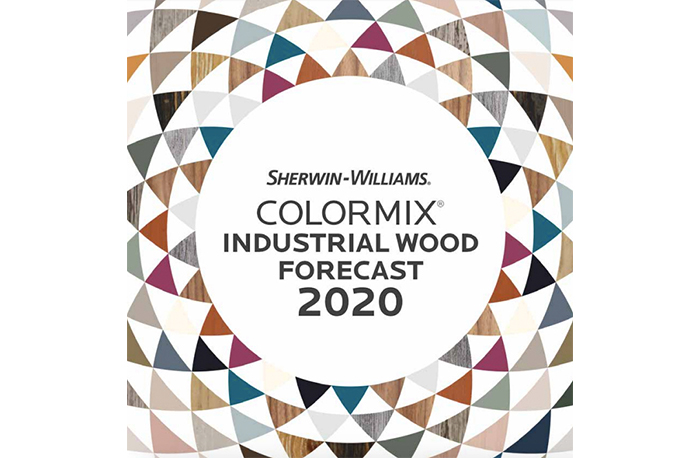 Sherwin-Williams, through its Global Color & Design Center in Greensboro, N.C., announces its 2020 Industrial Wood Colormix Forecast. This forecast is built to inspire product developers and manufacturers of wood products to create finishes in line with consumer preference shifts…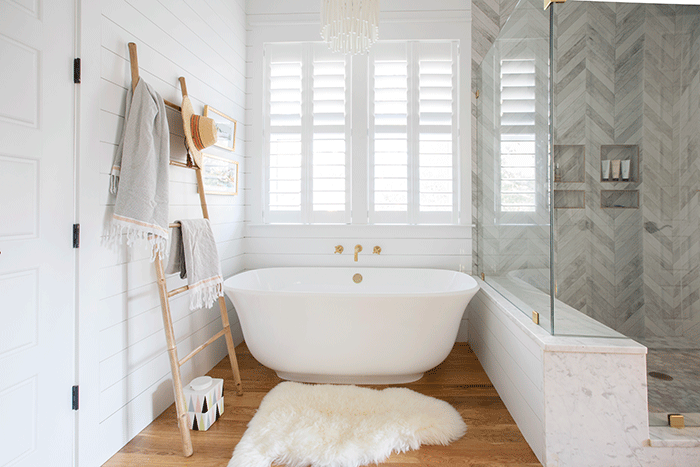 Master bathrooms are making extra space for showers, according to the 2019 U.S. Houzz Bathroom Trends Study. Four in five homeowners upgrade their shower during master bathroom renovations (83 percent) and over half increase their shower size (54 percent). This…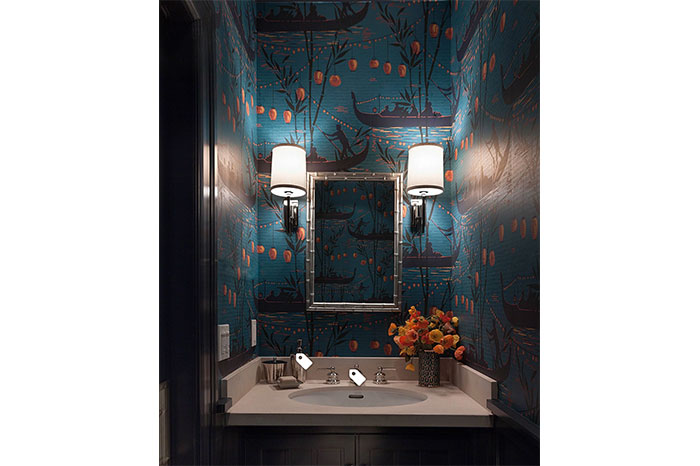 In the case of which Houzz photo will inspire a new room in the CLUE board game's stately mansion, thousands of voters have solved the mystery. An elegant new bathroom based on California interior designer Ann Lowengart's work will replace…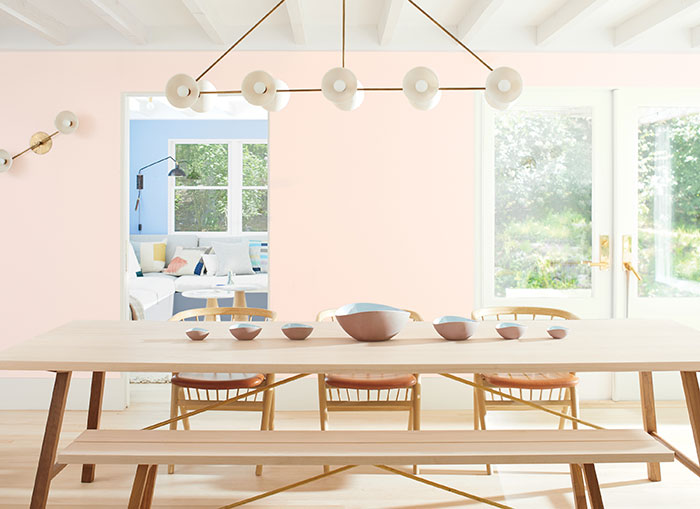 Benjamin Moore revealed its Color of the Year 2020 as First Light 2102–70 – a soft, rosy hue blooming with potential. With a new decade on the horizon, the industry leader took a fresh approach to mark this milestone. An approach…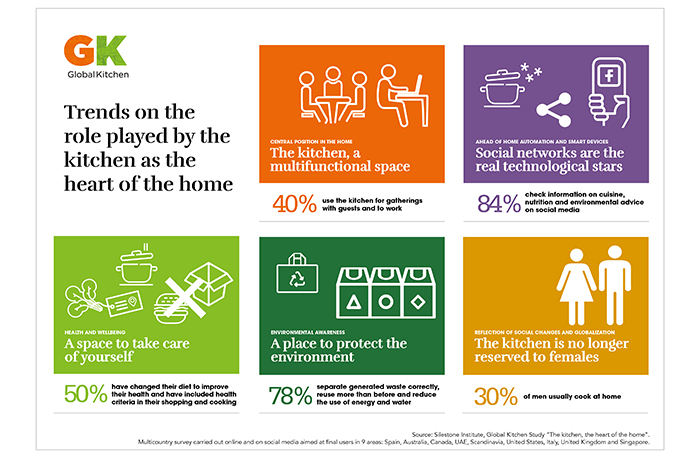 Cosentino Group is pleased to unveil its 2019 Global Kitchen Study. Informed by a year of in-depth, cross-discipline research from the Silestone Institute, Cosentino's research platform on the kitchen space, the study compiles findings from a survey of kitchen studios…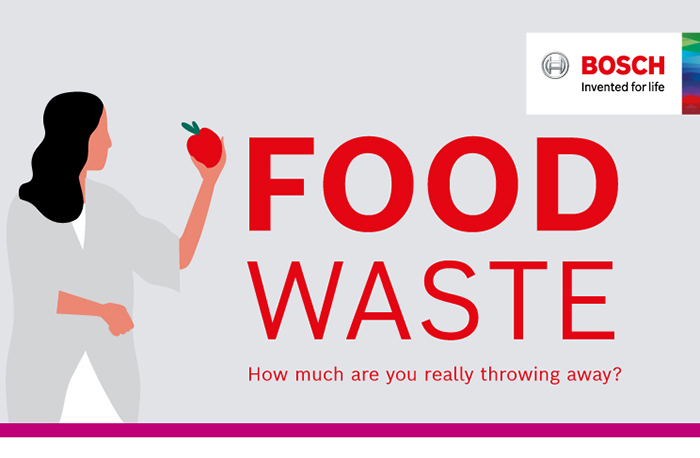 Bosch home appliances has unveiled the results of a new study examining the food waste habits of Americans. In the survey of 2,000 respondents, conducted by OnePoll on behalf of Bosch, Americans opened up about their weekly food waste habits and…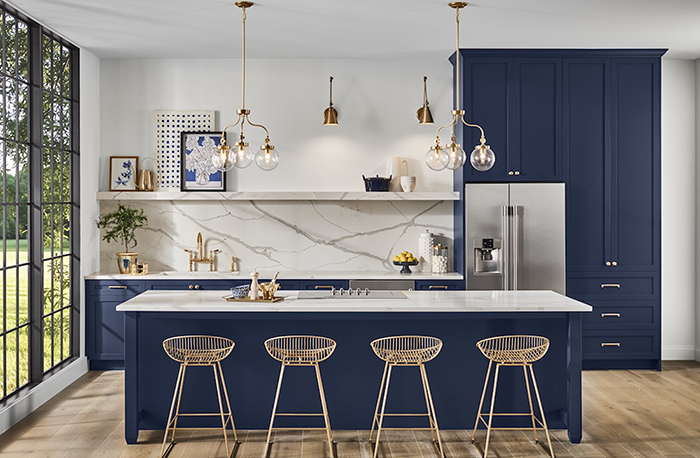 Sherwin-Williams is announcing the 2020 Color of the Year: Naval SW 6244, a rich navy hue that strikes a balance between calm and confident. Naval is where the glamour of Art Deco meets the serenity of a yoga studio, pairing…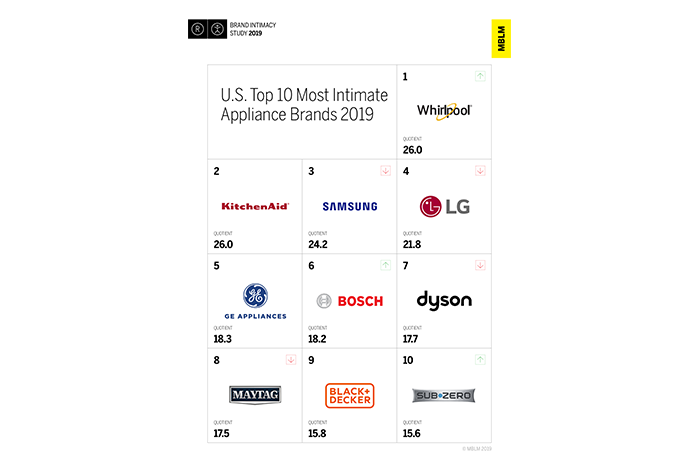 The appliance industry ranked 13th out of the 15 industries studied in MBLM's "Brand Intimacy 2019 Study," which is the largest study of brands based on emotion. Brand intimacy is defined as the emotional science that measures the bonds we form with…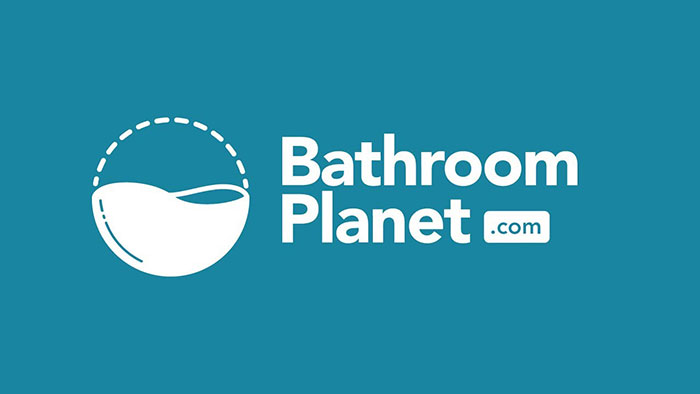 Source: https://www.bathroomplanet.com/ Smart home technology has been advancing at an unparalleled rate over the last decade and is changing the way we live our lives by giving us the chance to control all aspects of the home at a touch…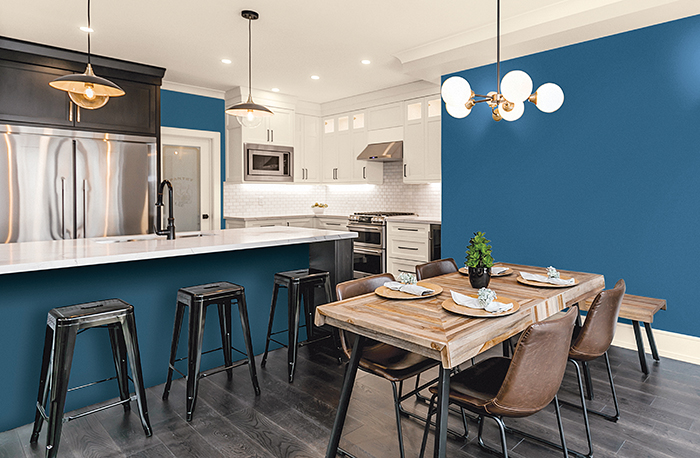 In today's fast-paced, data-driven world where stress and anxiety are all too common, people can find refuge from their blues by surrounding themselves with, well, blue. Not just any blue, though – think deep, comforting, inky cobalt blue. That's the…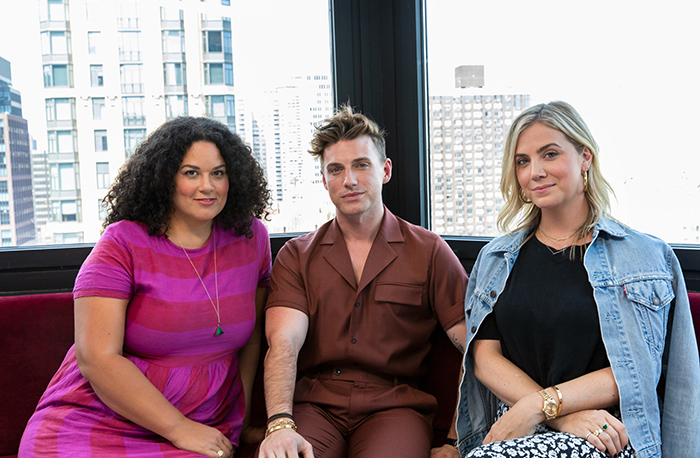 The 2019 Delta Design Trust has launched, bringing together distinguished authorities in the design space for the second year in a row. The tastemakers will collectively discuss the latest in interiors and share unique advice and perspectives on what it…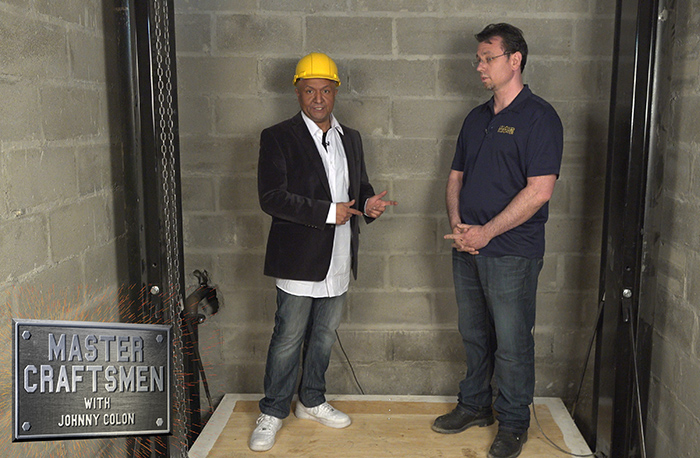 The Percy Jobs & Careers Center launched "Master Craftsmen," an online reality show featuring craftsmen who use their skills and specialized knowledge to build today's modern infrastructure. The show is designed to reestablish the skilled trades as an opportunity to…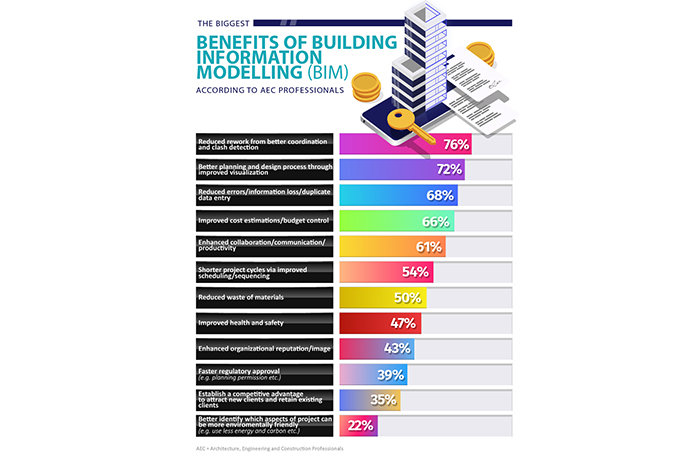 One of the most important developments in the world of PropTech over the last few years has been that of building information modeling (BIM). The technology essentially facilitates architecture, engineering and construction (AEC) professionals to create and use an intelligent…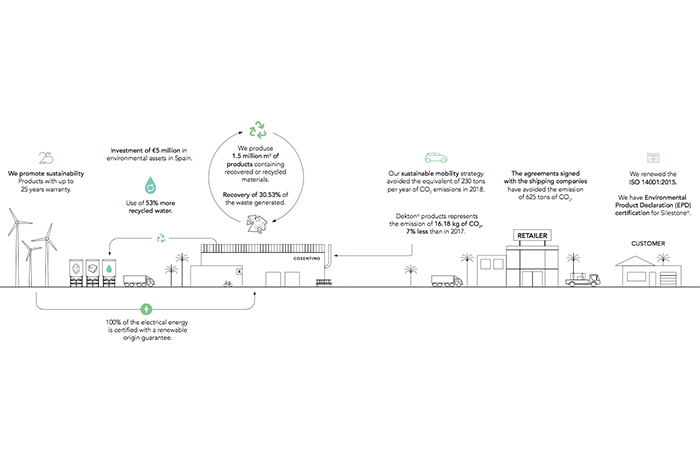 In honor of World Environment Day on June 5, Cosentino celebrated the distinction of being one of Spain's most recognized companies for its substantial support of sustainability and the Circular Economy. In Spain, in 2018 alone, Cosentino rolled out investments…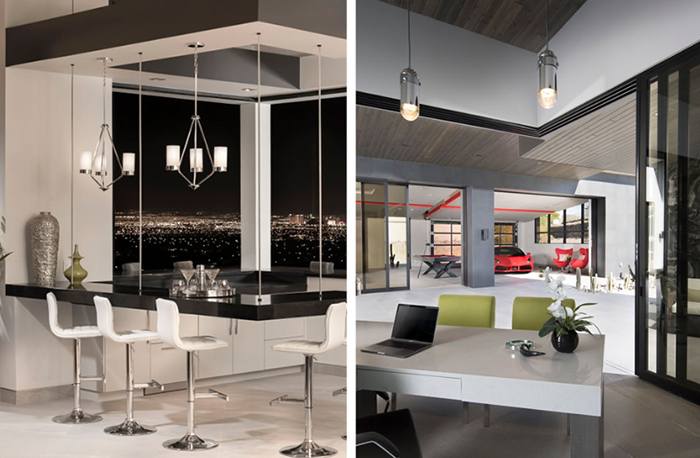 For the past 36 years, the National Association of Home Builders (NAHB) and other sponsors have supported the building of a show house near the International Builders' Show to demonstrate products, building techniques and design trends. The 2019 New American Home, located…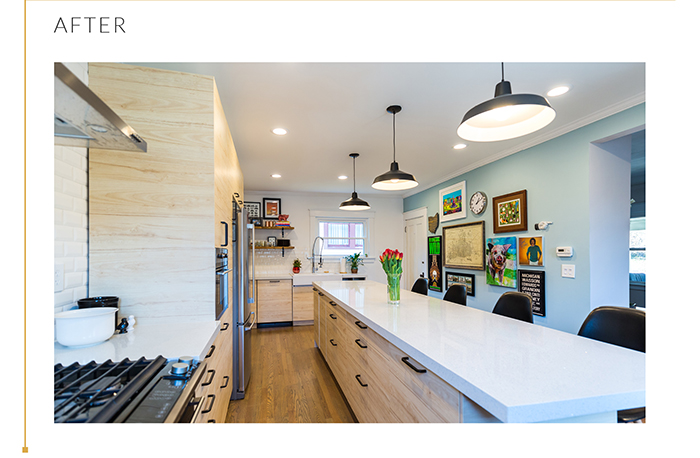 Spring and summer are the busiest times of year when it comes to remodeling and renovating homes. Many Americans opt to DIY and tackle a big project themselves for fear of spending too much money hiring professionals. But a new study…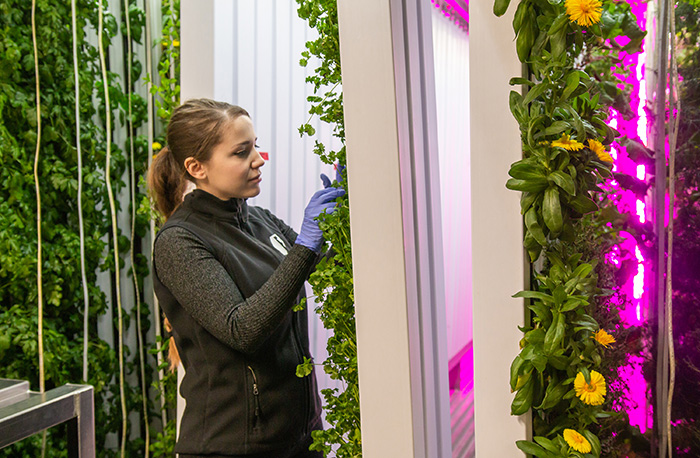 Clarke, New England's Official Sub-Zero/Wolf/Cove Showroom and Test Kitchen, has invested in a 40-ft. self-contained hydroponic farm to exemplify the importance of fresh food as part of a healthy lifestyle. "Our farm was delivered outside our Milford, Massachusetts, showroom eight…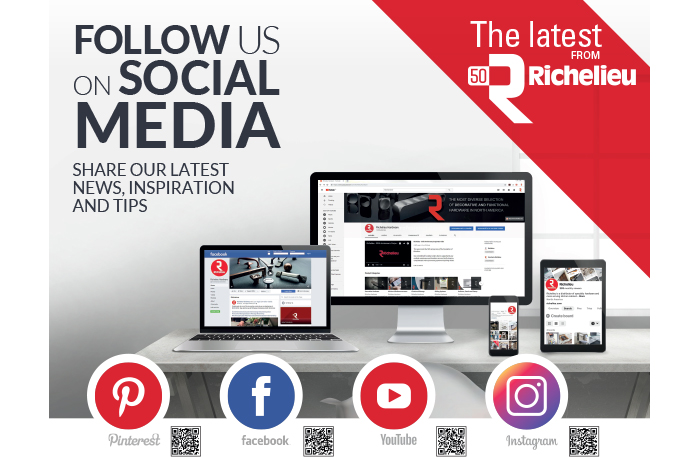 Following Richelieu on social media provides up-to-date information on what's trending and offers the chance to watch how-to videos to sharpen skills. In addition to its already popular YouTube channel, Richelieu has officially launched new Facebook, Instagram and Pinterest pages….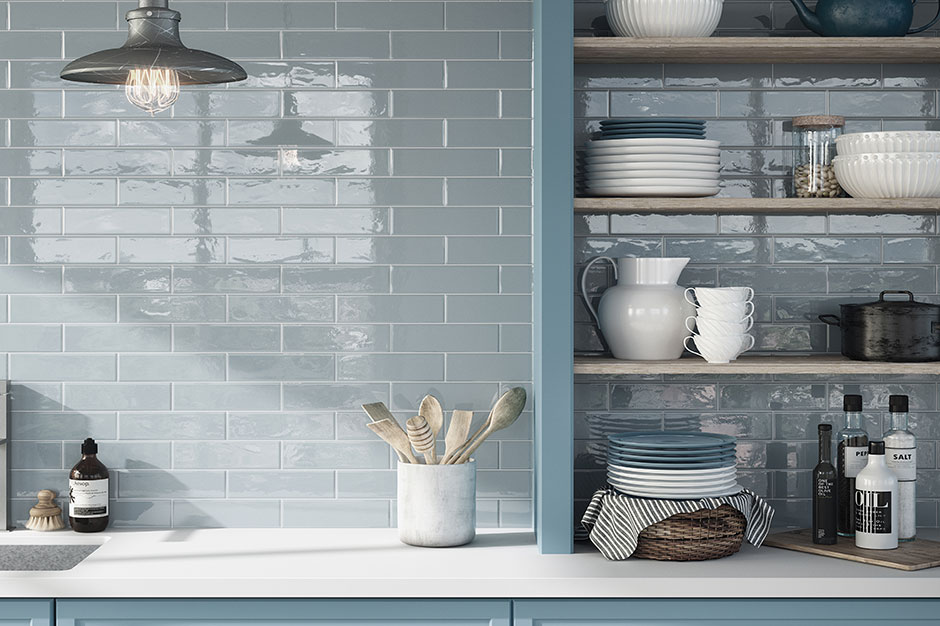 Celebrating its 30th year, Coverings – the largest international tile and stone show and conference in North America – featured the latest from more than 1,100 exhibitors and 40 countries last week in Orlando. Along with touring the show floor,…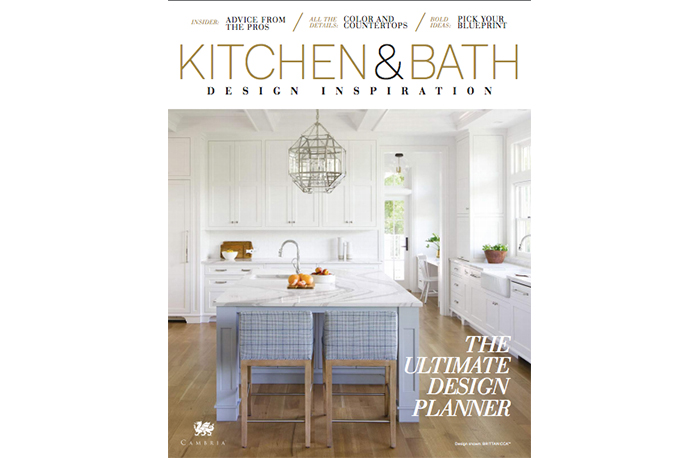 Cambria is expanding its editorial platform this spring with the release of its first-ever workbook supplement, Kitchen & Bath Design Inspiration: The Ultimate Design Planner. The Planner will be bound within Cambria Style, the brand's award-winning luxury home and lifestyle…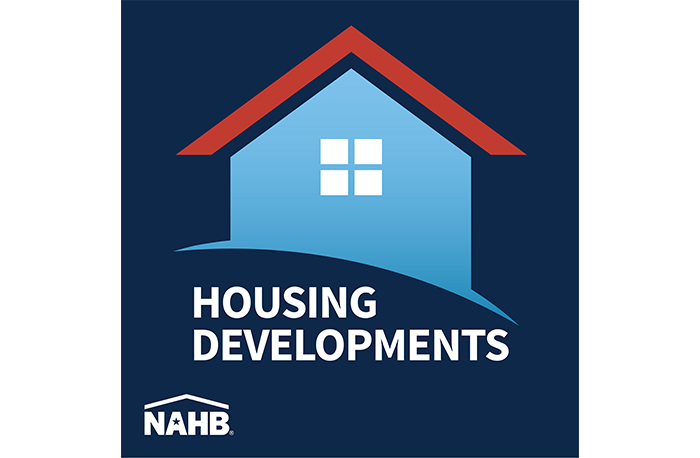 NAHB has launched "Housing Developments," a new podcast co-hosted by CEO Jerry Howard and Chief Lobbyist Jim Tobin, who will provide expert analysis on the latest news in the housing industry and inside NAHB. The show will also feature special…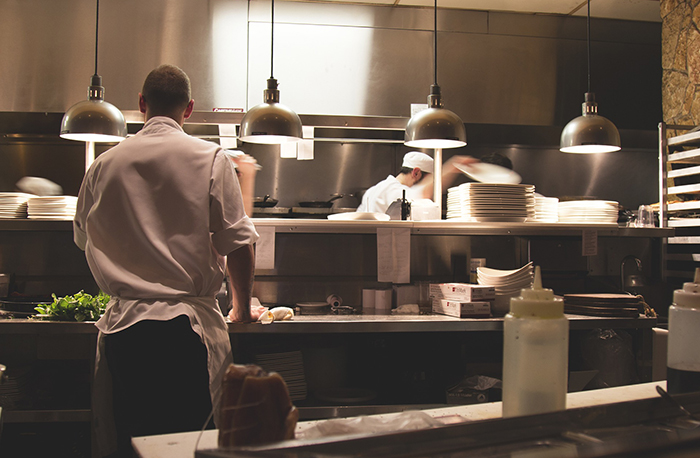 Signature Kitchen Suite has entered into a strategic partnership with Cuisine Solutions and the Culinary Research and Education Academy (CREA) to promote the sous-vide culinary method – an innovative slow-cooking technique that precisely prepares food with more tenderness and flavor…

Houzz Inc., a platform for home remodeling and design, has released the Q1 2019 Houzz Renovation Barometer, which tracks residential renovation market expectations, project backlogs and recent activity among businesses in the construction sector and the architectural and design services sector. The Barometer points to mixed expectations for home renovation market activity…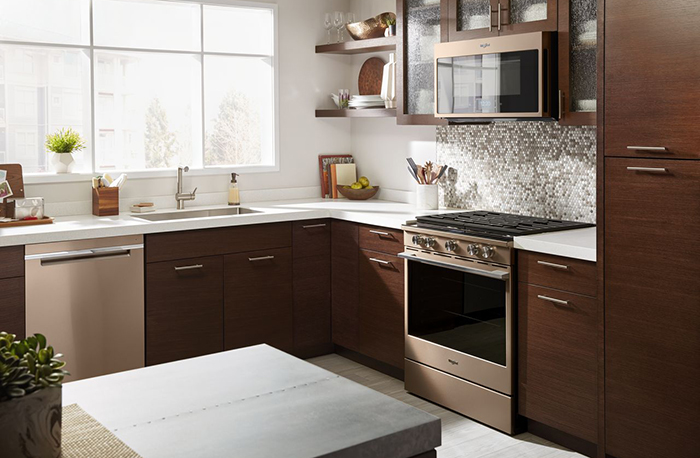 A new, global survey from Whirlpool Corporation is helping paint a picture of what future smart homes will look like. Responses from more than 2,000 homeowners and renters in four different regions of the world show what consumers are craving…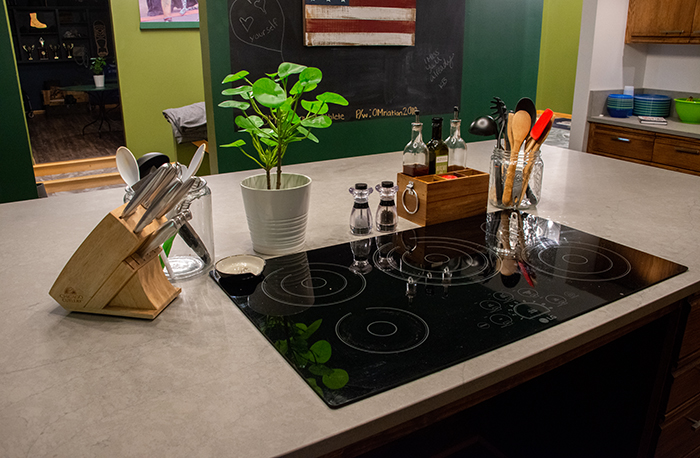 Since its inception in 2011, the Oscar Mike Foundation has stood for keeping injured veterans on the move. Founded out of the necessity to give injured veterans the ability to participate in adaptive sports despite high costs, the Oscar Mike…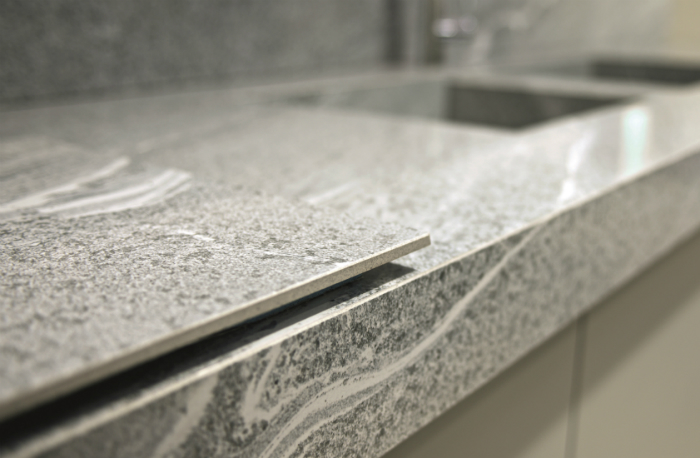 Each year, Cersaie, the international exhibition of ceramic tile and bathroom furnishings, welcomes more than 100,000 designers, installers and buyers to Bologna, Italy, where they learn about cutting-edge products and technologies in the tile industry. Following are seven of the biggest tile…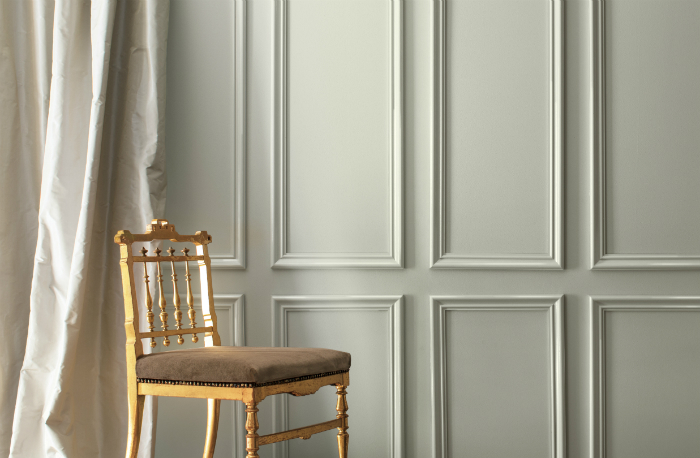 Benjamin Moore announced its Color of the Year 2019 – Metropolitan AF-690, a stylish gray with cool undertones. "Comforting, composed and effortlessly sophisticated, Metropolitan AF-690 exudes beauty and balance," said Ellen O'Neill, Benjamin Moore director of strategic design intelligence. "It's a…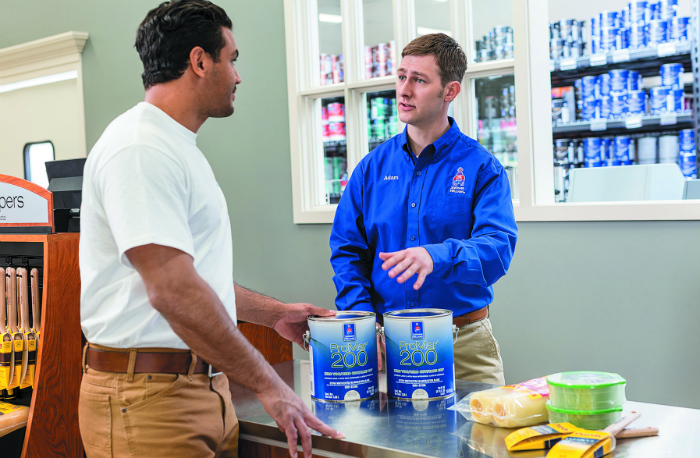 Seeking to be part of the solution to a growing painting industry challenge, Sherwin-Williams is launching a multitiered initiative aimed at easing the shortage of qualified professional painters. The long-term effort is designed to make it easier to find qualified painters and…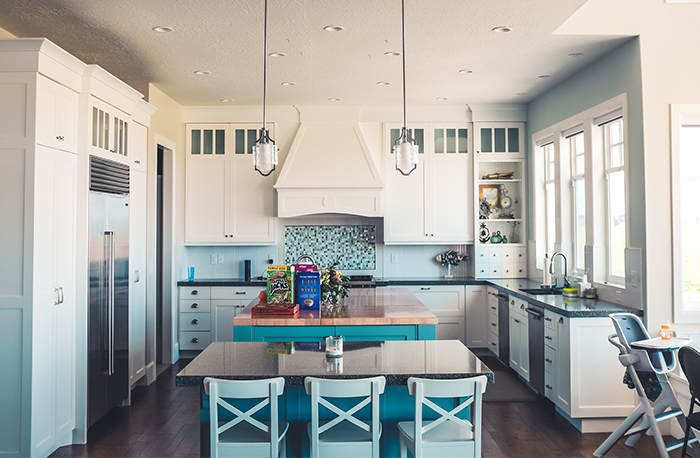 Trends. It's a word that can concurrently make people curious and at the same time roll their eyes. As one of the respondents to our most recent poll of the Houzz community of consumers and industry professionals said, "I don't…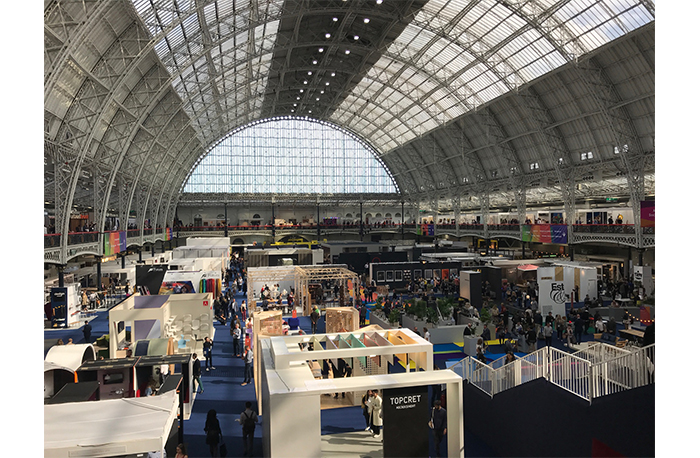 KBB was recently invited to attend the National Kitchen & Bath Association's Global Connect Meetup event in London. Taking place at the same time was the London Design Festival, an overarching, annual event with many moving parts, some of which…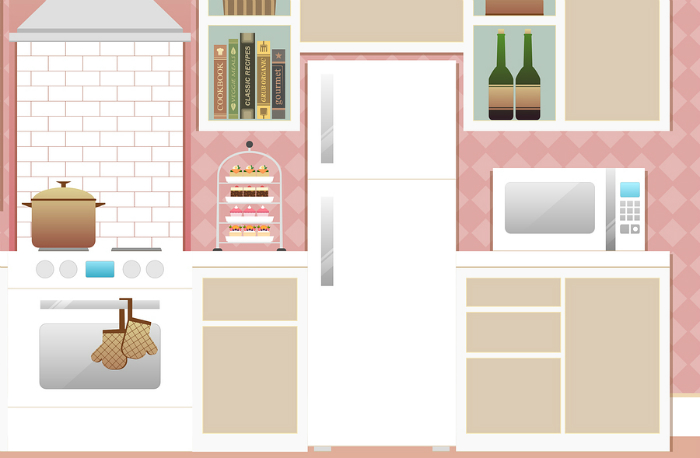 The appliances industry ranked second to last in MBLM's Brand Intimacy 2018 Report, which is the largest study of brands based on emotions. The top three in the industry were Samsung Appliances, KitchenAid and LG Appliances. The remaining brands in the Top 10…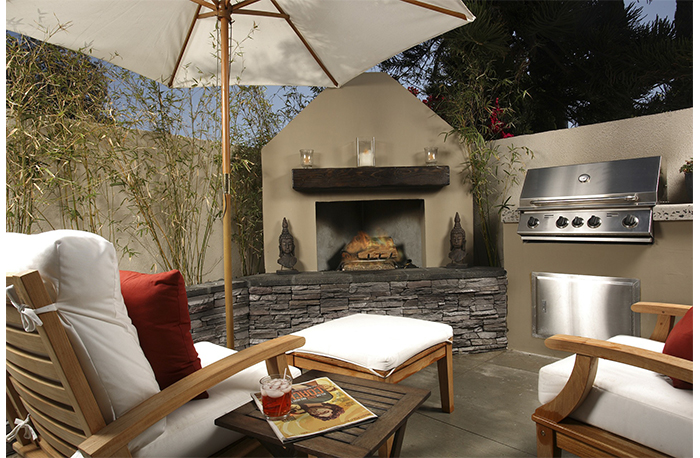 Kitchens and baths are the rooms people renovate most often in the home. Oftentimes – if there is enough space, budget and creativity – "sister" spaces like laundry rooms and bar areas are incorporated into these projects. KBB recently asked…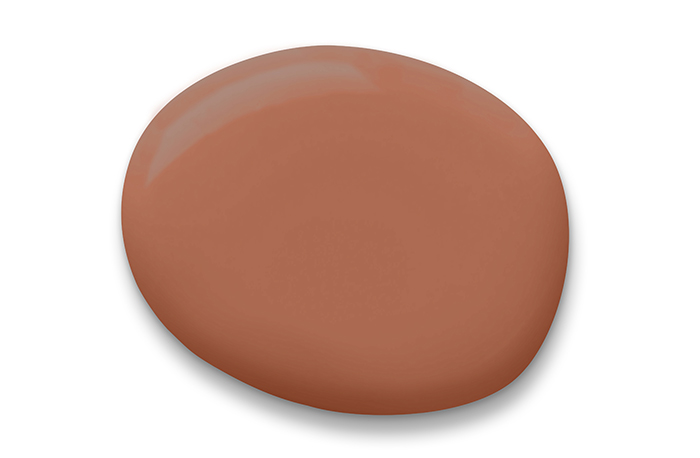 Cavern Clay SW 7701 is Sherwin-Williams 2019 Color of the Year. A warm terracotta color with ancient, elemental roots, Cavern Clay is a nod to midcentury modern style, but with the soul of the American Southwest, which together create the…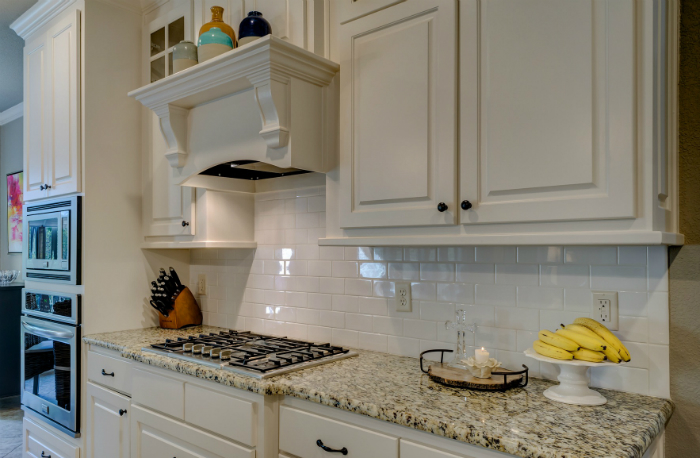 Manufacturers that can maximize brand value by fulfilling customers' needs through products and front-to-end experience will see a boost in customer satisfaction, according to the J.D. Power 2018 Kitchen Cabinets Satisfaction Study. Overall satisfaction among kitchen cabinet customers increases to 839…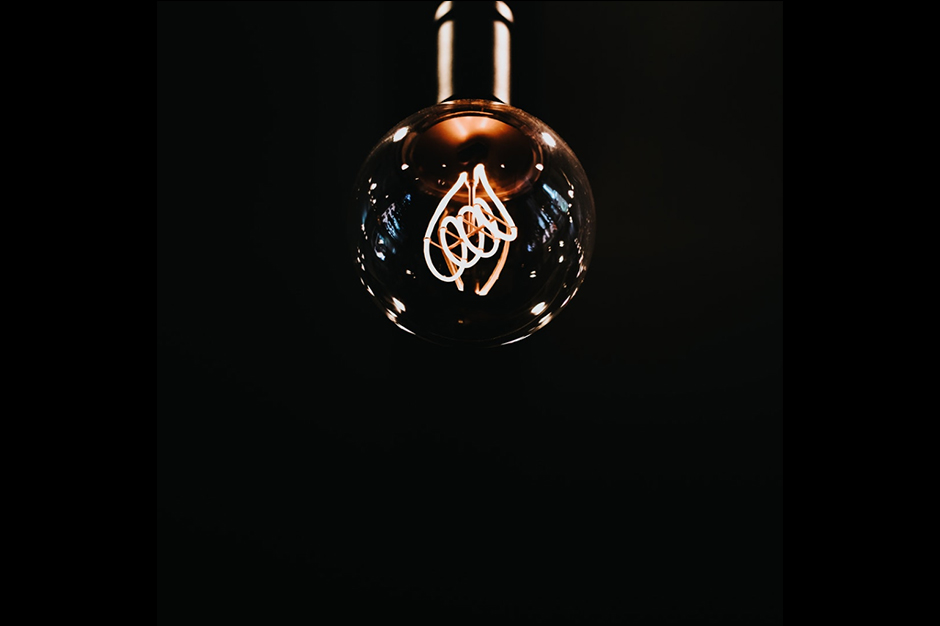 Homeowners get a lot of bright ideas in two of the most important rooms in their homes — the kitchen and bathroom — so it makes sense that these areas be properly illuminated with carefully chosen artificial lighting sources. After…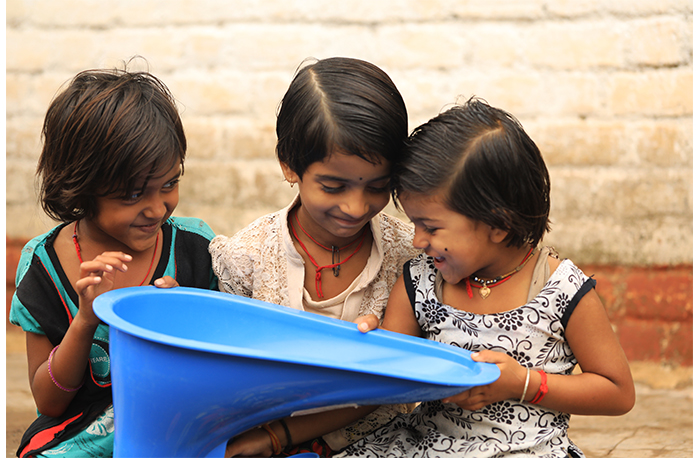 UNICEF and LIXIL have partnered to help vulnerable children gain access to safe and clean toilets. The partnership, called "Make a Splash! Toilets for All," will leverage the two organizations' complementary strengths to support progress toward the sustainable development goal…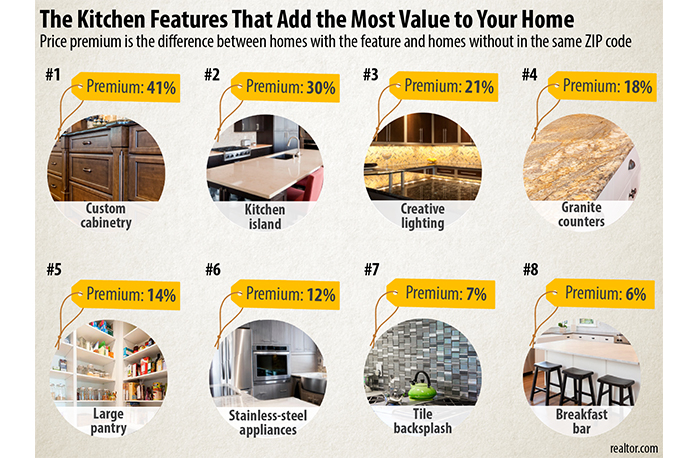 It's often said but never truer: the kitchen is the heart of the home. In today's open-floor home designs, the kitchen takes center stage as the place where the family's lifestyle starts. Kitchens are the most important selling point for…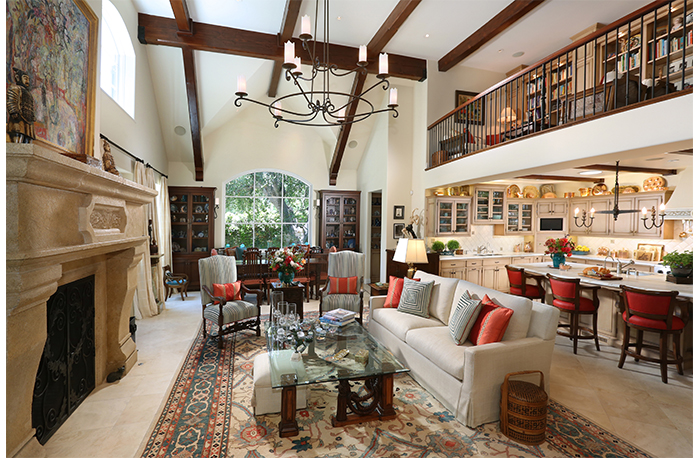 Elements like smart lighting, electronic door locks, intelligent thermostats, automation systems and whole-house audio and video setups are becoming increasingly mainstream. As home tech becomes more widely available, less expensive and less complicated to install, consumers are clamoring for cool…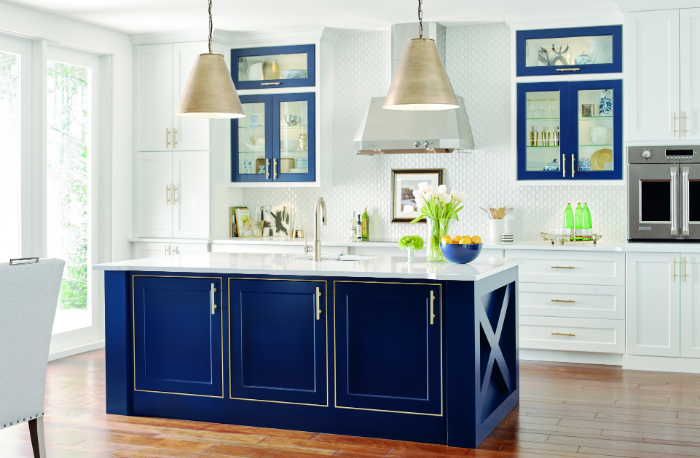 At a time when Americans' lives are busier than ever, and to-do lists feel never ending, organizing makes homeowners into masters of their universe – a staggering 95 percent of homeowners say they feel when their home is organized that…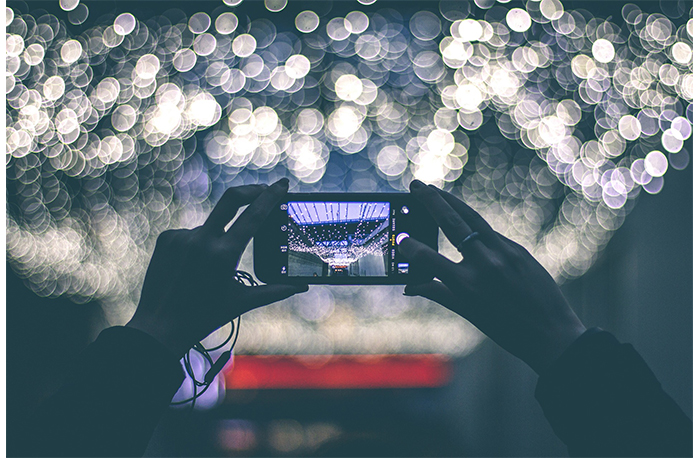 In this advent of the connected home and the Internet of Things, we recently asked the Houzz community of consumers and industry professionals if they have installed smart home automation or smart tech into their own homes or their clients'…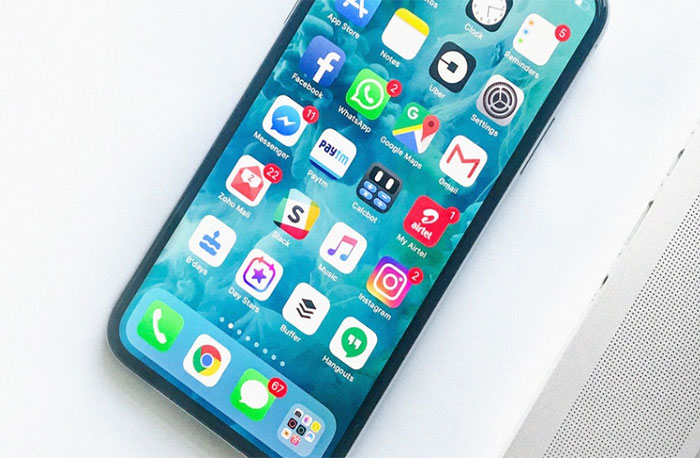 It's no secret that technology is a growing part of all aspects of our daily lives. We hold increasingly more sophisticated devices in our hands with every new generation of smart phone, so it's only natural that almost anything that…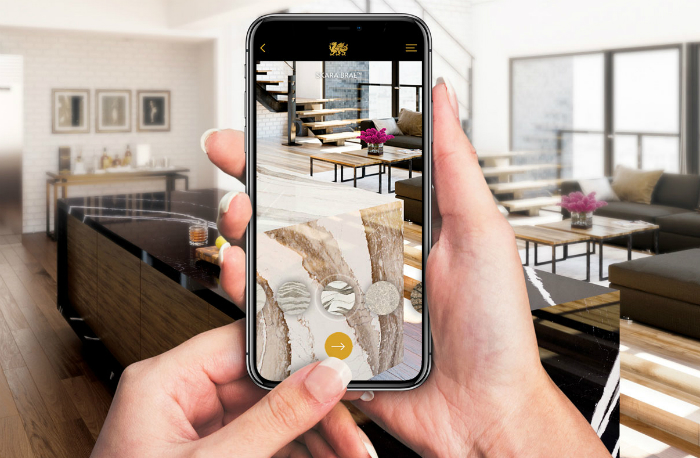 Cambria's Augmented Reality (AR) App allows users to view more than 150 Cambria offerings.  With the updated app, homeowners and designers can envision Cambria in the space they are designing using four simple steps. Open Cambria AR and move your…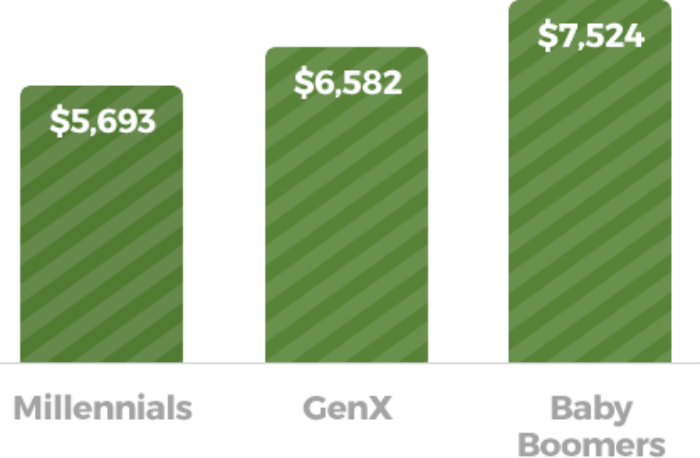 HomeAdvisor has released its True Cost Report focused on generational trends in home improvement, the negligible impact of rising interest rates on homeowner decision making and the growth of home improvement spending. Findings of the report show that 80 percent…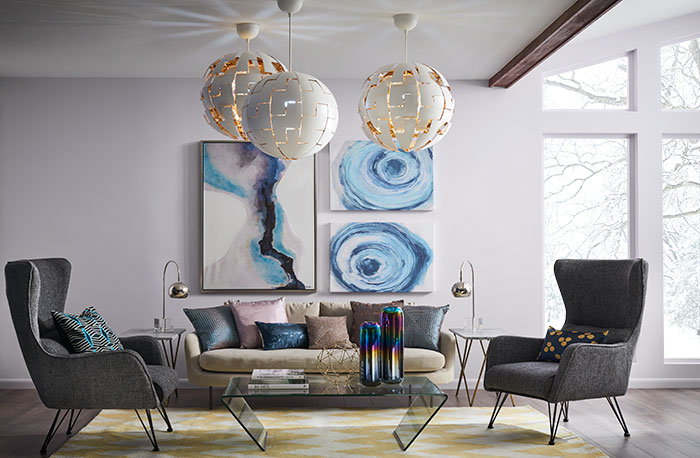 Sherwin-Williams announces its 10th annual Colormix Color Forecast, with a single master palette to inspire and help professionals and DIYers select the right color scheme for any project. This year's 42-color palette can be divided into six themes, or color…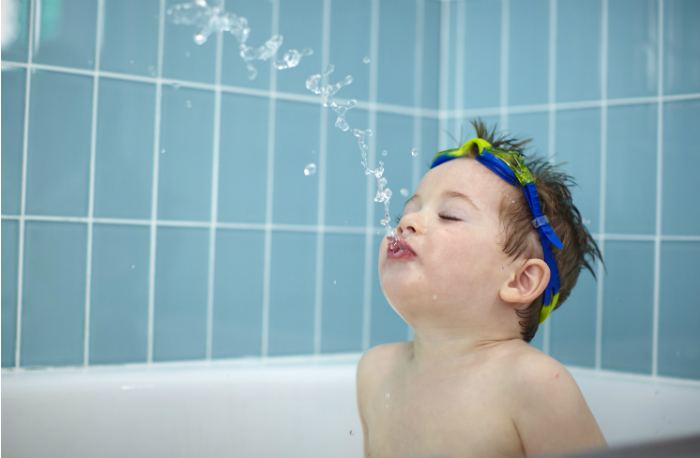 In recognition of World Environmental Day last week, Kohler Co. announced the expansion of its environmental and human health product disclosures for its kitchen and bath products. Kohler has released its first Declare human health product labels for two enameled cast iron fixtures – the Villager bathtub and the Brockway sink. Declare labels, similar to food ingredient labels, detail the…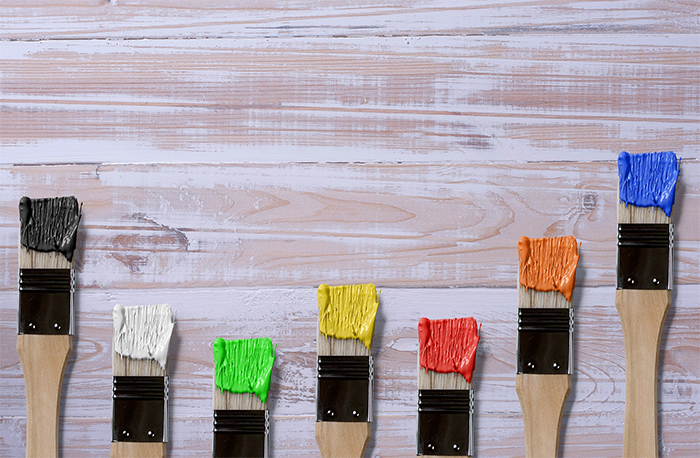 Safe and healthy design for all ages and needs is at the forefront of everyone's minds these days. Last month, KBB asked the Houzz community – which includes industry professionals and consumers – what today's main requests are for building…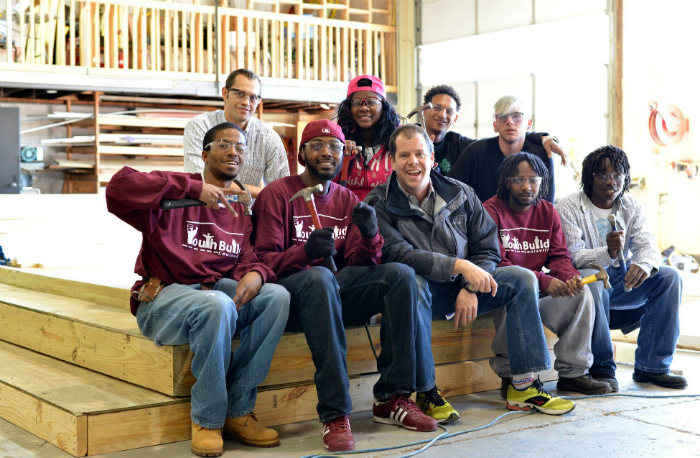 The U.S. Department of Labor earlier this month announced it will allocate $85 million in grants to support and expand YouthBuild programs across the nation, according to the National Association of Home Builders (NAHB). YouthBuild, a pre-apprenticeship model, provides at-risk…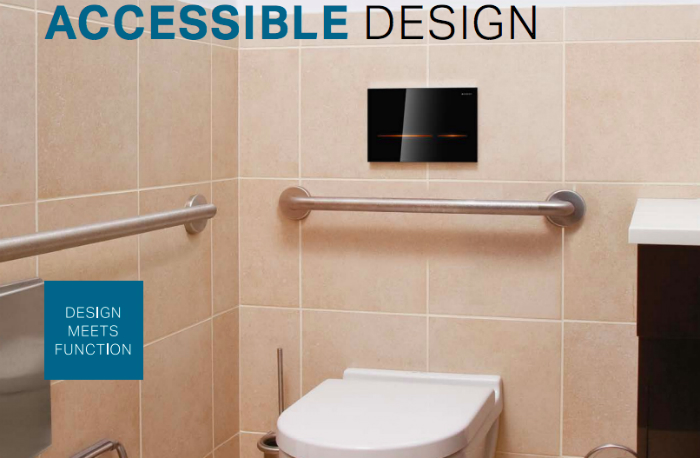 The new Accessible Design brochure from Geberit highlights the things to consider when designing an accessible bathroom. Subtitled "Enhancing Style and Comfort," the four-page brochure provides designers with an overview of the basic essentials for increased comfort such as touch-free flush actuation….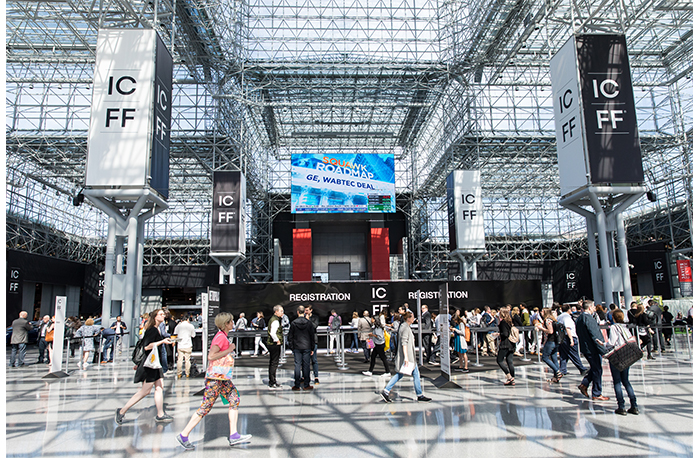 The 30th-annual International Contemporary Furniture Fair (ICFF) took place last week at the Jacob K. Javits Center in New York City. The show, known as North America's platform for global design, hosted more than 36,000 interior designers, architects, retailers, representatives,…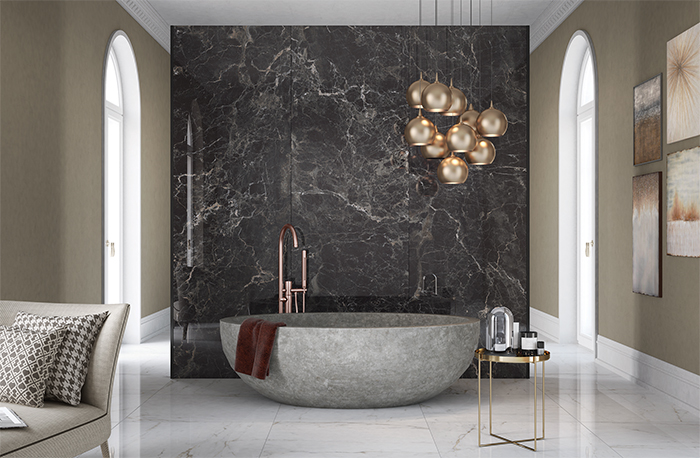 Miles and miles of tiles galore were recently seen at Coverings 2018, which took place from May 8-11 at the Georgia World Congress Center in Atlanta. Almost 25,000 industry professionals attended the week-long event, which was an increase over 2013,…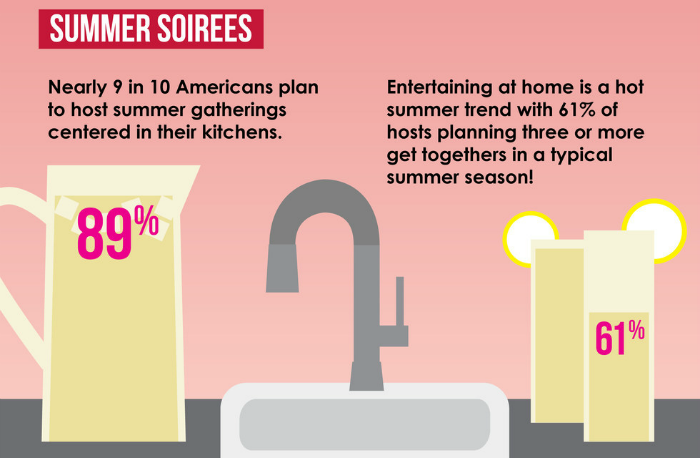 Delta Faucet revealed the results of its biannual Homeowner Index survey, which found one in four Americans would spend upwards of $20,000 on their kitchen remodel this season. With an overwhelming majority of homeowners (89 percent) planning to host a summer gathering,…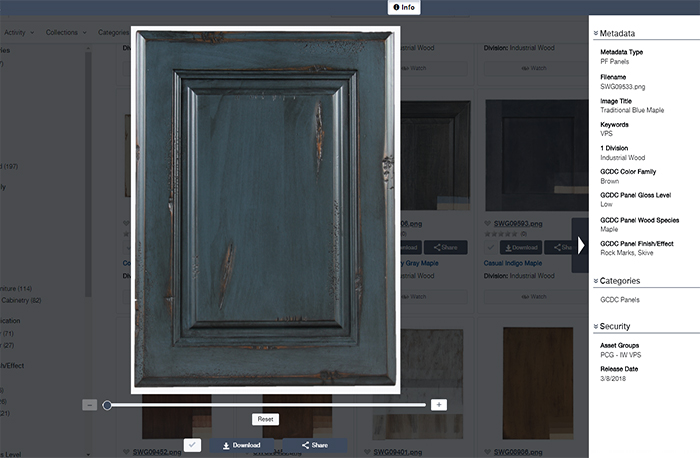 Sherwin-Williams, through its Industrial Wood Coatings division, introduces the Virtual Panel Studio, a first-of-its-kind online inspiration tool that provides furniture, kitchen cabinet and other wood product designers access to a complete library of high-resolution images of finished wood panels. These panels…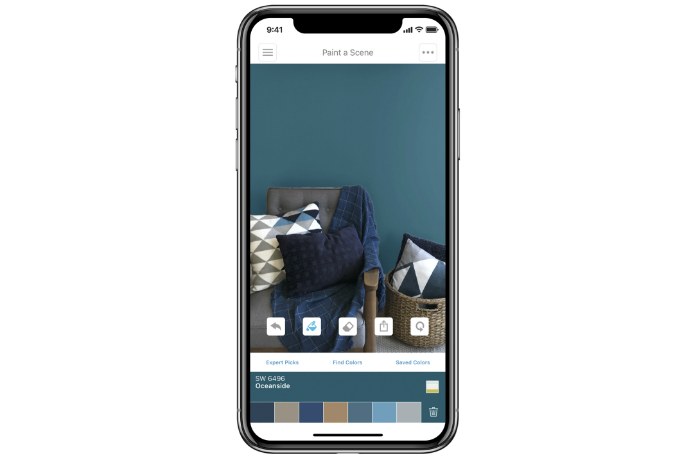 The recent update to Sherwin-Williams' powerful ColorSnap Visualizer app allows customers to easily use cutting-edge augmented reality to make faster and more confident color selections. The Instant Paint feature of the app is available now for iPhone and Android. "Using…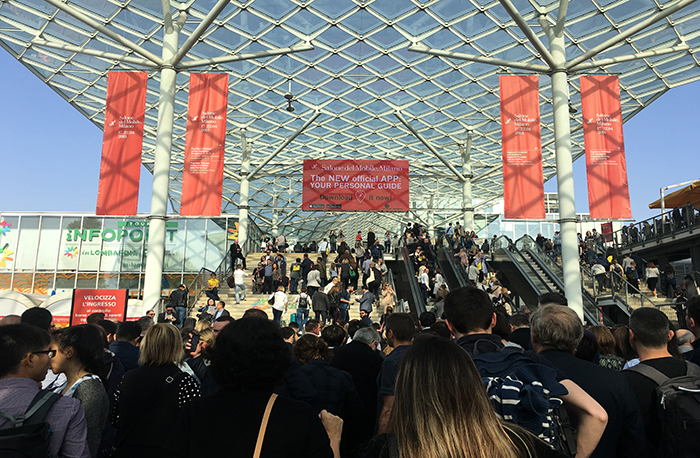 Milan, Italy, is the host of the international fair Salone del Mobile, which this year included the biennial kitchen show, EuroCucina, as well as the bath exhibition, Salone del Bagno, and FTK, which showcases technology in the kitchen. KBB joined…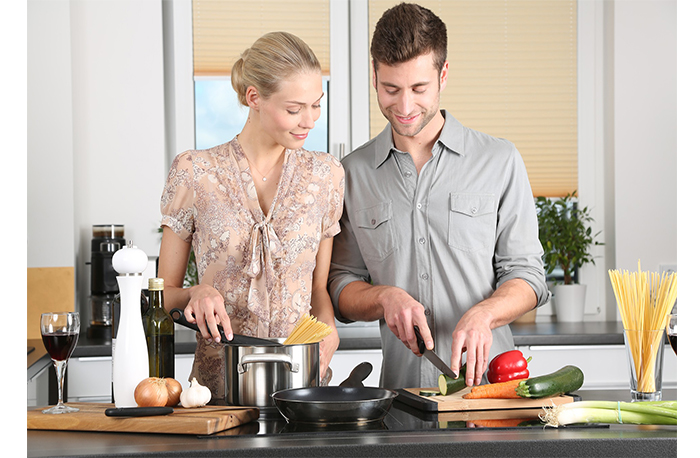 In its latest market research study, the National Kitchen & Bath Association (NKBA) endeavored to find out – and the results offer a detailed analysis into the evolving way homeowners live in their kitchens and how this drives remodeling preferences…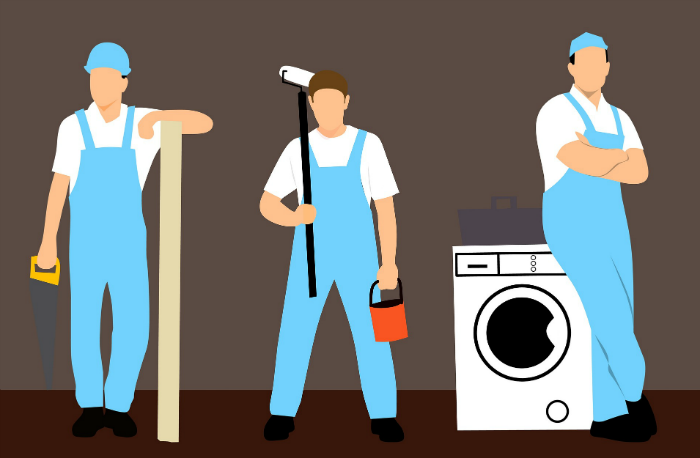 Every spring signals the start to a new home improvement season with projects dictated by a variety of tangible factors like cost, difficulty and aesthetic, functional or financial value. However, a recent survey by the Home Projects Council found that a homeowner's…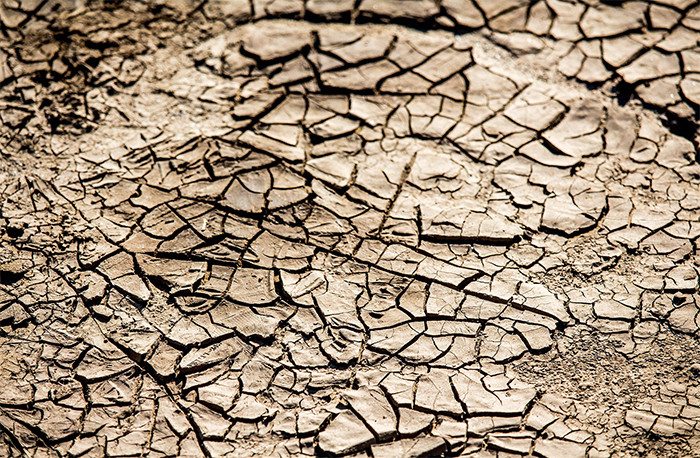 According to a recent survey by the Northern California Interior Design Guild, the newest trend in countertops is mud. The state, long known for being a kingpin of sustainability, is embracing the natural material, and design professionals say it's only…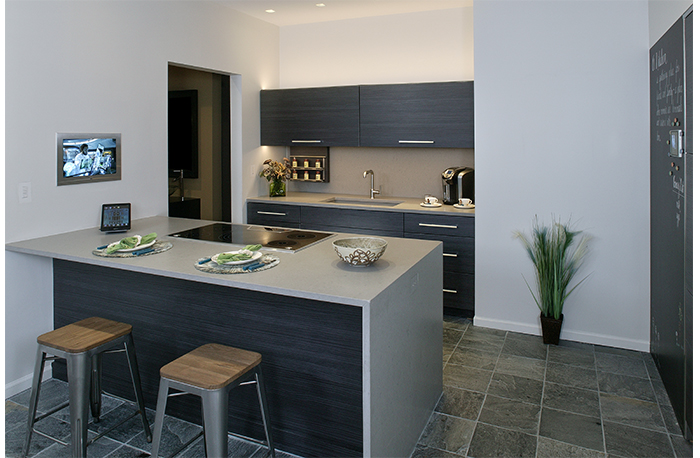 Custom integration company Barrett's Technology Solutions in Naperville, Ill., knows how important the kitchen is to any homeowner, which is why the company set out to create a high-tech kitchen vignette in its showroom so clients can see the latest,…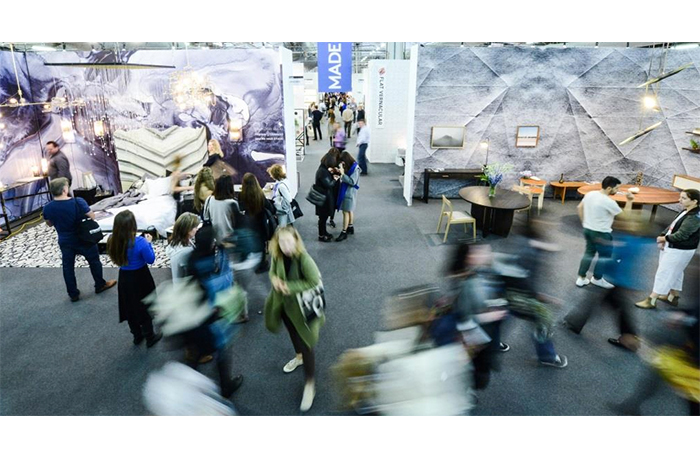 The 17th-annual Architectural Digest Design Show (ADDS) took place last week at Pier 94 in New York City. The show offered more than 400 residential and hospitality brands representing kitchen, bath and building products; furniture; lighting; hardware; flooring; and accessories. Click…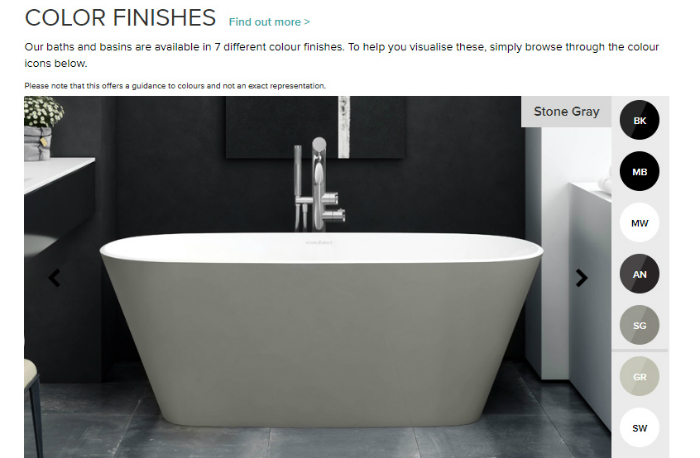 Victoria + Albert is pleased to announce the launch of a new color simulator tool on the company's website that allows online visitors to view any of the company's bathtubs and basins in the full range of finishes. These include…

Kohler Co. has announced a 15-year agreement to purchase 100 megawatts of wind power per year from the Diamond Vista wind farm located near Salina, Kansas. Enel Green Power North America will construct the project this year and will be the…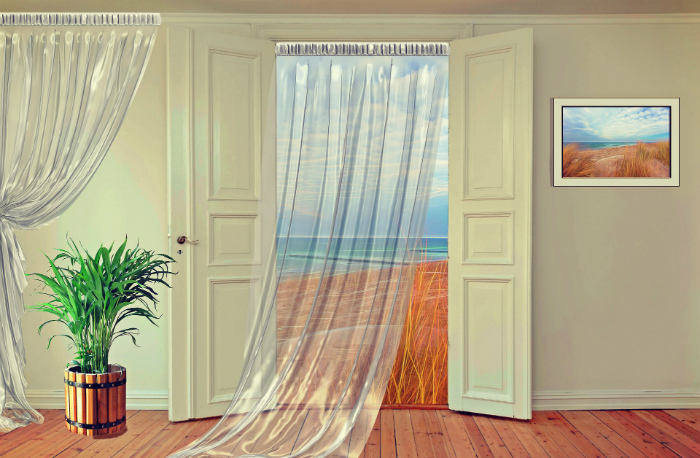 The American Society of Interior Designers (ASID) released its 2018 Outlook and State of the Industry (OSI) report yesterday, providing a scan of essential knowledge interior designers and the interior design industry require to thrive and remain competitive in 2018…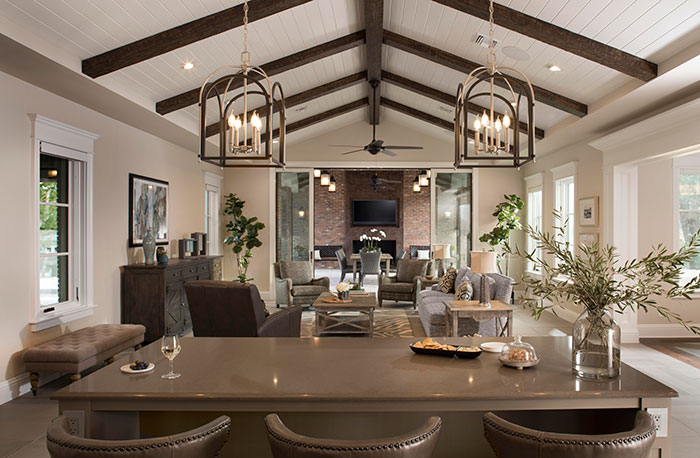 Last week, the National Association of Home Builders' (NAHB) Leading Suppliers Council unveiled the official show homes of the International Builders' Show (IBS): The New American Home 2018 and The New American Remodel 2018. IBS attendees and media members toured…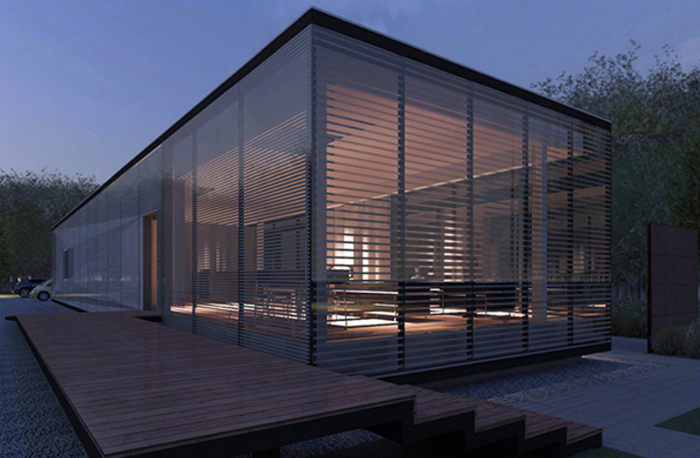 Duravit has joined forces with Kansas-based Studio 804 Inc. to promote the benefits of innovative, adaptive architecture and design. Studio 804, Inc. is a nonprofit that annually builds and designs a home that represents sustainable, affordable and inventive building solutions….

The American Society of Interior Designers (ASID) completed a full spectrum of pre- and post-occupancy research on its new Washington, D.C. headquarters. The research shows how workplace design positively influences health, wellness, employee satisfaction and work performance. "We're proud to share all aspects of this journey with the design community and the world…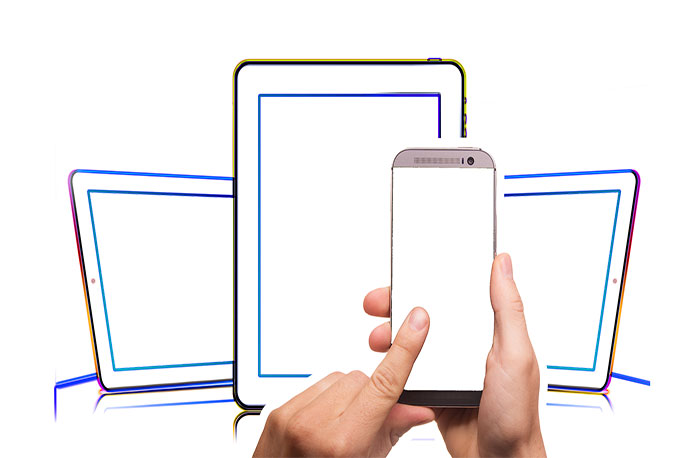 One of the hardest parts of selling a remodel is convincing a client to understand the design vision. Today, new technology is helping clients see potential designs more clearly and even "walk through" and manipulate a future room. "Not all…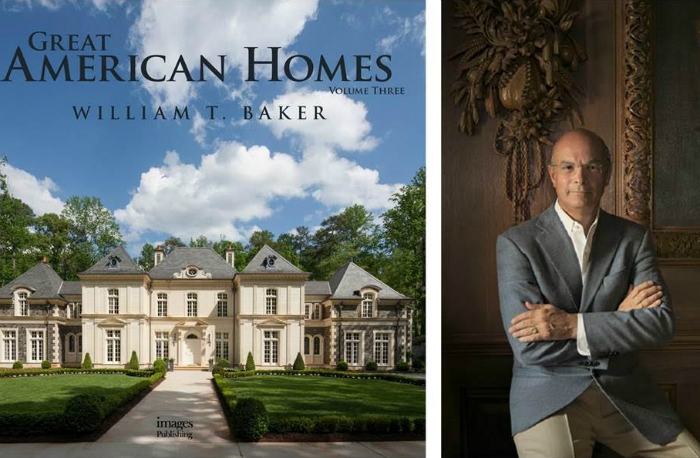 Inspired by the classical architecture found in the grand homes of the Southern United States, particularly the state of Georgia, Images Publishing has released a new book by William T. Baker, Great American Homes. The third volume in Images Publishing's Classicist series,…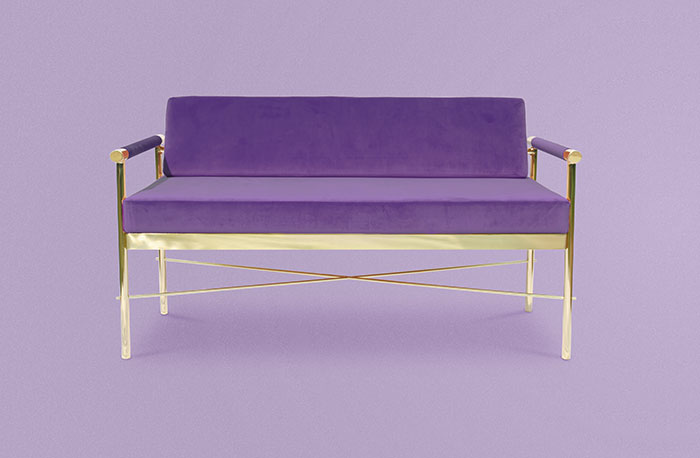 Pantone, a wholly owned subsidiary of X-Rite, Incorporated, and provider of professional color language standards and digital solutions, today announced PANTONE 18-3838, Ultra Violet, as the Pantone Color of the Year for 2018. A dramatically provocative and thoughtful purple shade, PANTONE…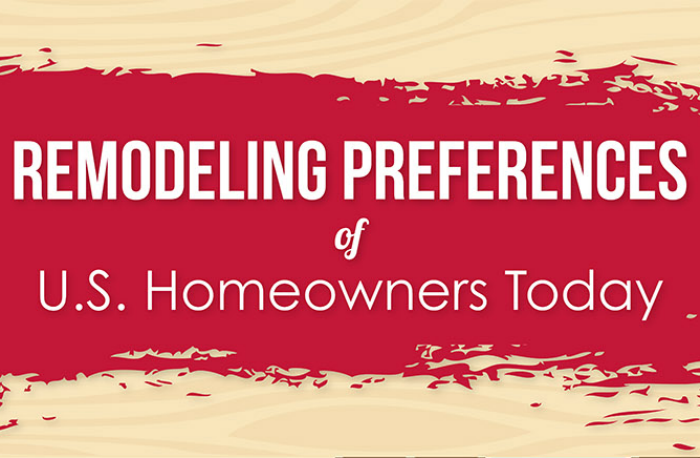 Delta Faucet has launched its bi-annual Homeowner Index to track renovation, design and purchase habits among today's homeowners while investigating key seasonal insights related to the home. A resource for industry decision makers, from builders and developers to architects and designers,…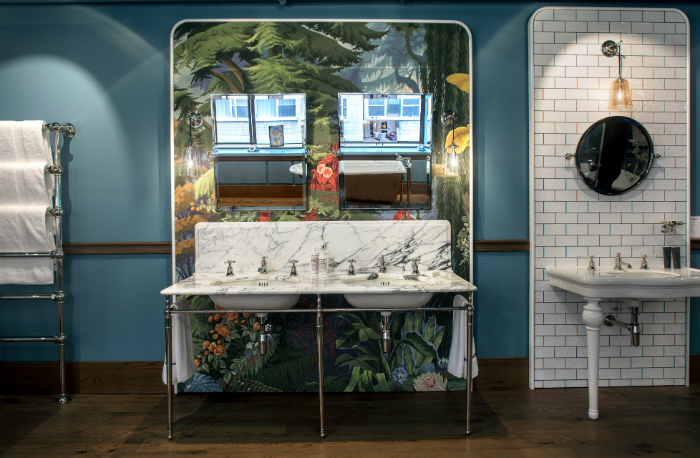 Drummonds, a designer and manufacturer of bathroom products, has announced the opening of its newest showroom within the A&D Building in New York City. The Drummonds showroom in the A&D building houses and displays a number of Drummonds collections including…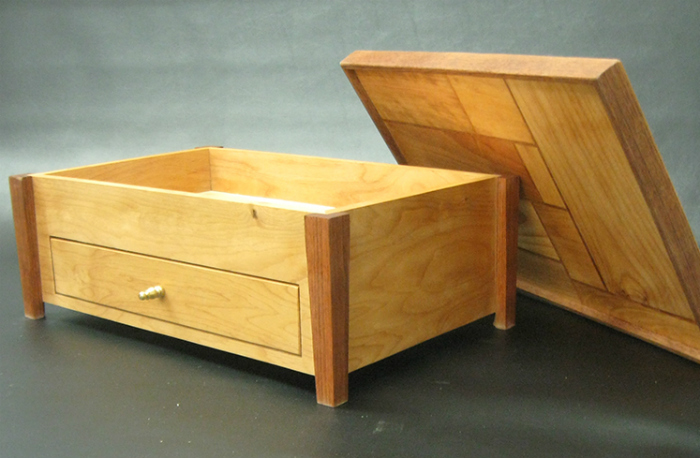 For many years, Canyon Creek Cabinet Company has donated wood scraps and pieces to the carpentry program at the Washington State Reformatory – Monroe Correctional Complex (MCC). The carpentry program/sustainable practices lab focuses on developing social, practical and technical skills…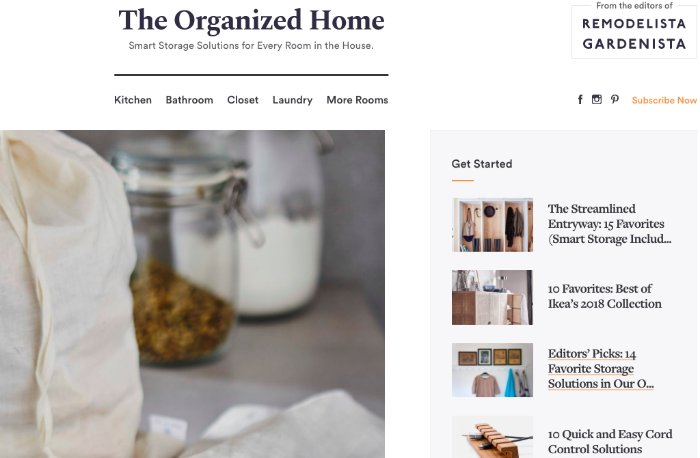 Remodelista.com, the home interiors and renovation website for design enthusiasts and professionals, has announced the launch of its new sister website, The Organized Home (www.Organized-Home.com). Inspired by the upcoming book Remodelista: The Organized Home, the new site delivers simple storage and organizing solutions for…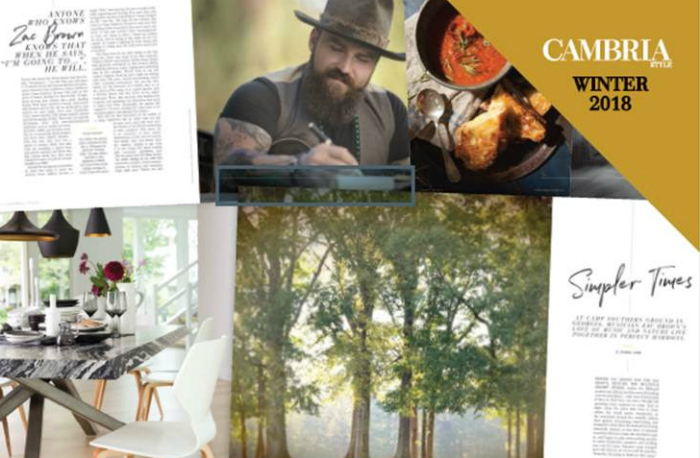 Cambria Style magazine, a luxury design-focused lifestyle publication published by Cambria, the family-owned natural stone producer, is now available on newsstands nationwide as part of a new partnership with Sandow. The current winter issue, Cambria Style Issue #17, features a cover…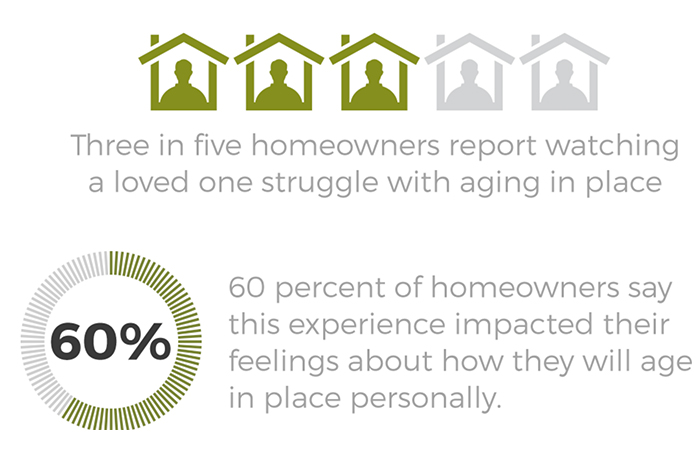 HomeAdvisor has released the results of its third-annual Aging in Place Report, and results show that while aging is a fact of life, aging uncomfortably, unsafely or unhappily in your home doesn't have to be. As one survey respondent in the…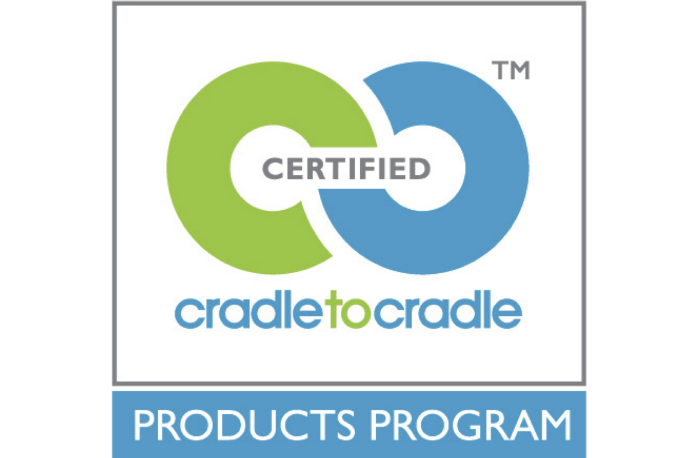 Established by The Home Depot in 2007, Eco Options is a voluntary program that recognizes products that have less of an environmental impact than comparable products in five categories: energy efficiency, water conservation, healthy home, clean air and sustainable forestry….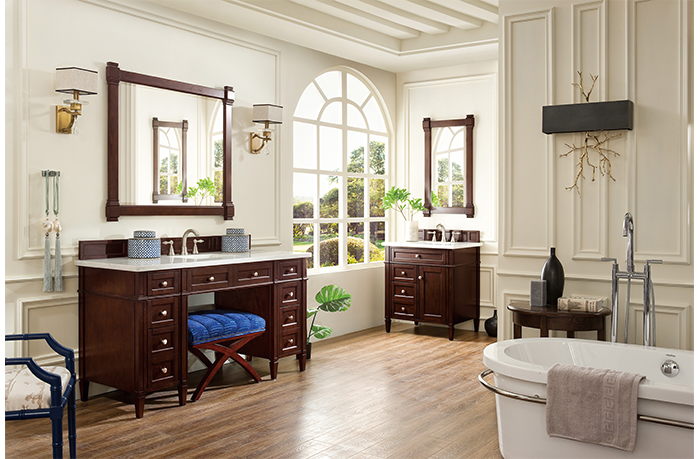 If you are a kitchen and bath professional, KBIS 2018 promises to be an unforgettable event. Several brands are joining the exhibitor list, and many returning companies have confirmed larger booths spaces this year with the newest products and trends…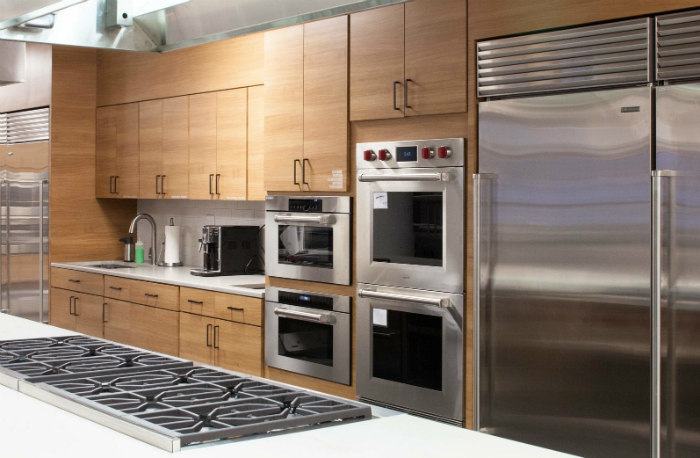 Millions of viewers tune in to their local public television station weekly to watch the "America's Test Kitchen" cast members test, review and recreate delicious recipes that can be replicated at home. The show's test cooks will now be able…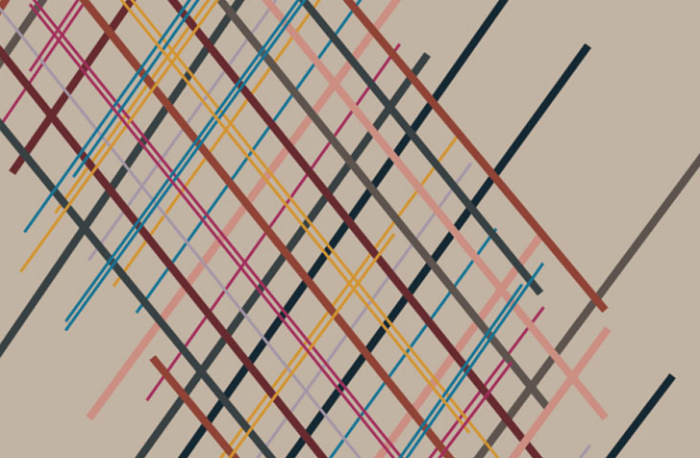 Obeetee, maker of hand-woven carpets, announces the addition of V Starr Interiors to its roster of talented creatives designing carpets for the exclusive DIFFA Collection, which will kick off its new quick-ship program, Obeetee Express. The collection will benefit DIFFA: Design…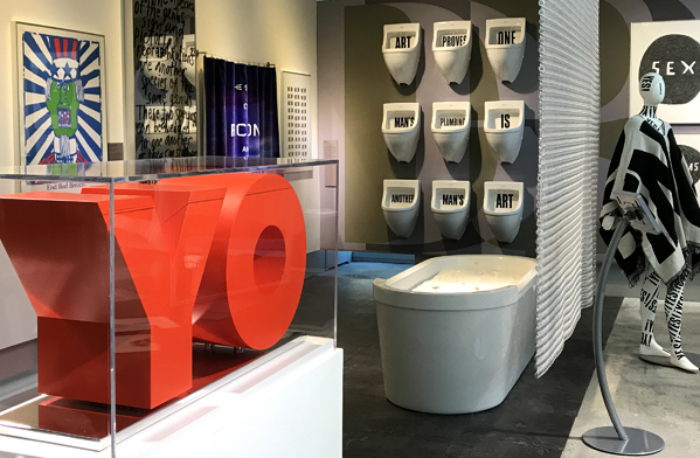 Duravit is stepping out of the bath and into the gallery as part of the Museum of Design Atlanta's (MODA) original exhibition Text Me: How We Live in Language. Curated by internationally renowned designer, writer, podcaster and brand strategist Debbie…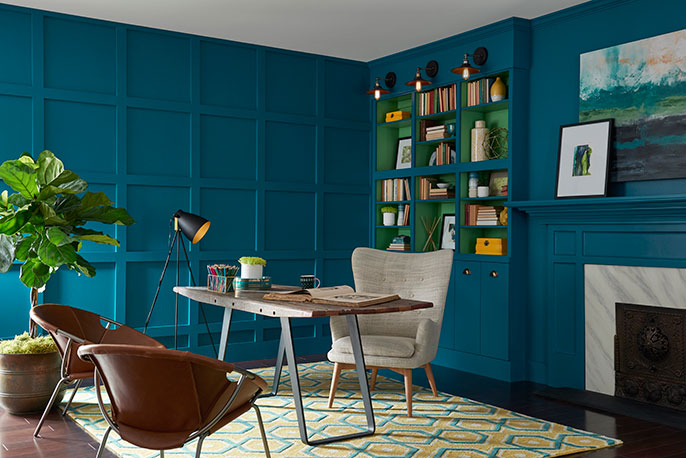 A fusion of rich blue with jewel-toned green, the 2018 Color of the Year, Oceanside SW 6496, represents the growing desire for color that is both accessible and elusive. A complex, deep color, Oceanside offers a sense of the familiar…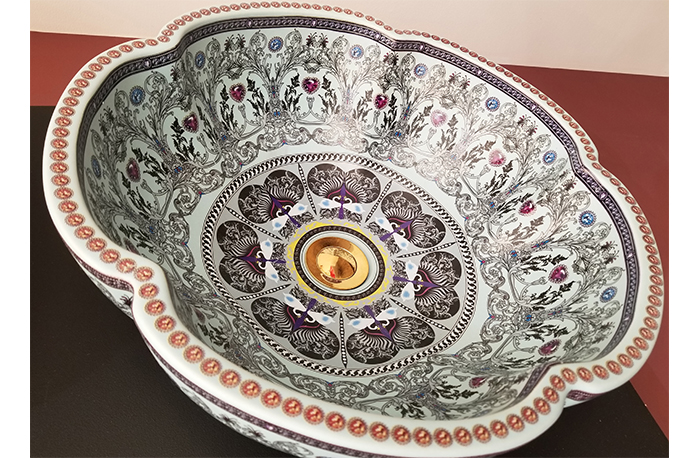 The London Design Festival was, as every year, a feast for the eyes and a catalyst for creative thought. The show, which lasts nearly two weeks, is comprised of its main shows, Decorex, 100% Design, Design Junction and London Design…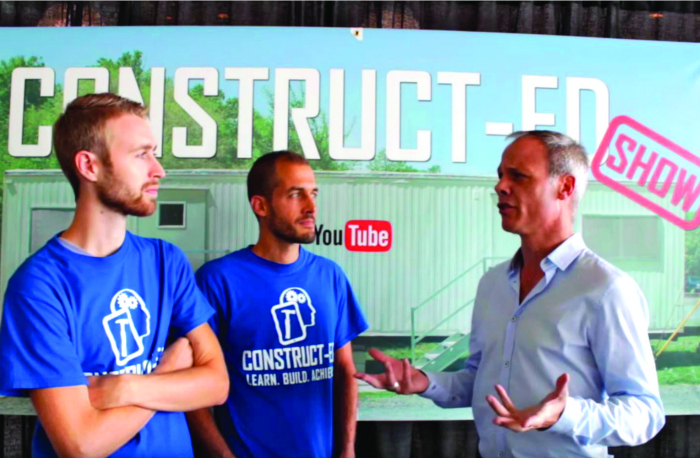 Interior designer Christopher Grubb can now add the official title of "instructor" to his resume. The president and founder of Beverly Hills-based Arch-Interiors Design Group recently recorded a series of educational courses for Construct-Ed, the on-demand website site that provides…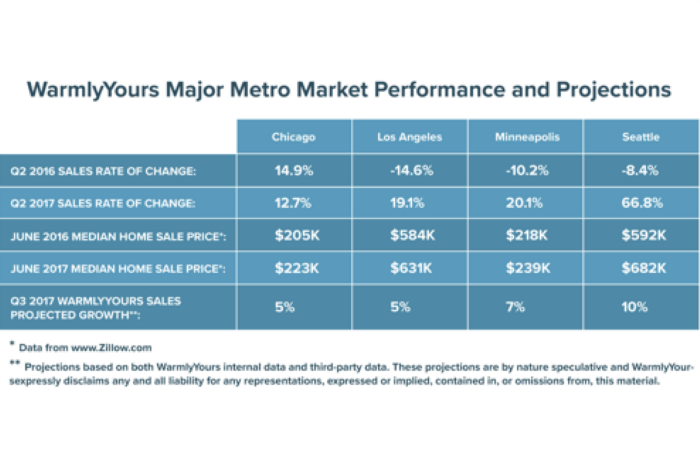 According to a recent industry report, sales of electric radiant heating products are expected to grow in several major metropolitan markets across the country in Q3 2017. WarmlyYours Radiant Heating has released its "2017 Second Quarter Industry Report," and one…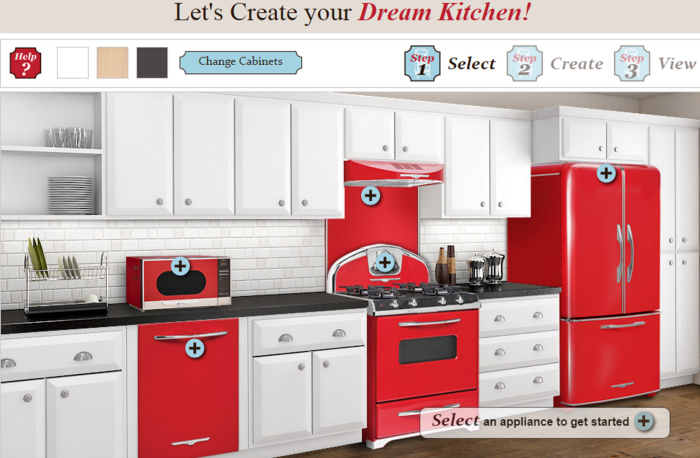 Elmira Stove Works, a manufacturer of antique and retro style appliances, has enhanced its "Create Your Dream Kitchen" website tool, an interactive online feature that enables designers to work with their clients to build "virtual" appliances, making it easy for…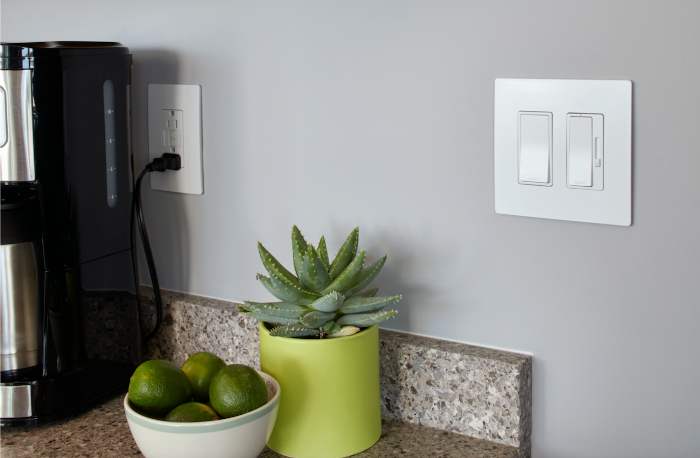 Building on its commitment to enhancing the delivery and control of power and light, Legrand introduces Voice Control compatibility with its radiant Collection RF (radio frequency) and adorne Collection Wi-Fi Lighting System. This new functionality enables Legrand customers to control…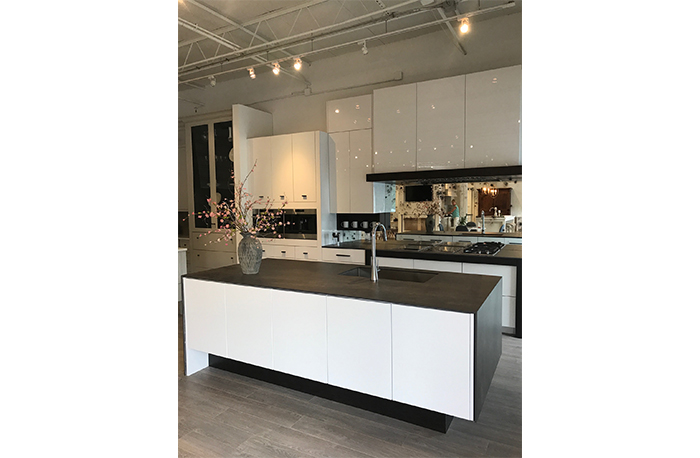 Four kitchen- and bath-related showrooms recently have opened or are opening soon at the Atlanta Decorative Arts Center, more commonly known as ADAC. ADAC is open to designers, architects, builders and specifiers and serves as a venue to get the…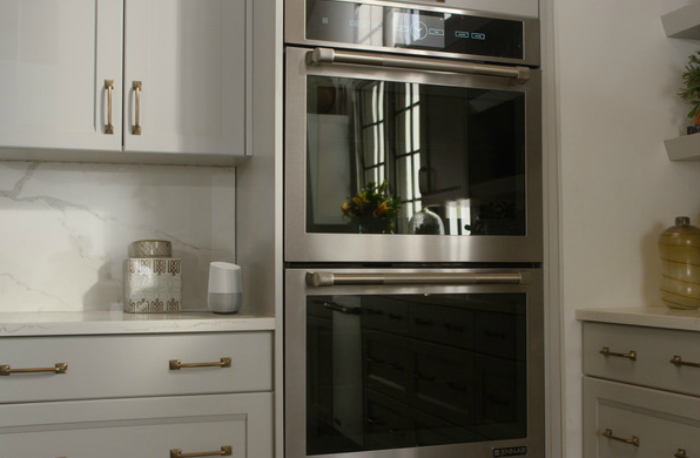 Appliance maker Jenn-Air has announced that its connected wall ovens can now be controlled using the voice-activated Google Assistant that powers Google Home and its array of smart home features. The Google Assistant joins Amazon's Alexa and the brand's own IOS and Android wall oven apps as options for controlling many essential…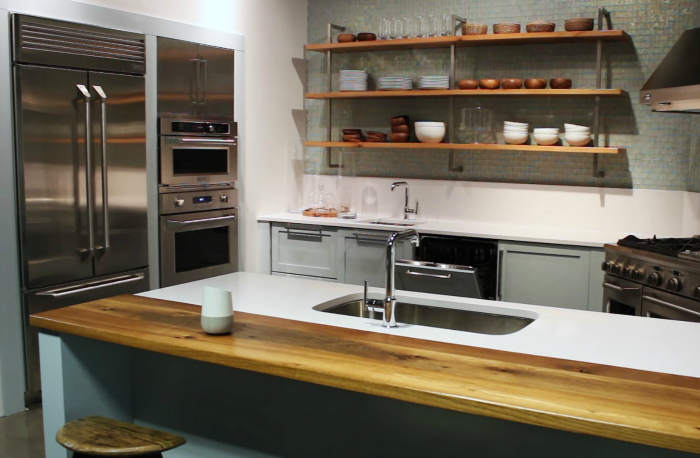 Monogram connected appliances just got smarter, making multitasking even easier with its connected appliances integration with Google Assistant. "Consumers with high-end kitchens are looking for personalization of their appliances," said Michael Mahan, general manager for Monogram. "Integrating our Monogram suite of connected appliances with Google Assistant makes it easier for owners to control their appliances and adds an element…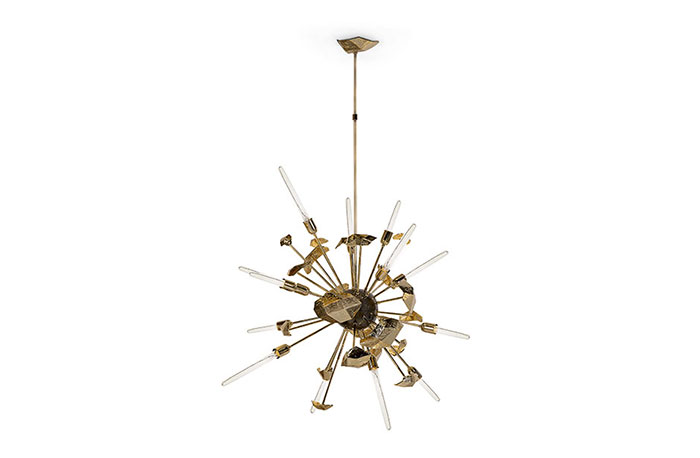 Above Image: The Supernova Chandelier from Boca do Lobo Quality lighting not only can make a design more beautiful, it also can make a house more eco-friendly and naturally beneficial for its owners. Designs that were impossible in previous years are now…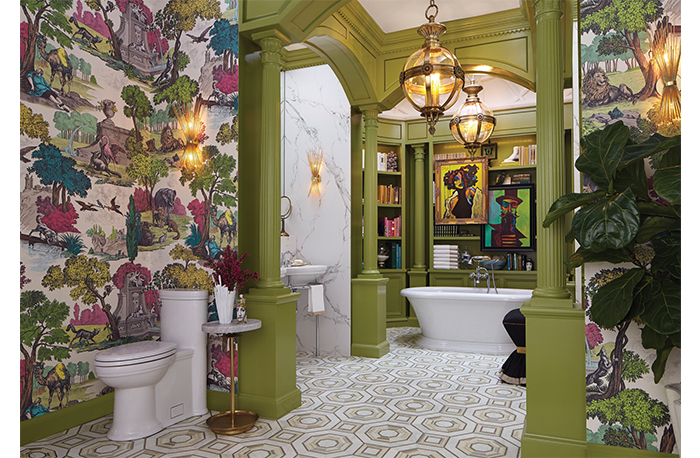 At the DXV Design Event held earlier this evening, the 2017 Design Panelists unveiled their designs for the first time. Luxury brand DXV, part of the global LIXIL Corp., explores the world of architecture and design throughout the ages by…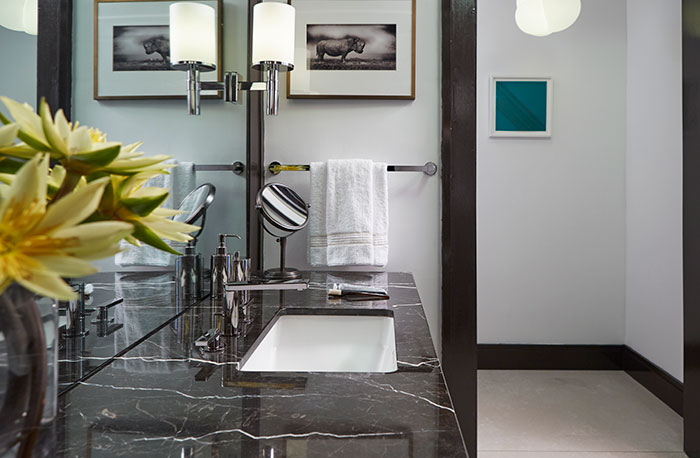 For its 45th year, the Kips Bay Decorator Show House is set at 125 East 65th Street in New York City's Lenox Hill neighborhood. Built in 1905, the four-story, neo-Georgian-style red brick home was designed by world-renowned artist and architect,…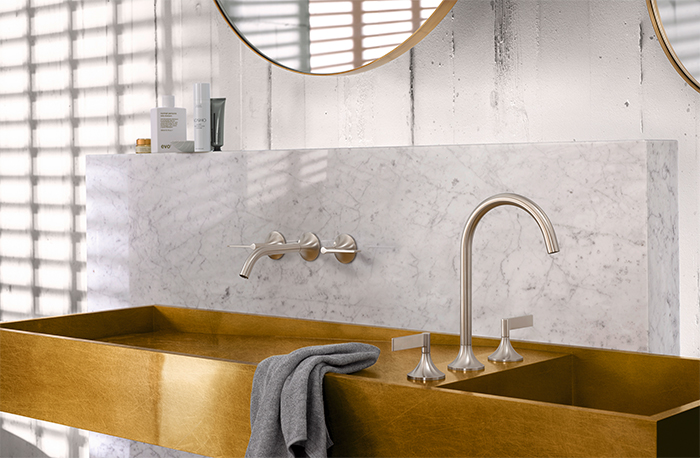 Shown above is the Vaia series of fittings from Dornbracht. ICFF, held last week from May 20-23 at the Jacob K. Javits Center in New York City, was home to a variety of kitchen and bath product offerings, including wallpaper,…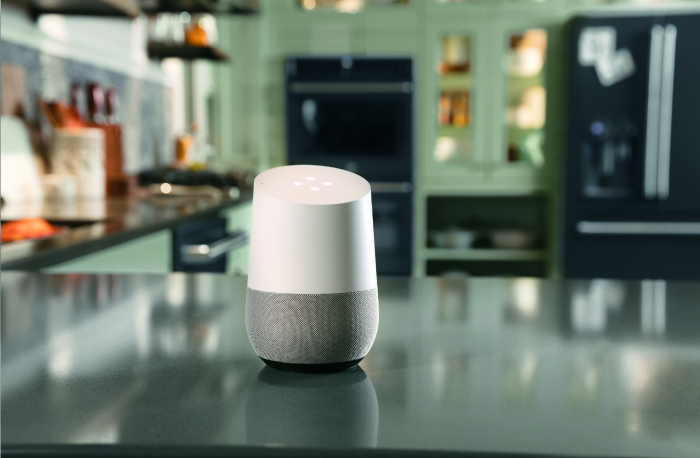 "Ok Google," has become a staple in homes with voice recognition, from asking for recipe steps while cooking to checking the traffic for the commute to work. GE Appliances makes multi-tasking easier with its full suite of connected appliances integration…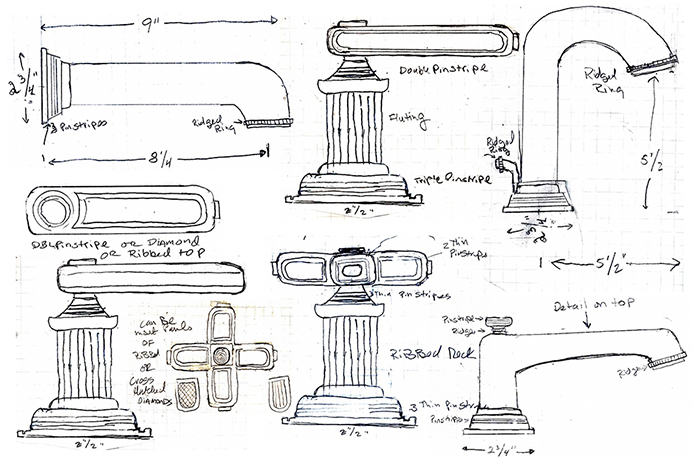 THG-Paris has collaborated with interior designer Timothy Corrigan on two new THG Corrigan faucet lines – West Coast and Grand Central based on his design philosophies of European elegance and California comfort. The internationally recognized designer has incorporated details from…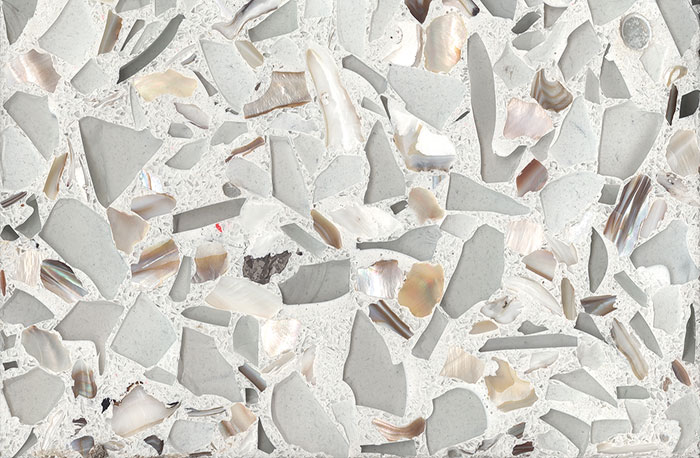 Laura Umansky, president and creative director of Laura U Interior Design, has partnered with Vetrazzo to create a new four color designer curated edition of recycled glass surfaces: Vetrazzo By Laura U. The Laura U product line is part of…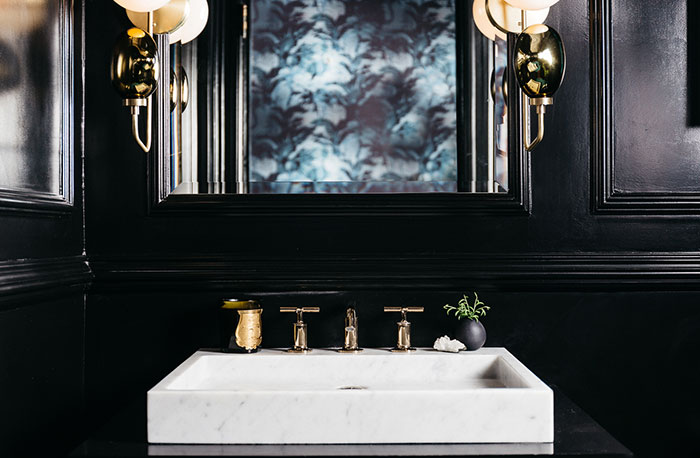 The story of the San Francisco Decorator Showcase began in 1977, with local interior designer Nan Rosenblatt and the first president of the San Francisco University High School's Parents Assn., Philip Fernandez. Rosenblatt was a former San Francisco University High…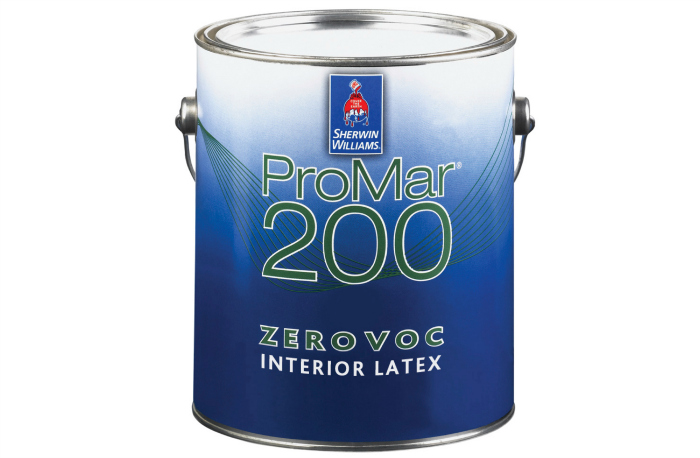 Certified in the Product Lens program from UL (Underwriters Laboratories), paint manufacturer Sherwin-Williams provides another opportunity to gain points toward U.S. Green Building Council (USGBC) LEED v4 green building program. The Product Lens report is an ingredient disclosure tool that…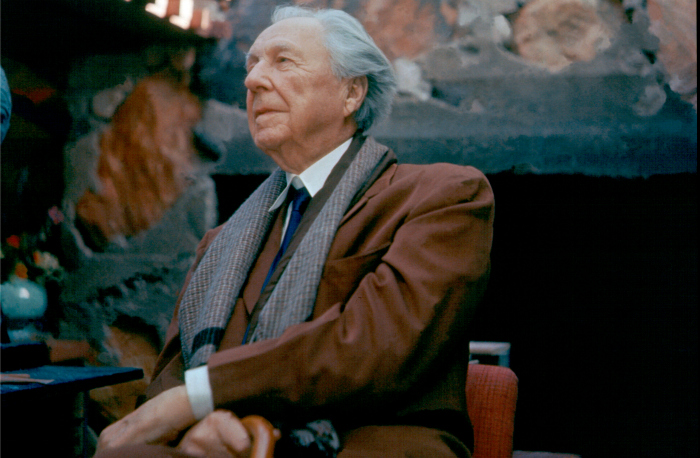 Creative Mines has announced a new partnership with the Frank Lloyd Wright Foundation. During the coming months, Creative Mines will adapt Wright's distinctive and timeless designs to produce a one-of-a-kind collection of masonry veneer products. Fully embracing the spirit of…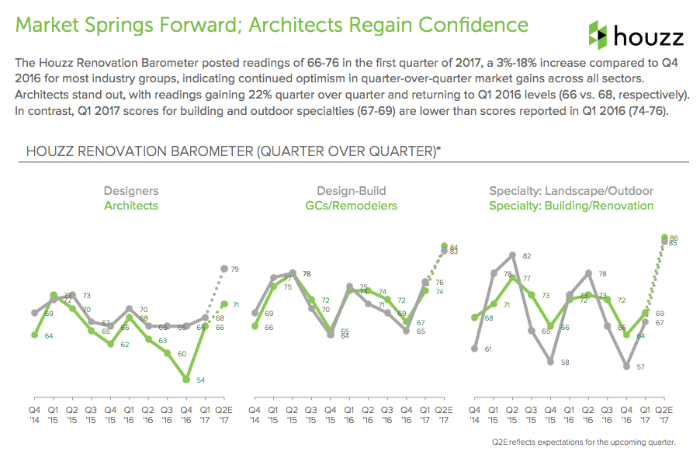 Houzz Inc. has released the Q1 2017 Houzz Renovation Barometer, which tracks confidence in the home renovation market among industry professionals. The Q1 2017 Barometer reflected widespread quarter-over-quarter confidence for all industry sectors including architects, designers, general contractors/remodelers, design-build firms,…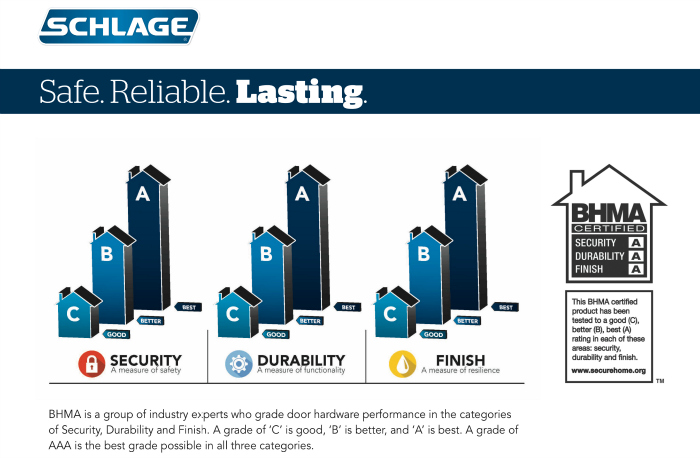 Schlage, a brand of Allegion that has been creating door hardware for more than 95 years, has announced the adoption of new standards set forth by the Builder's Hardware Manufacturers Association (BHMA) for residential grading in an effort to create a…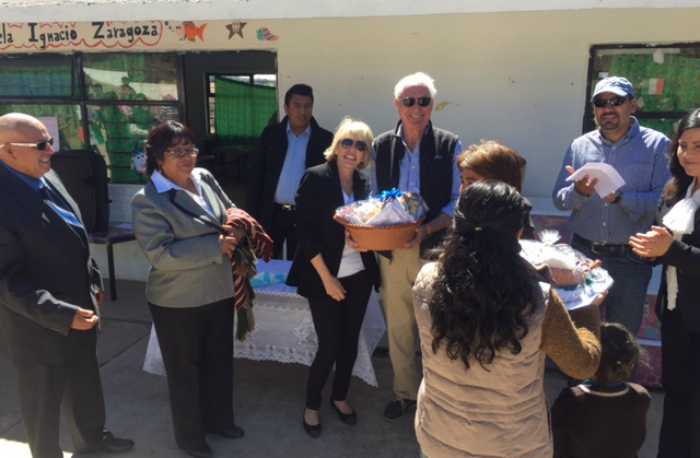 Last December Doug Mockett & Company brought gifts to the 39 students at Ignacio Zaragoza Preschool and Juan Escuita Decima Musa Elementary School in rural Mexico. And earlier this year, Mockett returned and presented each child with a personal goody…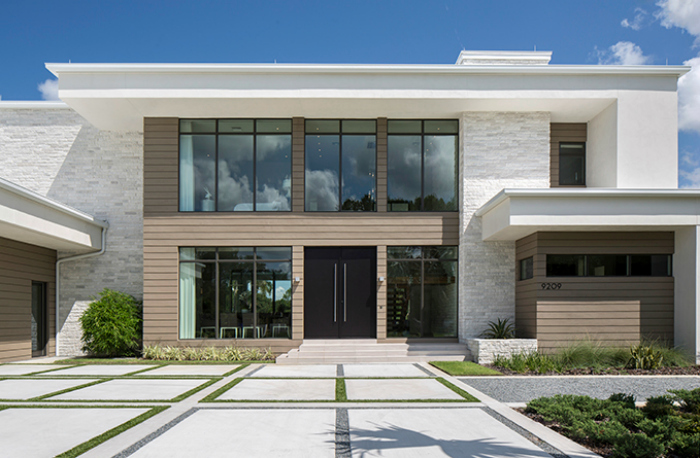 As reported on NAHBNow.com, the National Association of Home Builders blog, a new partnership between the Residential Energy Services Network (RESNET) and the Appraisal Institute plans to include Home Energy Rating System (HERS) scores in appraisals. This inclusion will allow consumers to better gauge a home's…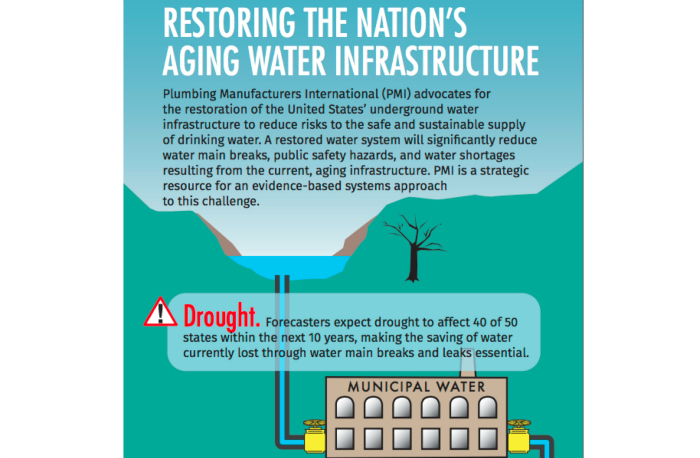 Plumbing Manufacturers International (PMI) is focusing its 2017 advocacy on a series of efforts intended to educate policymakers about the untapped water-saving potential of water-efficient plumbing products, potential threats to safe drinking water, and the need for a restored national water…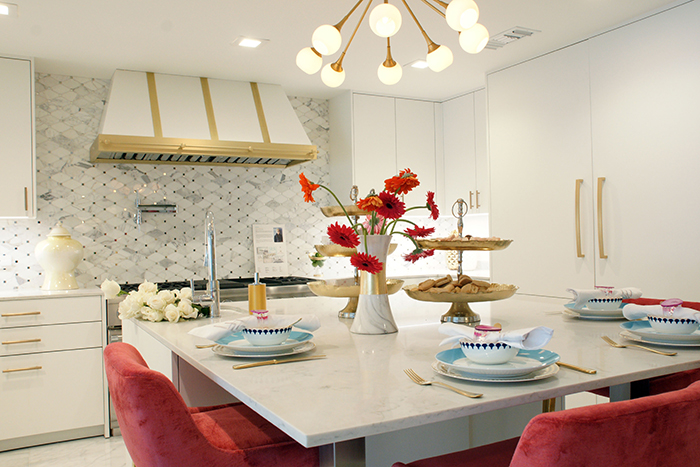 In its fourth year, the Modernism Week Show House at the Christopher Kennedy Compound has brought together nearly 20 designers to redesign a luxury home. This particular home is set in the Andreas Hills area of Palm Springs, Calif., and…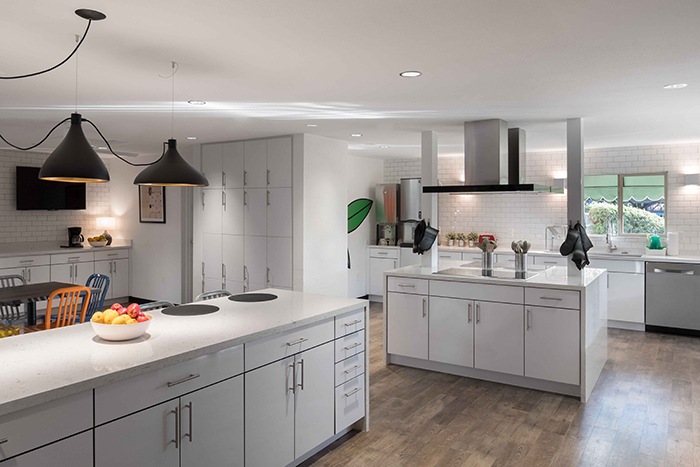 When a child is seriously sick or injured, the treatment they need might not be close to home. Rather than be separated during a critical time, families can stay at a nearby Ronald McDonald House – where parents can better…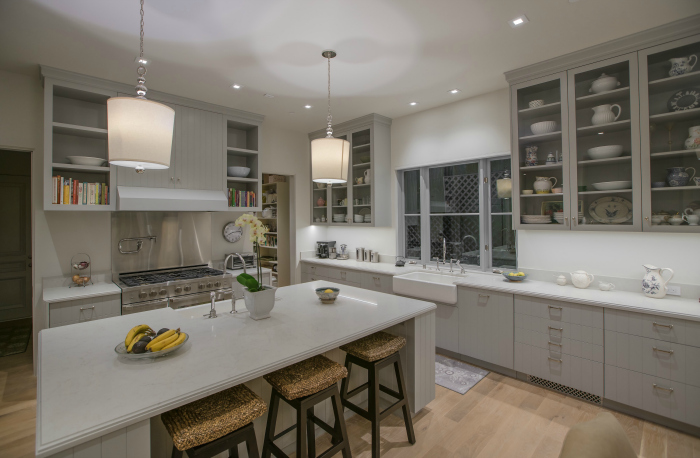 Lighting, residential and wiring devices from power management company Eaton helped actor and environmentalist Ed Begley, Jr. build one of North America's greenest, most sustainable homes. The home, completed in late 2016, received a Leadership in Energy and Environmental Design…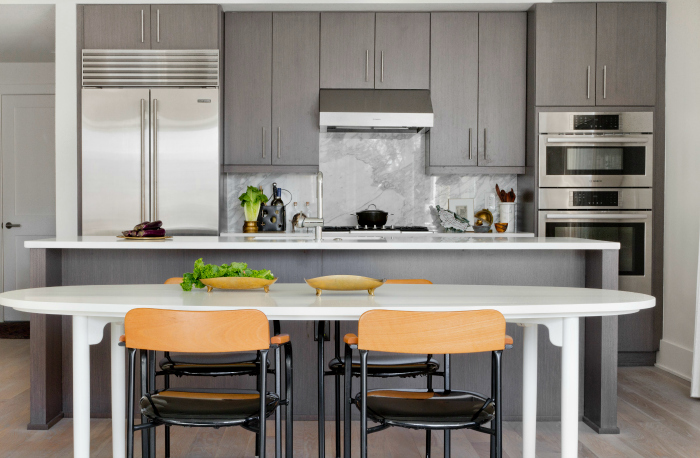 For many, a new kitchen means a healthier lifestyle, according to the 2017 U.S. Houzz Kitchen Trends Survey. The survey of more than 2,700 U.S. homeowners using Houzz who are in the midst of, are planning or recently completed a…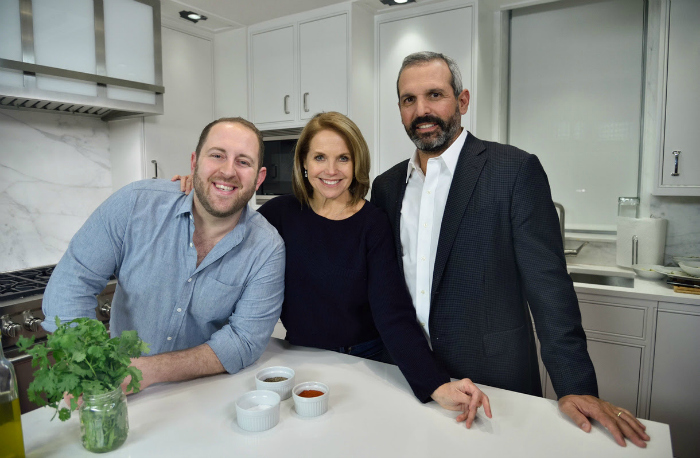 Award-winning journalist Katie Couric and husband John Molner have partnered with cookware retailer Sur La Table to launch a new cooking web series, Full Plate with Katie & John. The series, aimed at viewers with hectic schedules of their own,…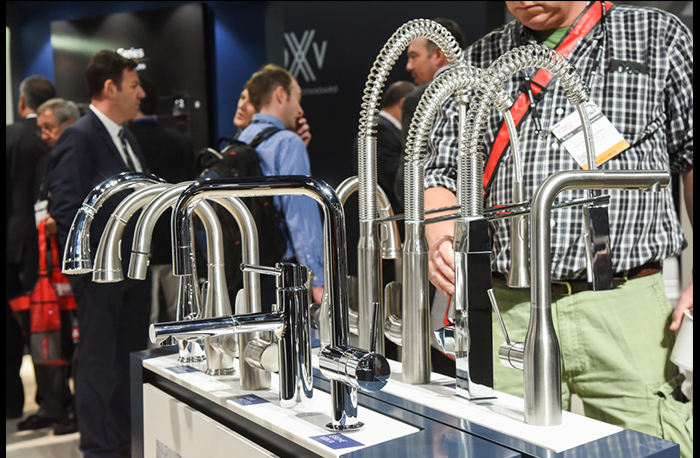 KBIS 2017 and Design & Construction Week are right around the corner – are you prepared for your show? This installment of the leading kitchen and bath industry event will take place from Jan. 10-12 at the Orange County Convention Center…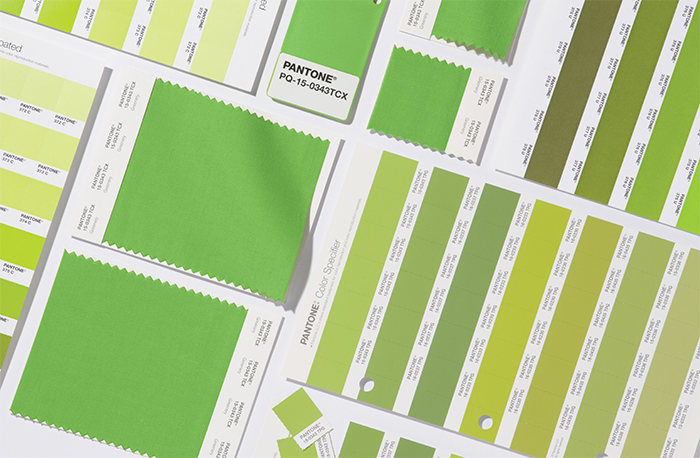 Pantone, an X-Rite company and the global authority on color and provider of professional color standards for the design industries, today announced PANTONE 15-0343 Greenery as the PANTONE® Color of the Year selection for 2017; a fresh and zesty yellow-green…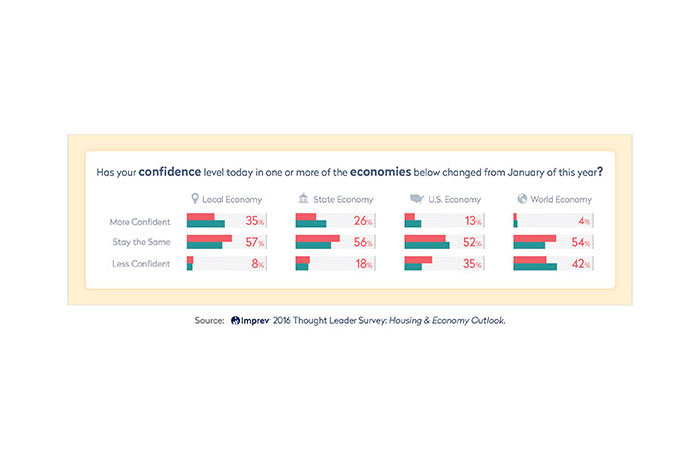 Top real estate executives' confidence in the U.S. economy and housing market for 2017 has softened compared to two years ago, and 42 percent have grown less confident in the world economy since January, according to the latest Imprev Thought…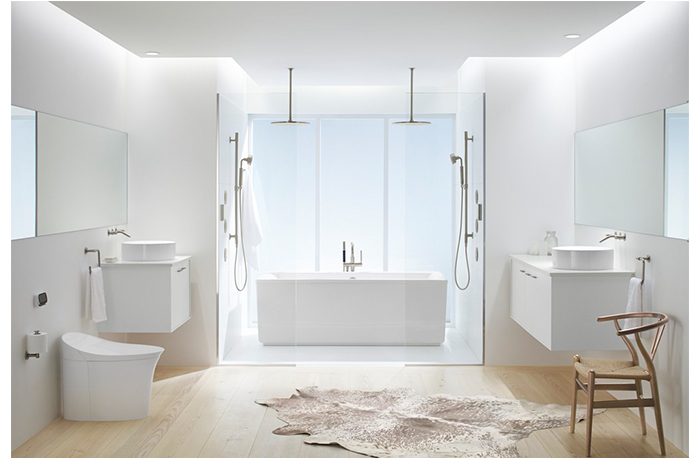 Kohler has announced a new Bathroom Design Service that helps consumers throughout the United States design their complete bathroom space. This timesaving, practical process offers consumers the opportunity to work with highly qualified design professionals at an affordable price to design…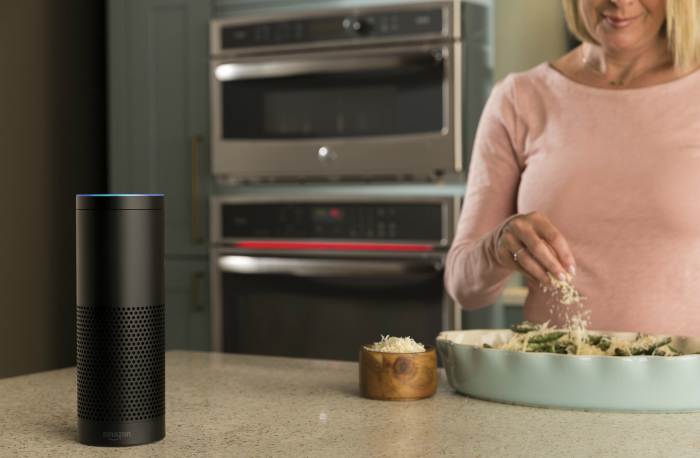 GE Appliances has added Amazon Alexa skill sets to its connected appliances just in time for the holidays. Owners now have the option to preheat the oven or check on the internal temperature of that ham or roast while it's cooking,…

A recent industry report shows that Q3 2016 sales of radiant heating products are outpacing the swift growth of national remodeling activity, which is projected to reach a 10-year zenith in mid-2017. WarmlyYours Radiant Heating released its Third Quarter Industry…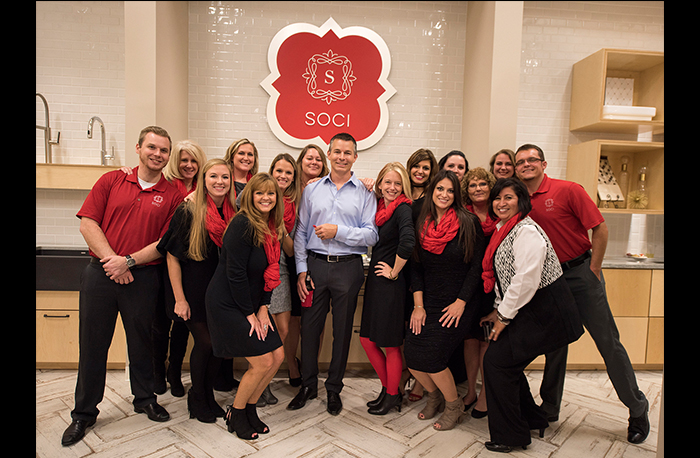 KBB recently spoke with Barbara Sallick, co-founder and senior vice president of design of Waterworks about her new book, The Perfect Bath. "The Perfect Bath takes you inside the highly personalized domain that is both part of life's daily rituals…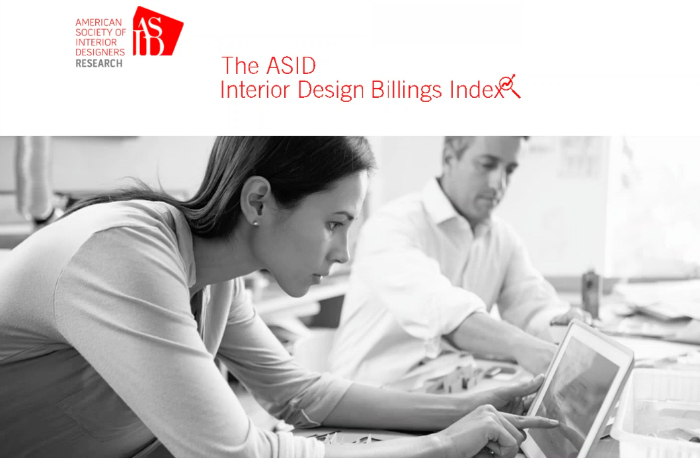 Results of the ASID Interior Design Billings Index (IDBI) Third Quarter Report have been released and include a rundown and analysis of the market segments and geographic regions that enjoyed a positive third quarter 2016, a look at the key…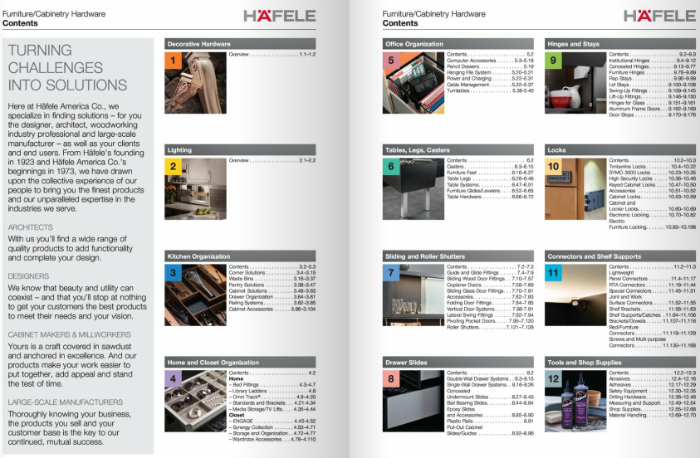 The Complete Häfele: as its name implies, this in-print and electronic compendium is used every day by Häfele customers in the United States and around the world to find the products they need to start a project, execute their design…

In our October issue, KBB went in depth on countertops, looking at the different varieties, the benefits of each and the stunning innovations done with surface materials. But countertops are only part of the story, and now we have spoken…

Covet House has released a new edition of its Covet Catalogue, a tool for architects, interior designers and press professionals. For the catalogue, Covet House gathered some of the best Portuguese design brands – including Brabbu, DelightFULL, Boca do Lobo,…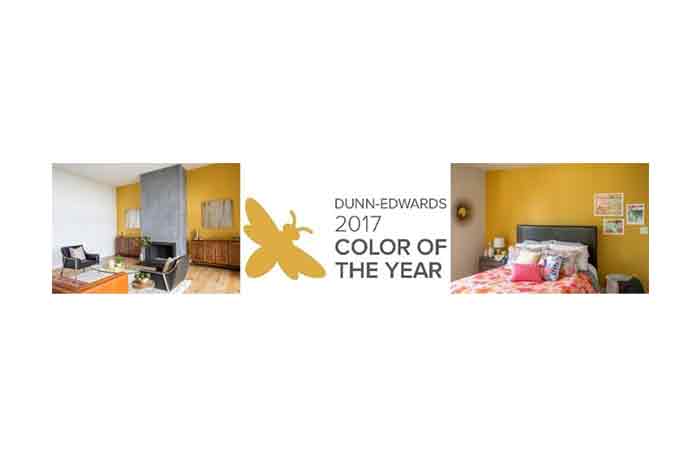 Dunn-Edwards Paints has announced its 2017 Color of the Year – Honey Glow – a warm, golden yellow with brown undertones. "This is a great color to make a bold statement in a room," said Sara McLean, color expert for…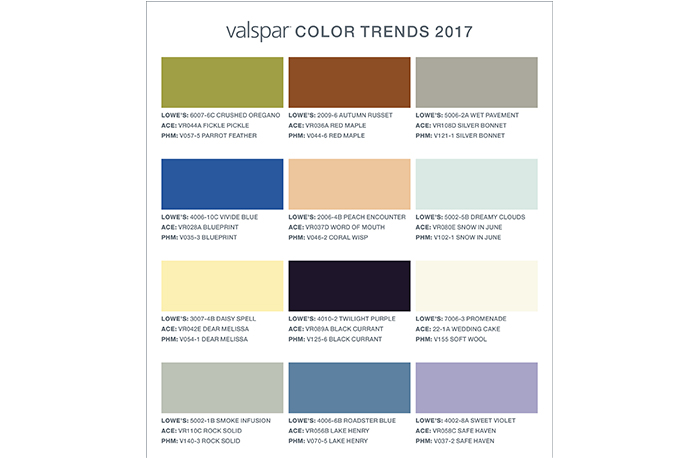 The color experts at Valspar have curated a collection of 12 essential colors to help consumers choose the perfect paint for revitalizing their homes in the coming year. The 2017 Valspar Colors of the Year are fresh yet familiar and…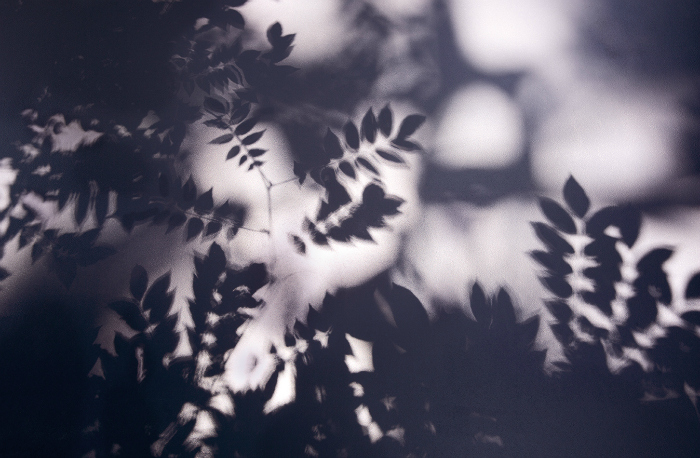 Benjamin Moore announced its highly anticipated Color of the Year 2017 – Shadow 2117-30, a rich, royal amethyst. The color leader also unveiled Color Trends 2017, a corresponding palette consisting of deep, saturated hues. The Color of the Year was…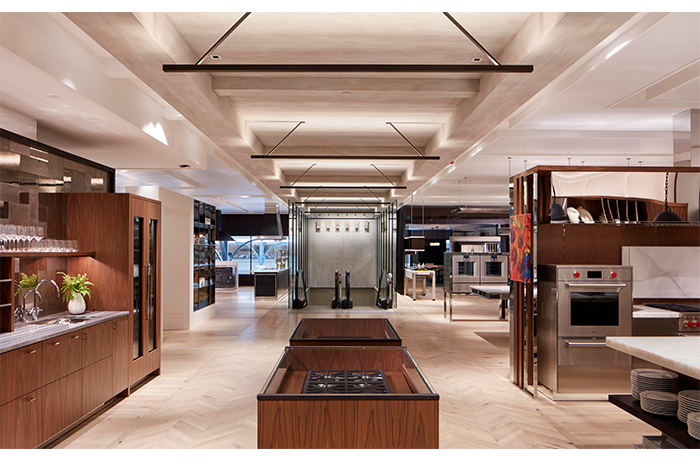 Abt Electronics the nation's largest single-store retailer of electronics and appliances located in Glenview, Ill., has once again expanded its 100,000+sq.-ft. showroom in honor of its 80th anniversary. The new Inspiration Studio, which premiered on Oct. 13, adds an additional…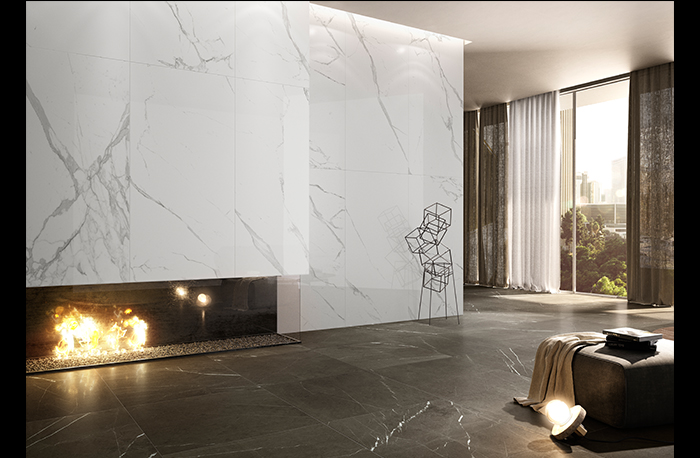 Cersaie 2016, the international exhibition of ceramic tile and bathroom furnishings, recently welcomed a record-breaking 106,599 visitors during five design-filled days in Bologna, Italy. Within six exhibition sectors covering an exhibition floor of 156,000 square meters, Cersaie hosted 852 exhibitors…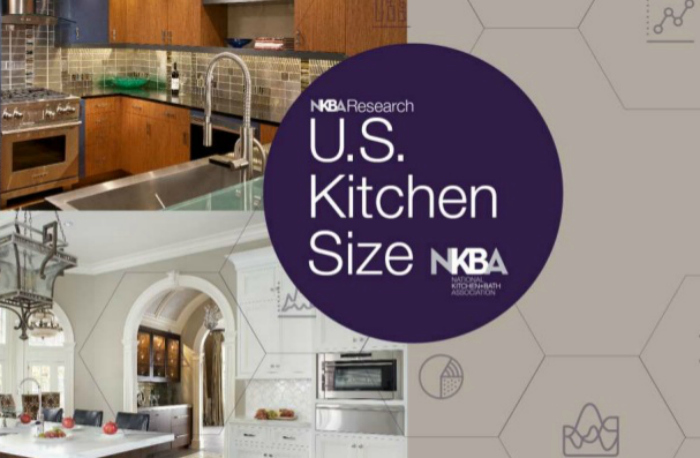 The average size of a kitchen in newly-built single family homes is 161 sq. ft., just under 13 by 13 ft., according to new research from the National Kitchen & Bath Association (NKBA). The research also found that the size…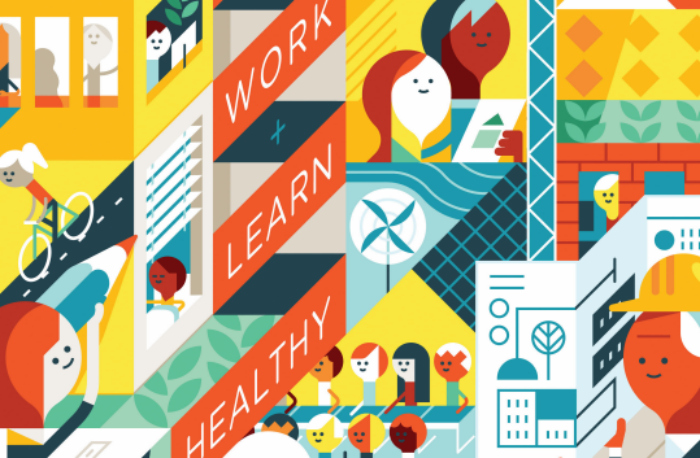 The American Society of Interior Designers (ASID) was a featured research partner in the new SmartMarket Report by Dodge Data & Analytics. "The Drive Toward Healthier Buildings 2016: Tactical Intelligence to Transform Building Design and Construction SmartMarket Report" reveals that…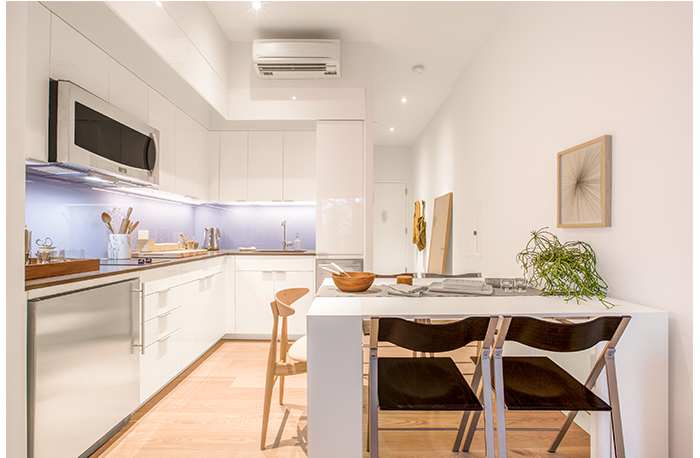 The Florim Showroom and the International Furnishings and Design Association (IFDA) in New York City recently hosted an evening panel with experts identifying three distinct new interior design trends. The evening was facilitated to help design experts determine which fits…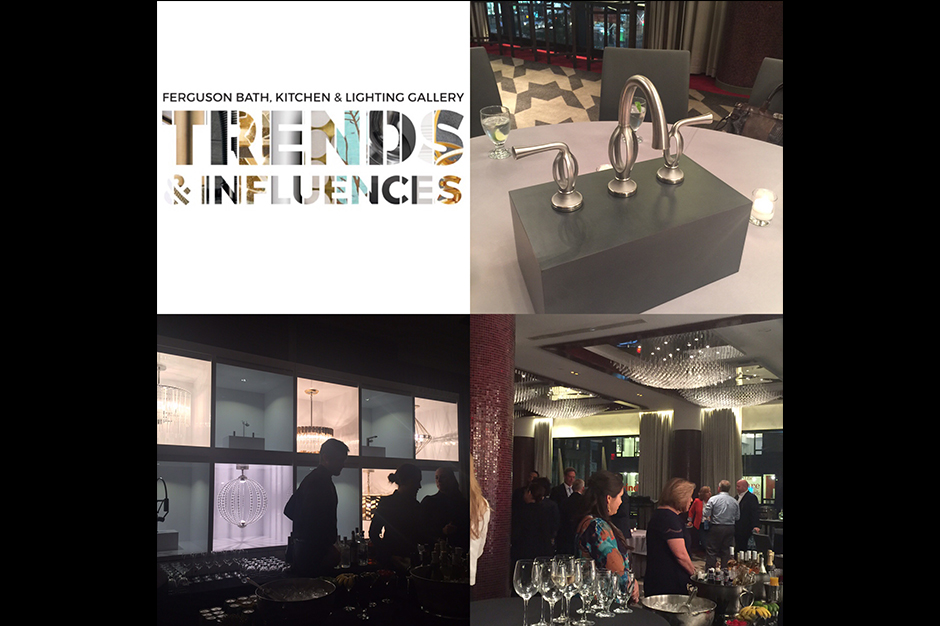 As the nation's largest bath, kitchen, and lighting showroom chain, Ferguson has spot-on insight on what's trendy and what's not. Through exclusive product research and discussions with leading designers, manufacturers and industry insiders, the company compiled an extensive guide to…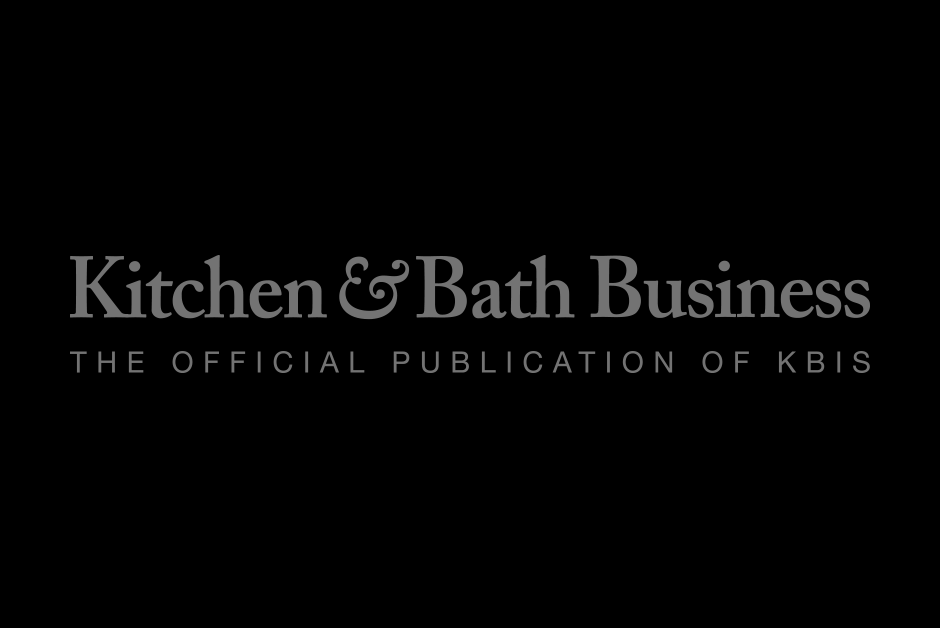 Three-quarters of 1,000 Google survey respondents said they were unfamiliar with the Environmental Protection Agency's WaterSense program, which encourages the use of water-efficient toilets, showerheads and faucets. The survey was conducted by Plumbing Manufacturers International (PMI). "The WaterSense program must be…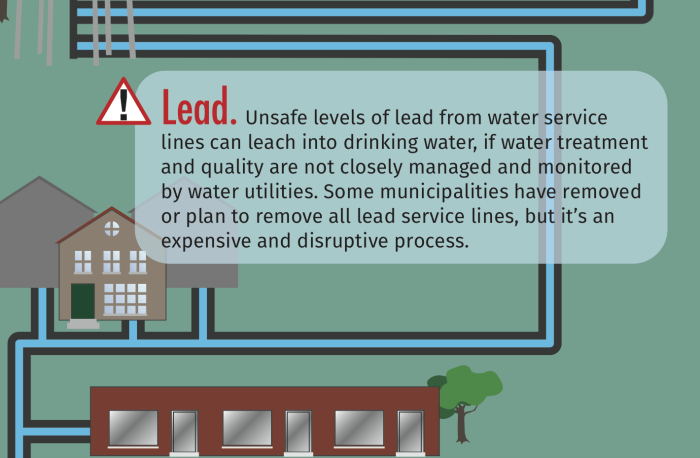 The U.S. Senate passed the $9.4 billion Water Resources Development Act (S.2848) by a 95-3 vote. Sponsored by Sen. James Inhofe (R-Okla.), the measure includes a provision long supported by Plumbing Manufacturers International (PMI) calling for the authorization of the Environmental Protection…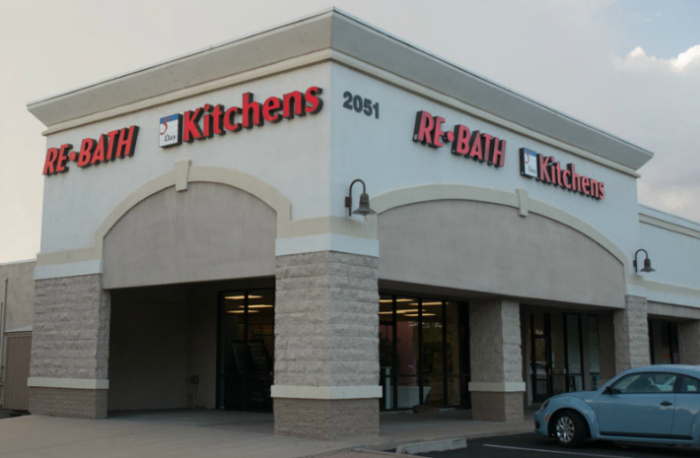 Re-Bath views the Kansas City metro area as a premier location for expanding its national brand. Kansas City's massive untapped potential of more than 100,000 owner-occupied housing units and median home values of $150,000 allows success for Re-Bath's business model…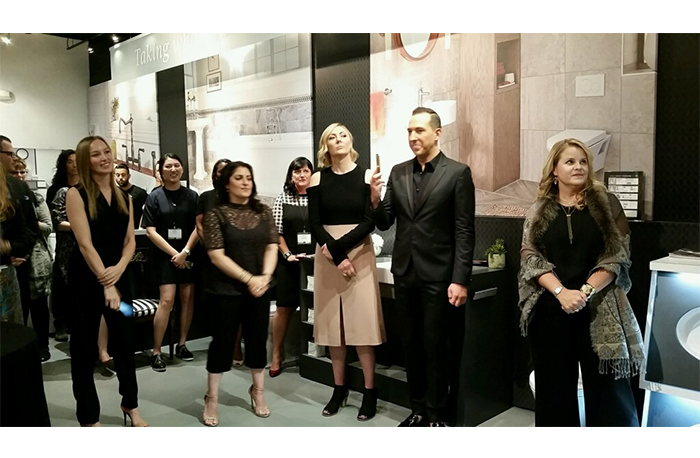 Luxury brand DXV, a division of LIXIL Water Technology Americas, shares the next chapter of its own story by unveiling "Iconic Cities" created by the DXV 2016 Design Panel. "Iconic Cities" takes inspiration from four cities with uniquely distinguishing building…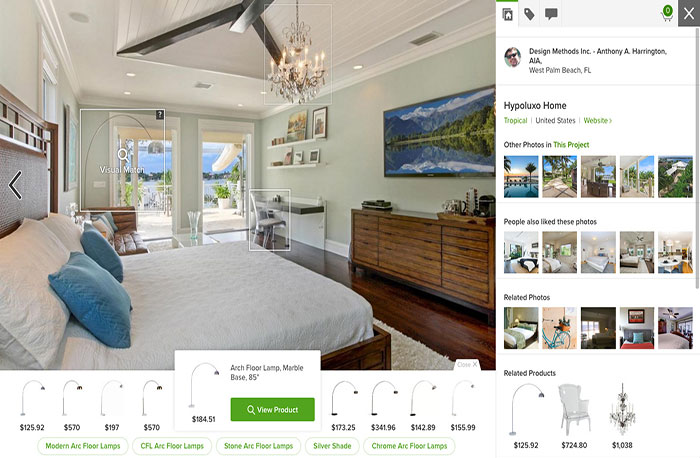 Houzz, the leading platform for home remodeling and design, today launched Visual Match, a new visual recognition tool that makes it easy for people to discover and buy on Houzz the types of products and materials that inspire them in photos….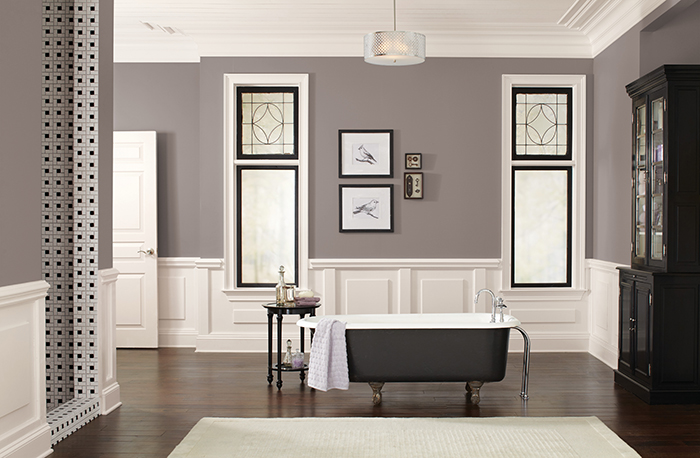 Sherwin-Williams announces Poised Taupe (SW 6039) as the 2017 Color of the Year. A modern take on a timeless classic, Poised Taupe signals a new direction in society's ever-growing thirst for beautiful neutrals that bring warm and cool tones together…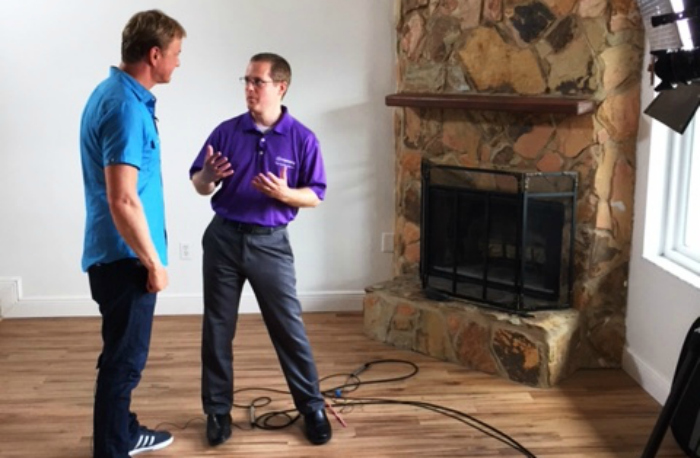 Armstrong Flooring and award-winning home improvement show Designing Spaces joined forces to help the family of an injured veteran in the "Military Makeover" series. Armstrong Flooring provided Vivero luxury flooring, which was featured in the premiere episode that aired on the Lifetime Network. The show…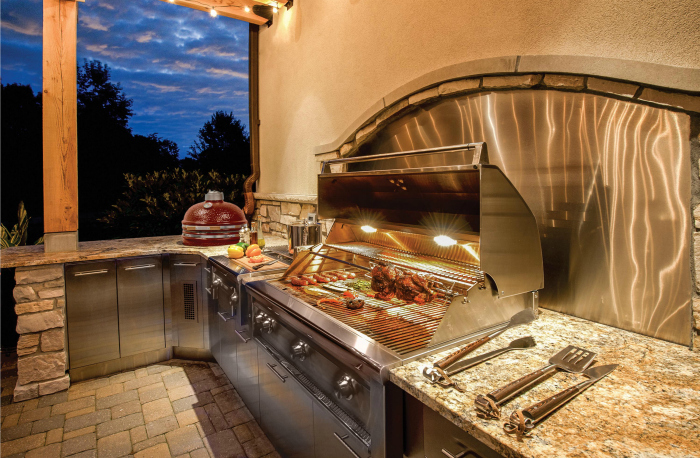 Danver Stainless Outdoor Kitchens has launched its newly redesigned website to better meet the needs of design and building professionals as well as consumers interested in enhancing exterior spaces with an outdoor kitchen installation. The redesigned website includes new features and improved…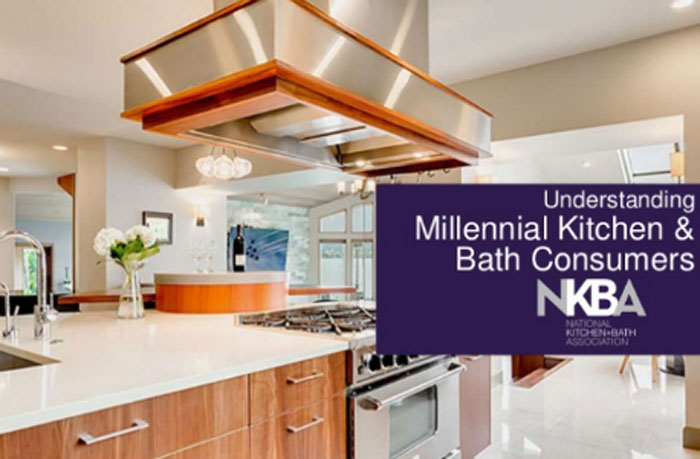 Millennials outspend other age groups when remodeling their kitchens and bathrooms, according to new research from the National Kitchen & Bath Association (NKBA). The research found that millennials spend an average of 17.7 percent more than the $19,155 typically invested…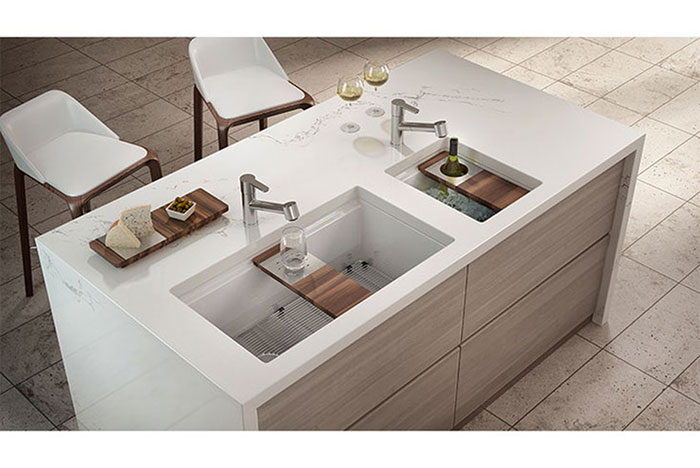 Recently, a few of KBB's Editorial Advisory Board members attended Dwell on Design, which was held in Los Angeles from June 24-16. The three-day exhibition and conference was held at the Los Angeles Convention Center and featured a variety of…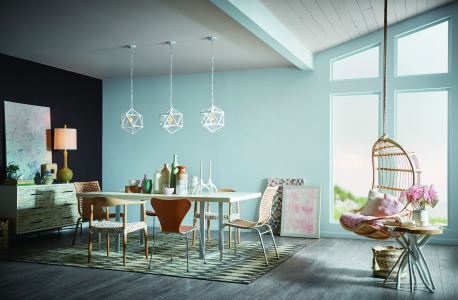 Just unveiled, colormix 2017: The Sherwin-Williams Color Forecast projects a sense of restlessness that will translate to color in new ways next year. With the backdrop of an ever-changing societal and cultural landscape, the four color palettes that make up…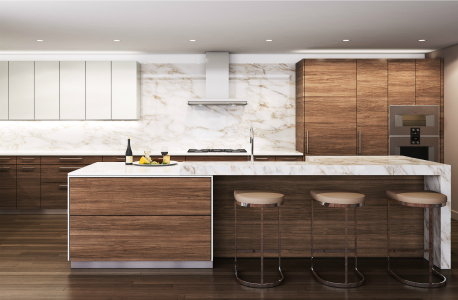 Poggenpohl has created a bespoke kitchen concept for the contemporary new residences, The River Oaks, located in Houston, Tex. The historically significant renovation project embodies a collective vision of some of today's most respected architects and designers, including Poggenpohl. "Poggenpohl is so honored to be a part of such an iconic development project in Houston," states…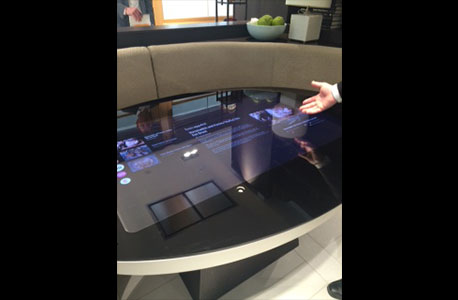 Innit today unveiled its Connected Food platform at the groundbreaking Pirch SoHo showroom, which opens this weekend in New York City. The Innit platform leverages information within food using advanced sensors, machine learning and nutritional science and seamlessly connects that…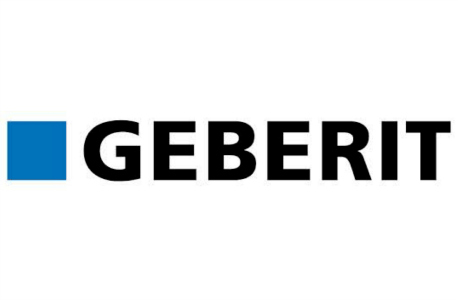 Geberit North America will showcase the latest trends for bathroom spaces with three of the industry's leading design and technology experts at the 2016 KBIS in Las Vegas, from January 19-21. Geberit representative Kelley DeBetta will give a series of Inspire presentations to attendees, while interior designer Liz Murray will discuss trends and design challenges with visitors…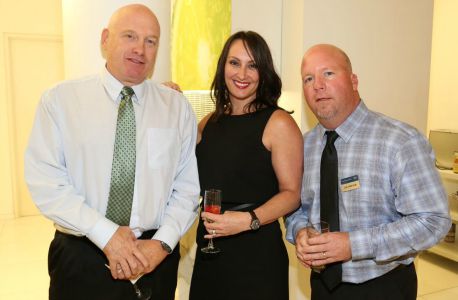 The newly-renovated, experiential GROHE Live! Center in the heart of the Flatiron district was the site of the kick-off party for the 2015 Hampton Designer Showhouse, presented by Traditional Home magazine and benefiting Southampton Hospital.  GROHE's kitchen and bath offerings…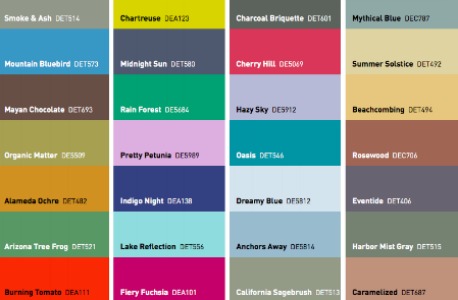 Dunn-Edwards Paints has examined color inspiration in literature, art, film, history and fashion to forecast five color trends that will be popular next year. The trends report, titled "2016:Home," outlines five paint palettes that can evoke different themes and moods…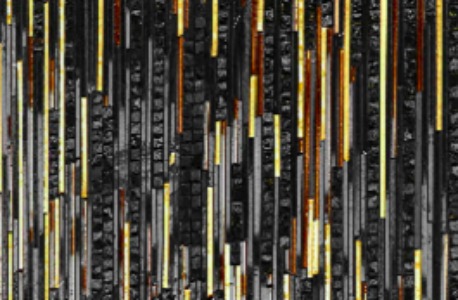 Exhibitors at Coverings 2015 showcased the latest trends in tile and stone at the largest international tile and stone exhibition in North America held last month in Orlando, Fla. "The exhibitors at Coverings 2015 pulled out all the stops –…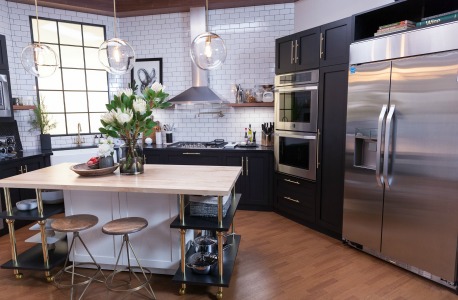 LG Electronics USA and designer Nate Berkus will help consumers 're-imagine' their kitchen at Dwell on Design 2015, where LG will unveil new products from its LG Studio line of kitchen appliances. The show's newly-minted Re-Imagination Pavilion will feature appliances…