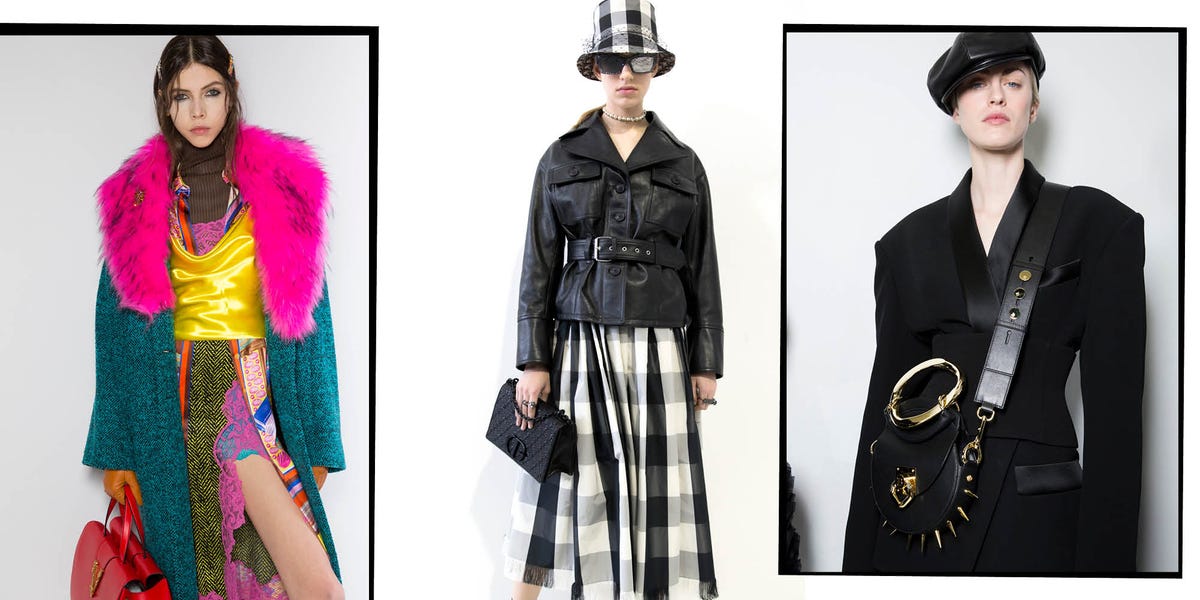 The Autumn/Winter shows were many, many things. From the disparate array of colours, and references that spanned decades of literature, previous sartorial eras and genres, it was clear that fashion designers hadn't spent the last six months simply fluffing the drapes.
The cacophony of new – and, we'll admit, sometimes confusing – trends seemed to mirror the chaos of the daily news. Old and new powers coexisting as stiff, awkward bedfellows.
In 2019, we experienced a range of jarring moments on the world's main stage: the gilets jaunes protests on the Paris streets for economic justice, Extinction Rebellion marched for climate rights, Tristan Thompson got caught kissing Jordan Woods, the British Conservatives came back to power and Trump was impeached. And as we head into 2020, no more settled politically, socially and culturally, fashion has taken advantage of the disunity.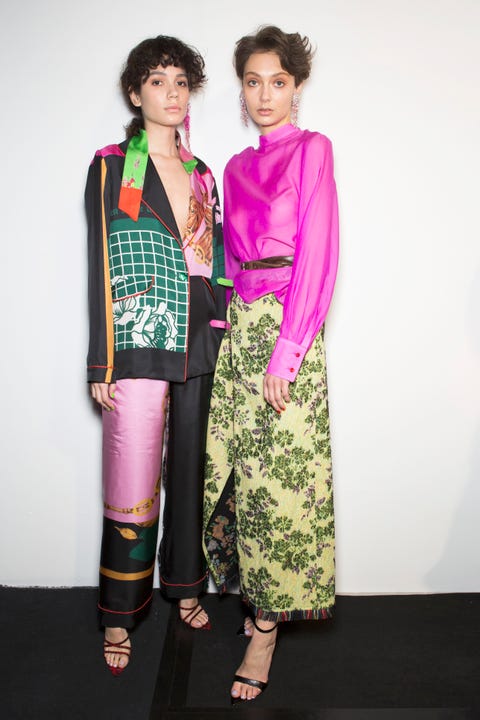 Alessandro ZenoImaxtree
Designers unveiled dress codes inspired by the super-rich (see feathers and silk), simultaneously to militant groups (see combat boots and khaki).
So, full disclosure, there's no neat and easy new look as we head into the new year (although the super brands did agree that their obsession with courting Gens Y and Z with sportswear and trainers is now over). So put down your Balenciaga dad sneakers forthwith.
NYE is instead a kind of pivot point. Diversity of all kinds (opinion, thought, aesthetic) is on the rise in fashion as well as in zeitgeist. The shows were simply recognition of the fact that there are many different forms of power and ways to design for them.
TREND REPORT
1. The Monster Mash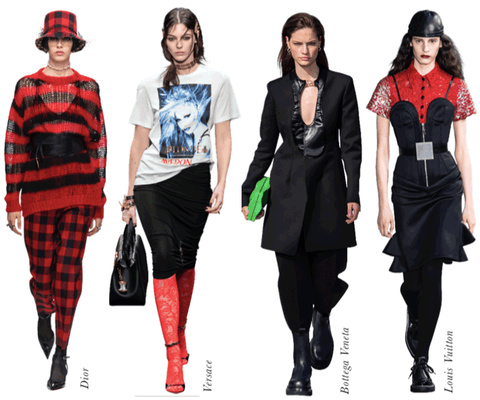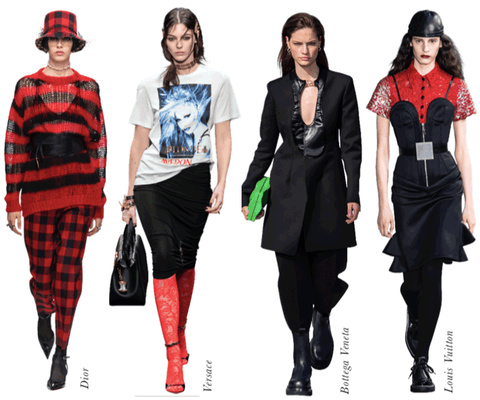 .
This is the Monster Mash… set to be a high-street smash. This is the kitsch B-movie iteration of goth.
It's Boris Karloff in Frankenstein, appearing as prints at Prada; it's 1960s TV shows like The Addams Family and Munsters. Think Wednesday Addams (as some designers literally did, looking at the Prada woman's hair), and the raised boulder shoulder of Uncle Fester at Louis Vuitton.
The Look: black, of course, but with bold-coloured accents. The look has the graphic impact of vintage movie posters with a palette of lurid yellows and greens, and bright blue, red and purple. Key pieces include a black kick-hem midi dress, tops with swirling graphics or stripes and lug-sole boots.
Shop Monster Mash
2. Go For Glamour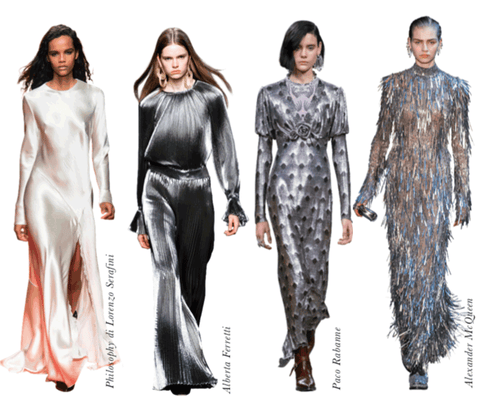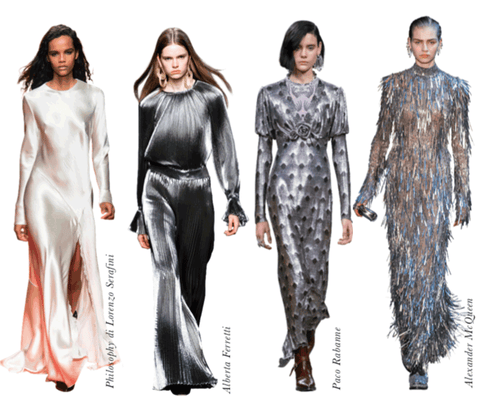 .
This is all about the Bright Young Things, those swinging-from-the-chandeliers debutantes from the 1920s and 1930s, seen through the prism of the 1970s.
From slinky slips to sequin frocks, this is high-shine hedonism with a curve-caressing bias cut or kick-flip hem. This is XL glamour.
The Look: shine bright in silk, satin and sequinned dresses and skirts that fall to the ankle. Dip your toe into the trend with costume jewellery in the form of statement earrings with a matching necklace.
Shop Go For Glamour
3. Creature Comforts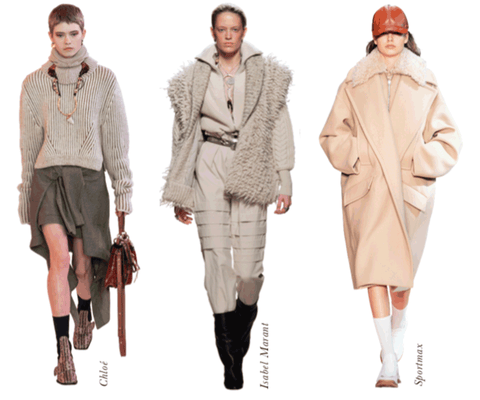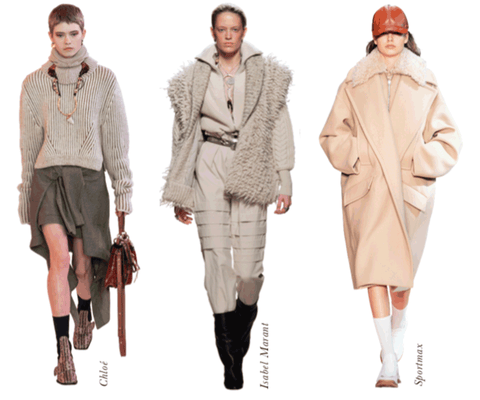 .
Comfort is key. This is everything you want to wear when the temperature plummets (or you're sat beneath Baltic office air con).
Forget hygge, and its 'cabin in the woods' comfort. This is off-duty chic for the on-the-go woman: she wants minimal fuss, to get ready quickly with simple separates in sumptuous fabrics.
The Look: a warm, tonal palette of grey, white and beige. You'll want to wear soft wool or cashmere knits and track pants, with a swaddling coat in faux fur or shearling.
Shop Creature Comforts
4. Cyber Girl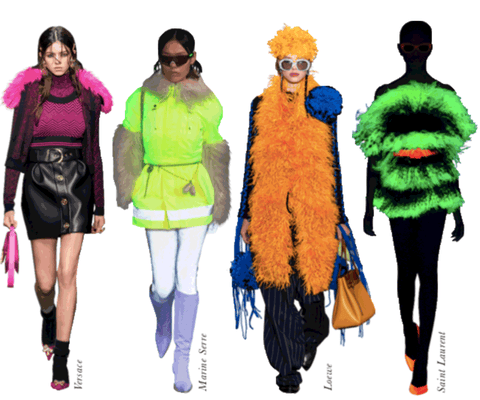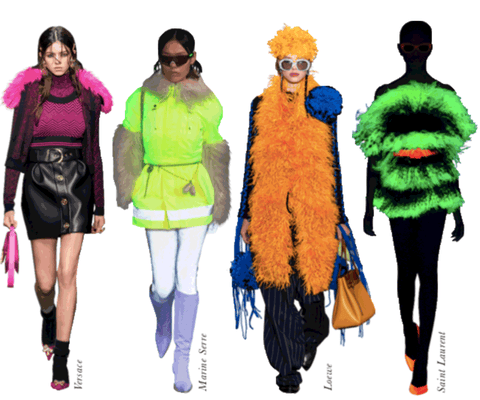 .
It's been the year of the 'cyber influencer'. Now it's the year of the 'cyber goth'.
The what? The 1990s, early 2000s goth-come-raver into neon and techno. Nightlife was on the brain at the shows, with Marine Serre and Saint Laurent killing the lights, making way for glow-in-the- dark technicolour.
This is counterculture meets club meets Lil Miquela with statement Insta-friendly touches, like Versace's neon fuzz. But there's something softer, albeit still statement, for when Miquela grows up.
The Look: high visibility with big colour, big volume, big attitude. Trimmings are tactile, framing the neck and shoulders. Accessories and shoes add a neon touch to a still-tough look.
Shop Cyber Girl
5. Fuzzy Friends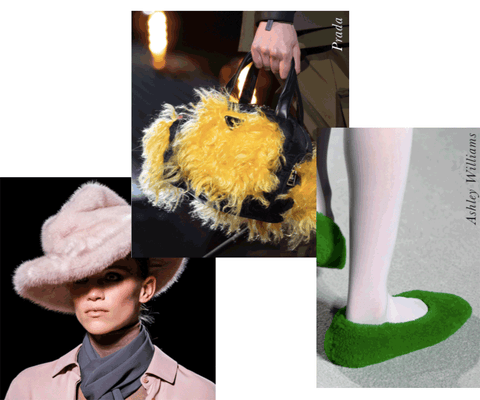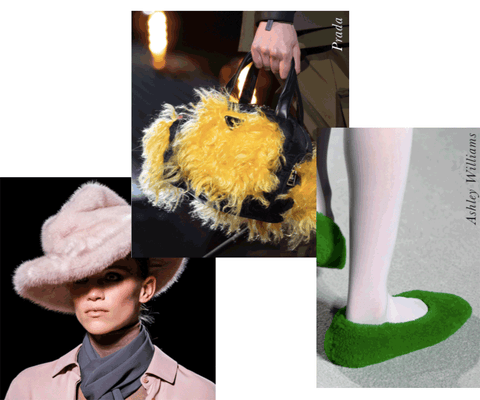 .
From the faux-grass lookalike pumps at Ashley Williams, through to Tom Ford's giant fur bucket hats, fuzzy, flurry, furry (but make it faux) accessories are the cuddly accompaniment to almost any outfit.
Shop Fuzzy Friends
6. Uptown Polish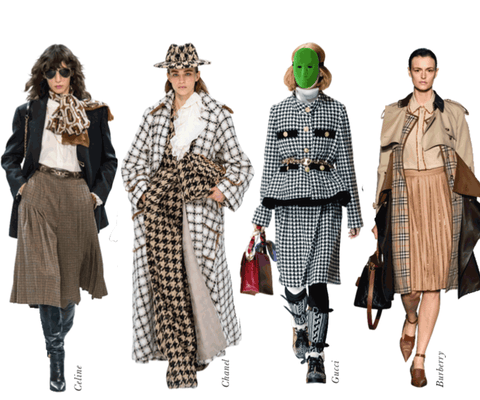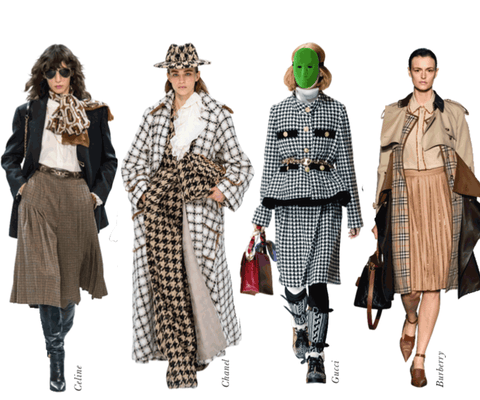 .
Safe clothes for crazy times. Rich-looking ones, too, if Hedi's homage to old Celine is anything to go by (culottes, gilt chain belts, silk blouses, tweed sports jackets).
AW19's update on bourgeoise dressing is town, not country; Parisian mademoiselle, not lady of the manor, with heritage checks and after-hours tartan providing the through-line.
The Look: you'll want to wear your knife-pleat culottes, shrunken argyle knit or pussybow blouse with a side serving of sass to undercut the high-net-worth loaded vibe.
Uptown Polish
7. Hotline Bling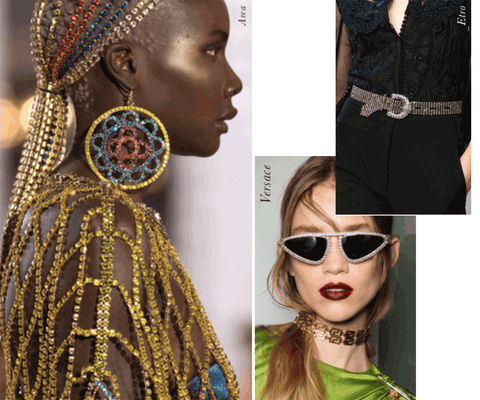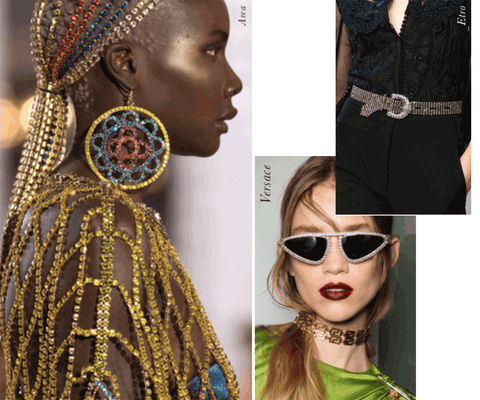 .
Nostalgia is nothing new, but this throwback to the 80s and 90s is extra fun.
Think Studio 54 at its most glam. Diamanté waterfall earrings, embellished everything. From belts through to bum bags and even your coat fastenings, make them glam, make them sparkle like an IRL Kira Kira filter. Go big.
Shop Hotline Bling