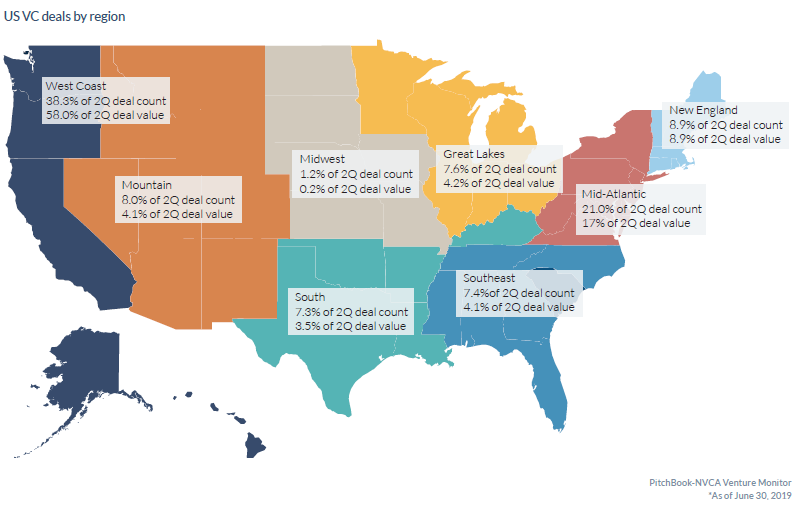 A deluge of hotly anticipated unicorn IPOs took place in the second quarter of 2019—driving a record for exit value of more than $138 billion.
The latest PitchBook-NVCA Venture Monitor, sponsored by Silicon Valley Bank, Perkins Coie and Shareworks, takes a deep dive into other trends in the US venture capital industry from 2Q 2019. It includes a spotlight on the growing healthtech sector, investment trends for female-founded companies and how fundraising might bounce back as exit gains flow back to LPs.
The full report is available to download for free, but for a quick look at the highlights, we pulled together this set of key charts.
Capital invested on pace to match 2018's colossal record
Mega-deals have pushed VC investment to roughly $66 billion through 2Q—nearly half of last year's record-breaking amount. 2019 could mark the second consecutive year in which VC investment tops $100 billion. 
 
$25B+ deployed in each of last six quarters
Although capital investment has considerably dropped from its high in 4Q last year, robust VC activity continues as companies pulled in more than $25 billion for the sixth consecutive quarter.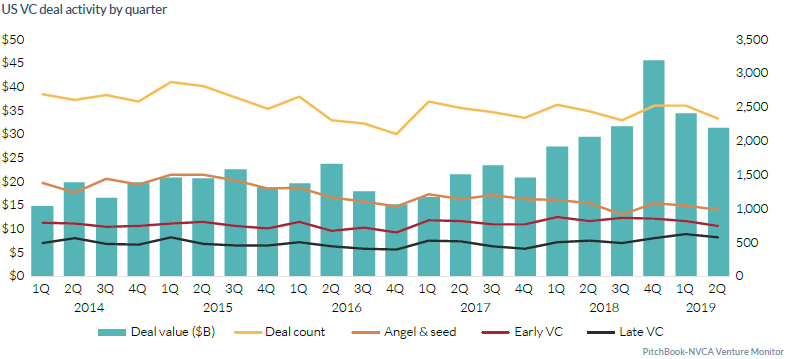 Mega-deals on the rise
Mega-deals have exploded since 2013 and 1H 2019 was no different with 123 deals in the books. However, average deal sizes in aggregate have plateaued so far this year.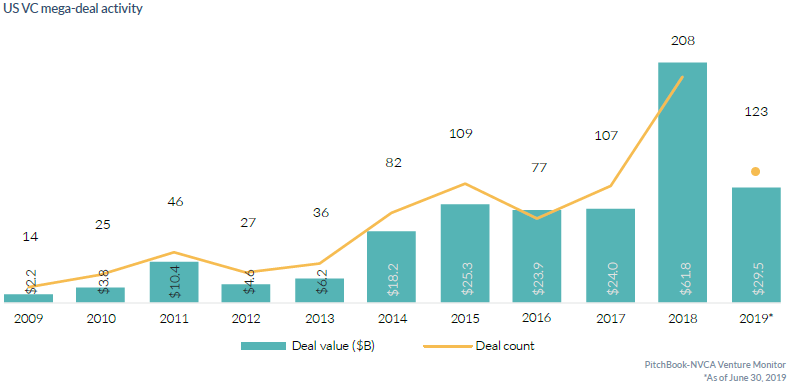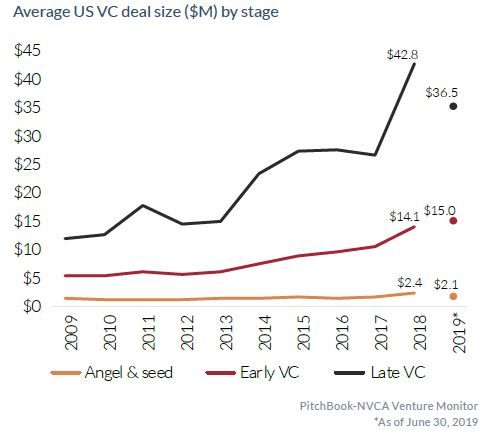 Angel and seed deal activity dropping
As the median age of companies receiving angel and seed financing tops three years for the first time, it seems investors are focused on reducing risk by favoring more mature startups. Overall, angel and seed rounds continue to drop.
Late-stage VC activity holding steady
Even as VCs poured more than $20 billion toward late-stage deals for the fourth consecutive quarter, the growth of deal size has cooled in 2019.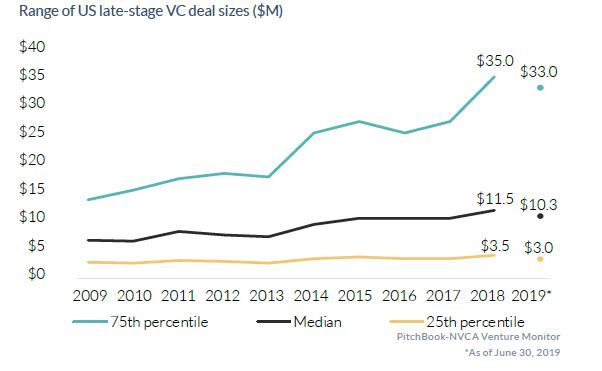 $50M+ deals crucial to late-stage strength
Smaller and traditional late-stage activity is very much alive as deals over $50 million account for only 17.1% of closed late-stage VC activity. However, deals over $50 million account for more than 70% of late-stage deal value.
 
West Coast retains lion's share of deals
The West Coast has not only retained it perennial status as the top region, but it has garnered 58% of capital investment in 2Q—a significant jump from roughly 47% last quarter. At more than 30%, the Mid-Atlantic region experienced notable growth in 1Q, but it dipped to 17% last quarter. 
 
Software deals on the decline
Software remains the most popular sector, but its share of deal count has dropped below 40%. It seems that mega-deals for companies such as UiPath have played an important role as capital invested in the sector is still on pace to match 2018.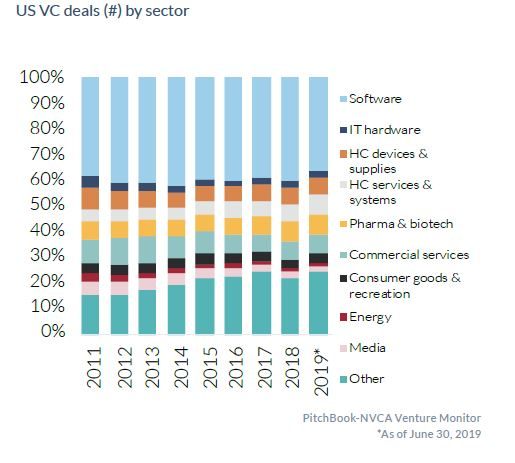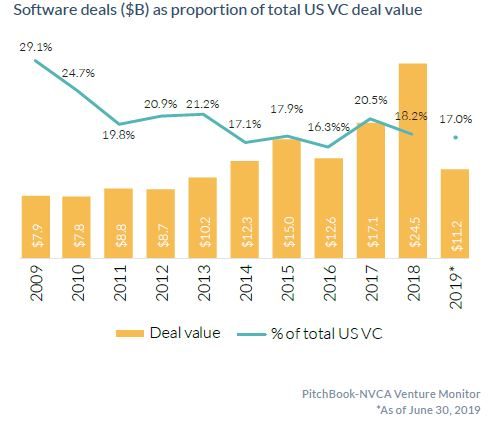 Healthtech trends toward record-breaking year
Increase in expensive chronic health problems combined with a continued rise in healthcare costs have contributed to the growth of healthtech sector in recent years. With more than $4.7 billion already in the books, 2019 is on pace to exceed last year's high mark.
 
Female-founded companies on the rise
It has been a big year for women in VC. Female-founded companies such as Glossier and Rent the Runway picked up mega-rounds in 1H and helped move the needle to roughly $1.9 billion in capital investment toward female-founded companies. 
 

While it's no surprise that the Bay Area has attracted more venture capital for female-founded companies since 2006, other metro areas have gained traction in recent years.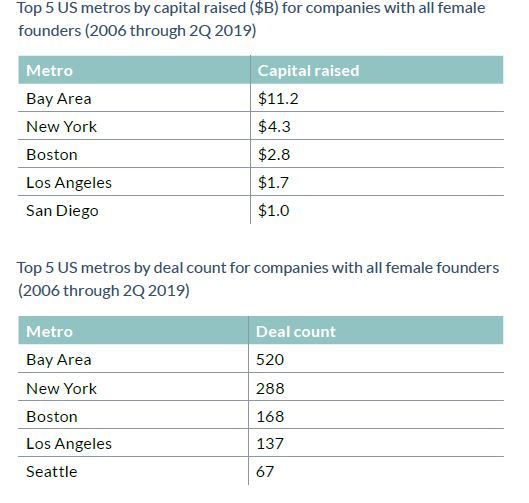 CVC activity contracts toward a more sustainable figure
Venture arms of corporate heavyweights such as SoftBank, Amazon and Alphabet have contributed to a growing share of VC investment over the years, but overall CVC participation has decelerated to a more stable level in 2019.
 
Massive unicorn IPOs drive historic exit value
2Q 2019 represents the largest quarterly exit value to date as companies including Uber, Slack, Beyond Meat and Zoom went public. IPOs account for more than 80% of total exit value in 2019.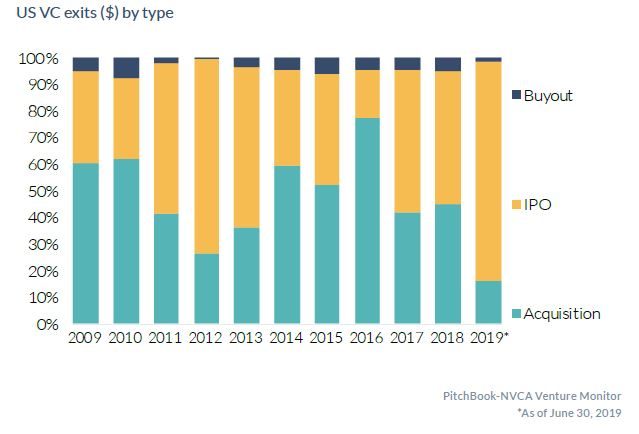 Fundraising rebounds after a slow 1Q
GPs have consistently raised over $33 billion every year since 2014. Fundraising is expected to accelerate throughout the year as recent exit gains flow back to LPs and encourage reallocation strategy.