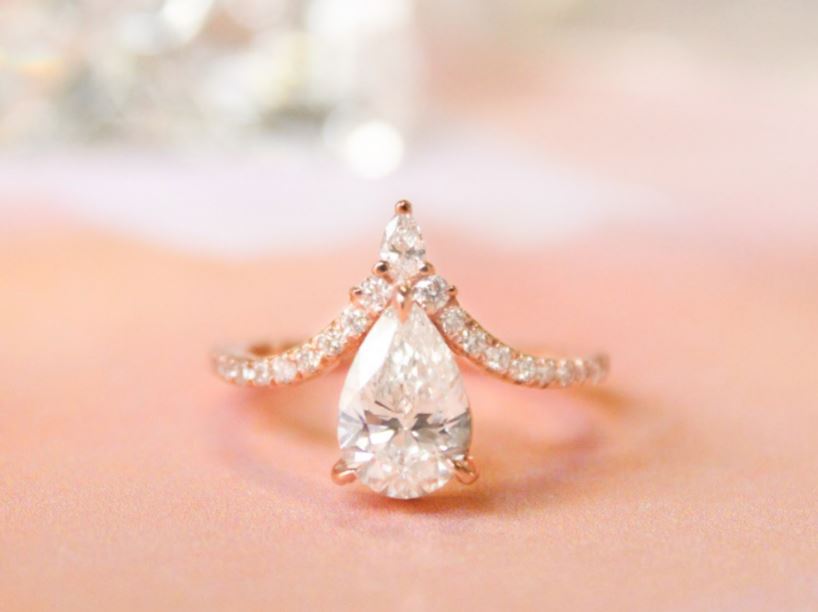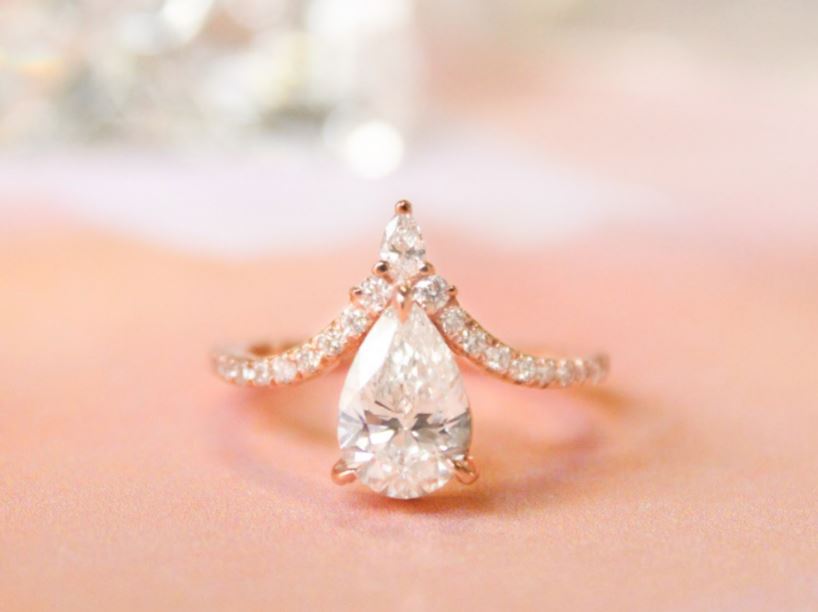 At Brilliant Earth we spend our days helping couples select the rings that symbolize their love and commitment, and designing rings that capture their individual styles and personalities.
We are among the very first to see engagement ring and wedding ring trends as they emerge. Here are a few things we've noticed about the popular engagement rings we are loving now, and trends that we expect to stay strong through 2018.
POPULAR ENGAGEMENT RING STYLES
Asymmetrical Designs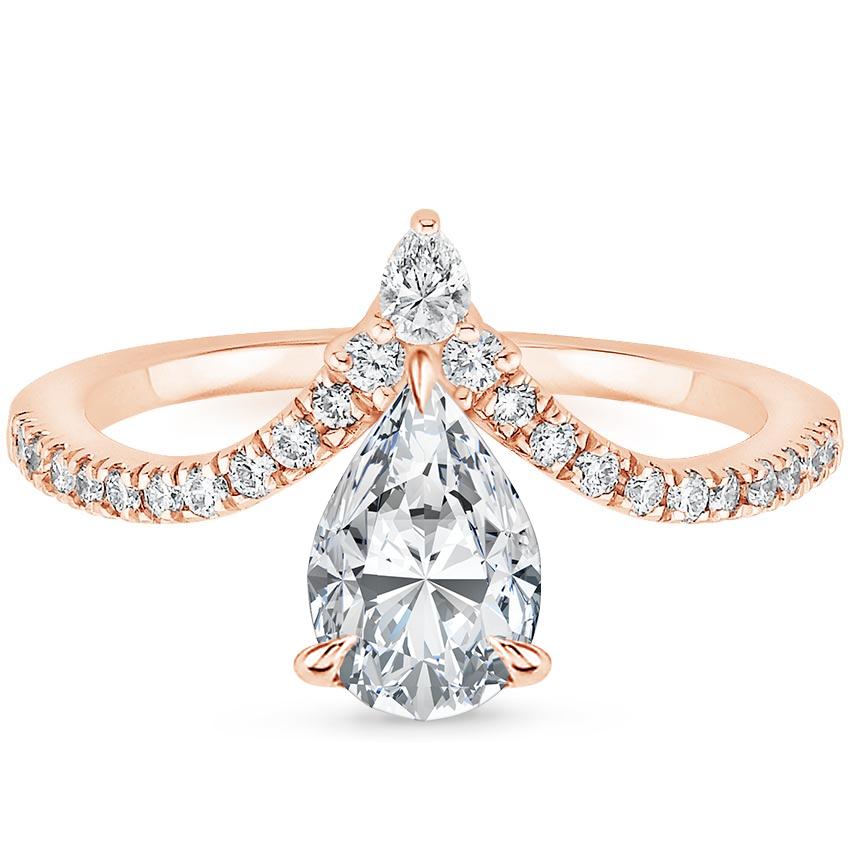 While today's brides-to-be love the tradition of engagement rings, they don't always want the rings to look traditional. Many women are opting to make a statement, to express their unique personalities or aesthetics. These couples usually seek custom designs or non-traditional rings involving distinctive elements like black rhodium, unique silhouettes (as seen in the Nouveau Diamond Ring, above), and less traditional colored gemstones such as aquamarines and morganite.
Oval Engagement Rings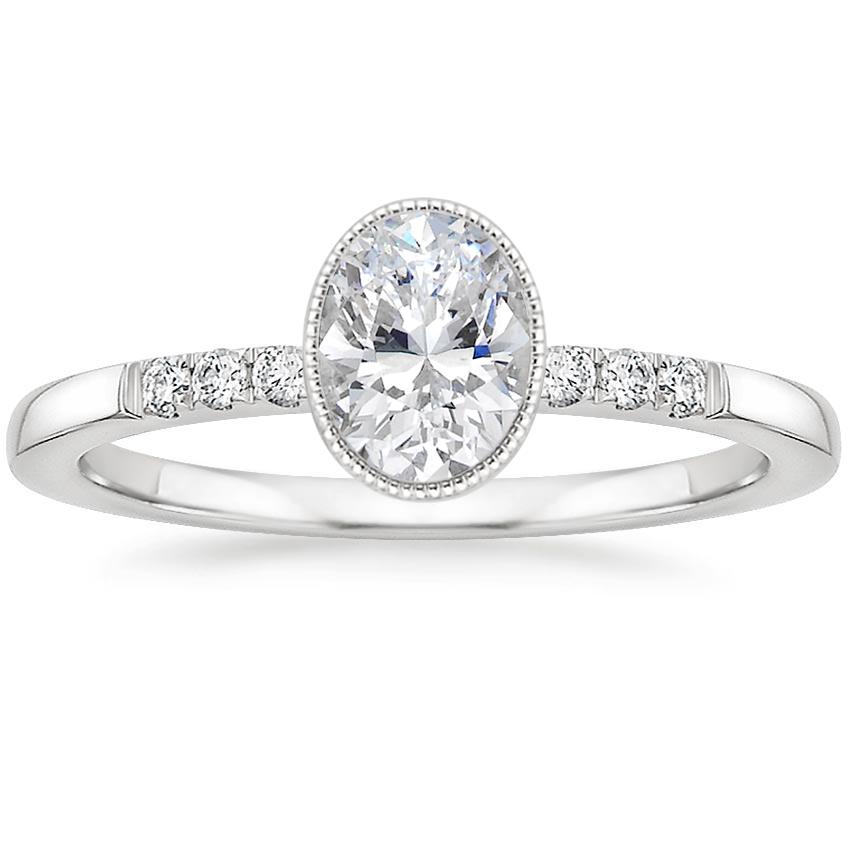 Oval diamonds are more popular than ever! Their elegant elongated shape offers a distinctive spin to the classic round diamond. While oval diamonds look striking as the centerpiece of a solitaire engagement ring, we also love the look of ovals in three stone engagement ring settings, trendy east-west settings, and sparkling halo settings.
Chevron Shapes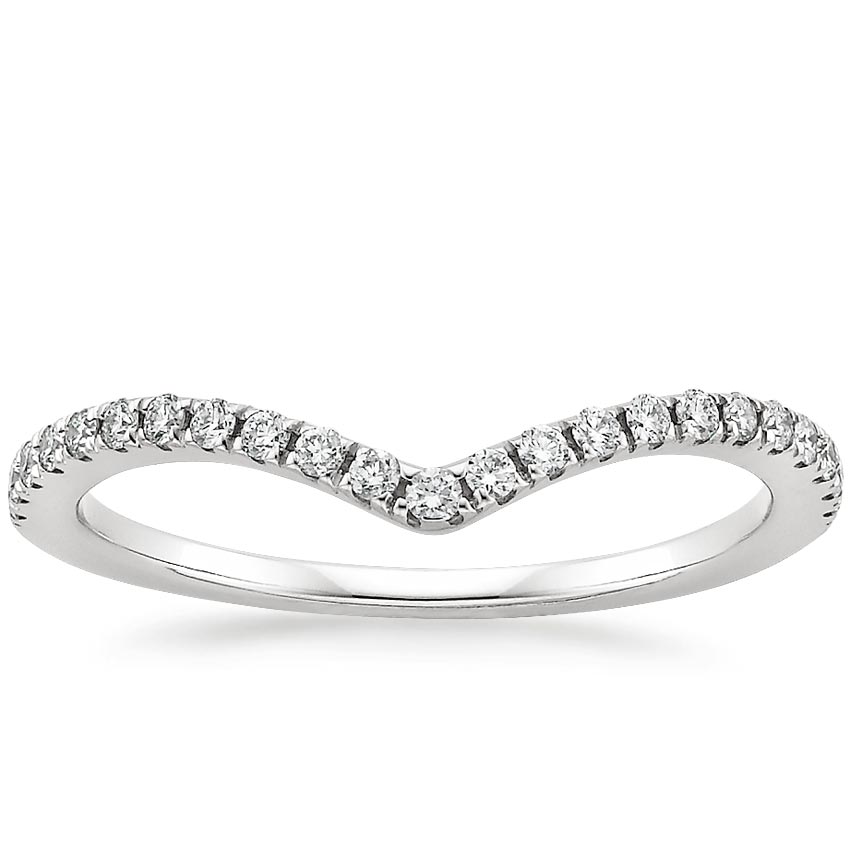 Many brides are drawn to distinctive v-shaped chevron wedding bands. These bands look great on their own, stacked alongside another chevron ring, or with your engagement ring. The popular three stone Esprit Diamond Ring features geometric trillion side sides for a distinctive look.
Accented Galleries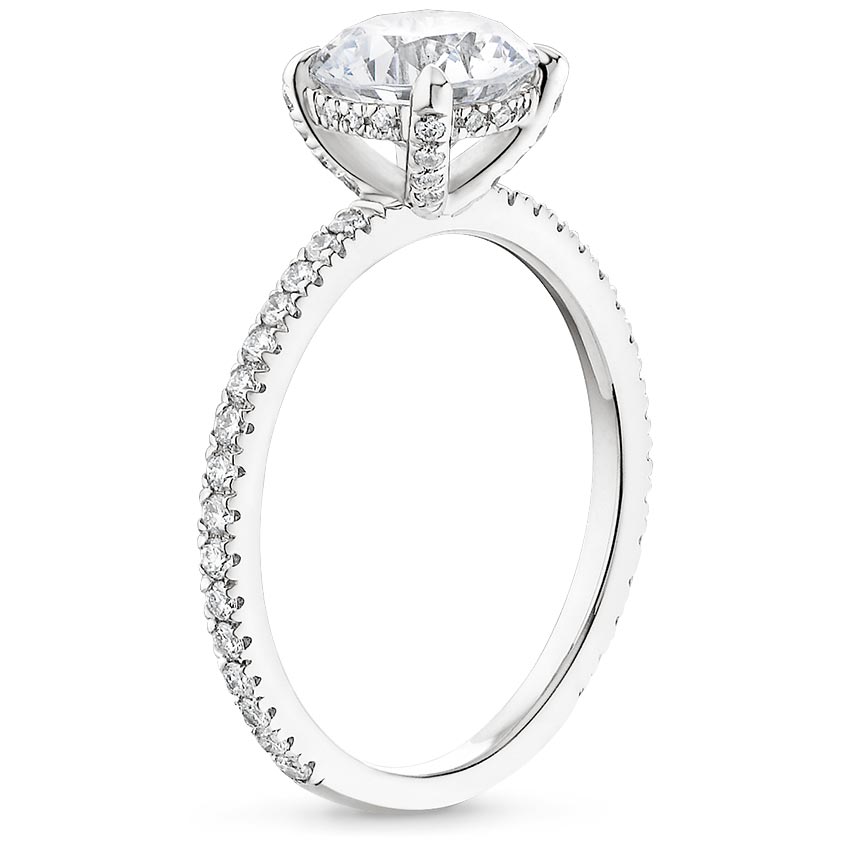 Flashy rings may be less popular than in years past, but couples crave beautiful little touches that set a ring apart. Think accented baskets with diamond galleries, as seen in the Viviana Ring, above, or in the popular Valencia Diamond Ring.
East-West Styles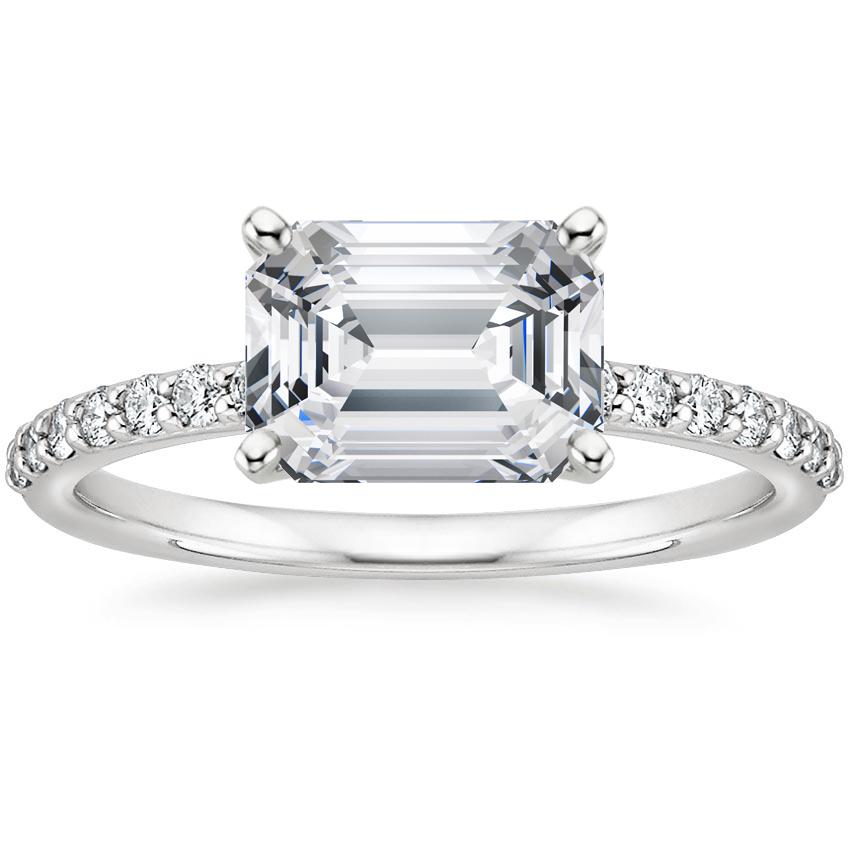 East-west engagement rings are the perfect way to put a distinctive spin (literally) on a traditional engagement ring setting. As opposed to a classic vertically placed center stone, east-west styles place the stone horizontally on the band. This style can be set with any elongated fancy diamond shape, think oval, emerald, marquise, or pear. While we offer a few standard east-west styles, many of our setting can be modified to feature a horizontally set gemstone—just ask!
Intricate Diamond Halos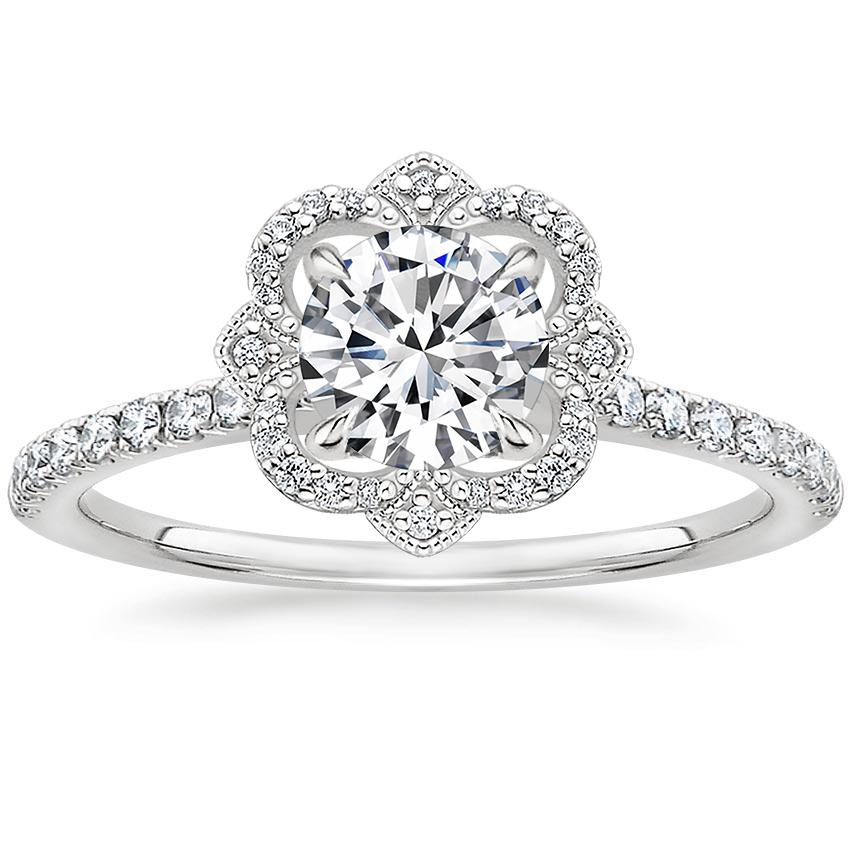 Halo designs featuring traditional round and cushion shaped diamonds have been very sought after for the past few years, perhaps because of their romantic vintage-inspired look, or because of the way a halo of accent diamonds makes a center diamond appear larger. Now we see couples craving more distinctive halo designs, such as the curvy and ornate halo of the Reina Diamond Ring, above, or the multi-dimensional halos of the Cordoba Diamond Ring and the Cadenza Halo Diamond Ring, both of which feature stunning side views.
Understated Engagement Rings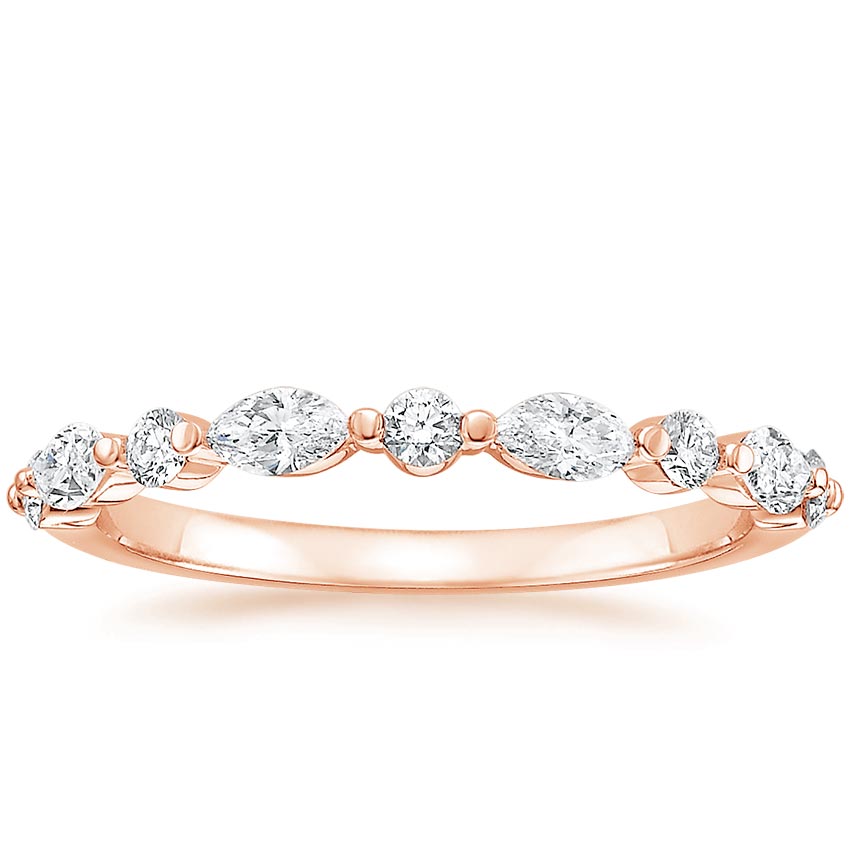 Brides who prefer more understated styles may gravitate towards wedding band for daily wear rather than a classic center stone engagement ring. We love how the single prongs on the Versailles Diamond Ring make the band's round and marquise diamond shapes stand out, resulting in an organic and unique silhouette.
The New Three-Stone Styles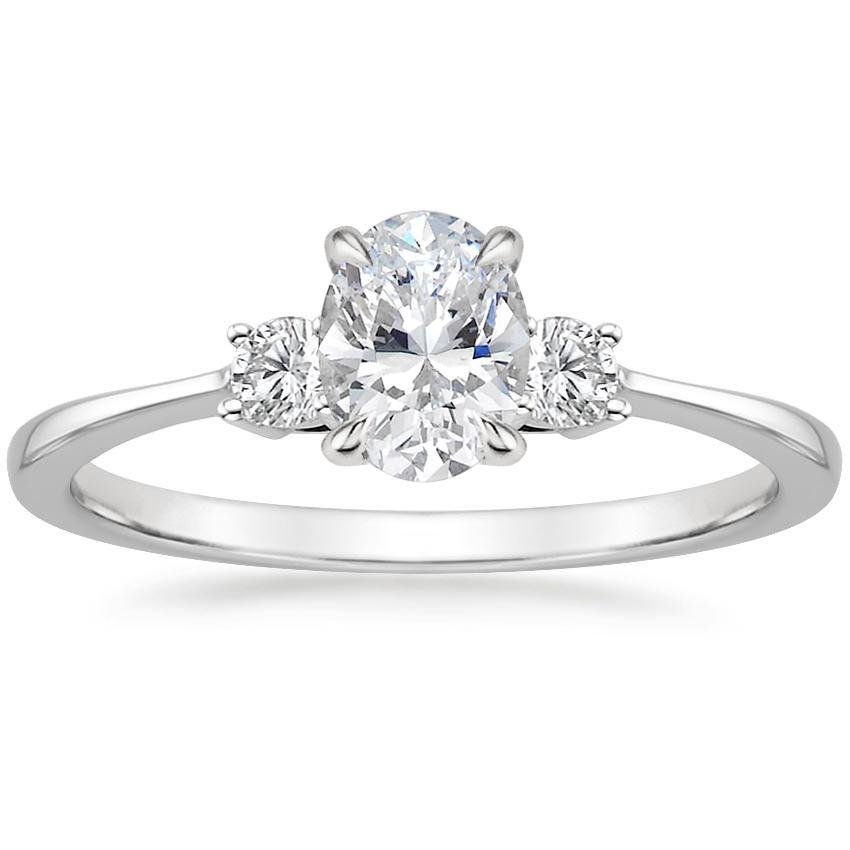 Since Meghan Markle and Prince Harry's engagement, three stone engagement rings have been gaining a lot of attention! A three-gemstone engagement ring is a timeless look, and a symbolic one too—the three gemstones are said to represent a couple's past, present and future. Couples who crave an elegant and understated three-stone design might love the Selene Ring, above, which features a delicate, gently tapered band and chic claw prongs securing the center gemstone.
Sleek Stacking Rings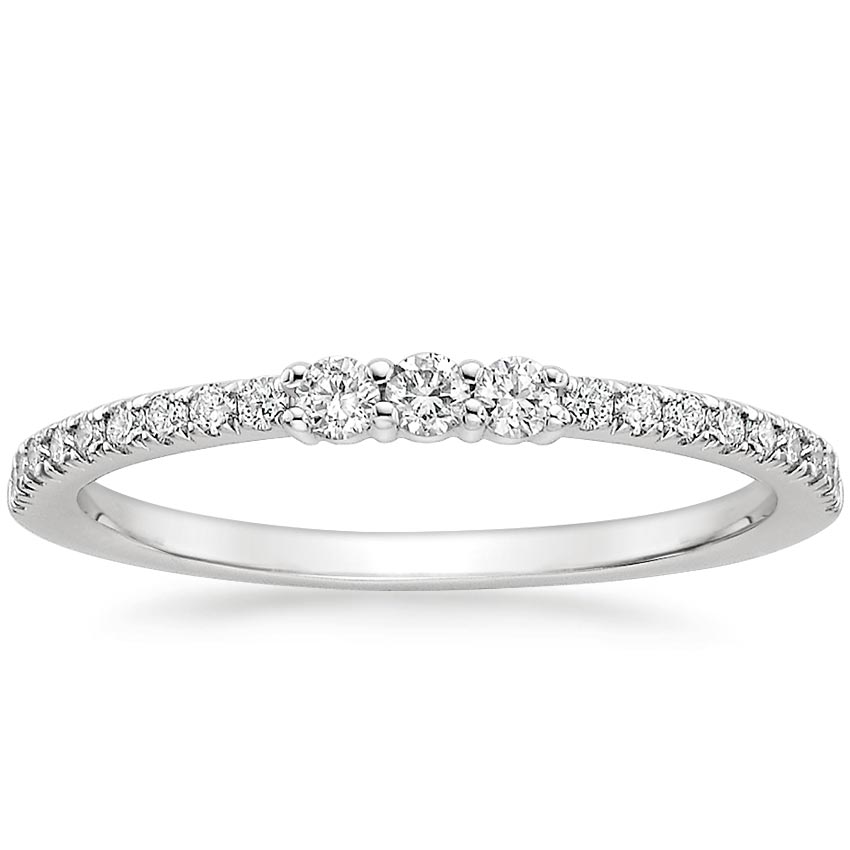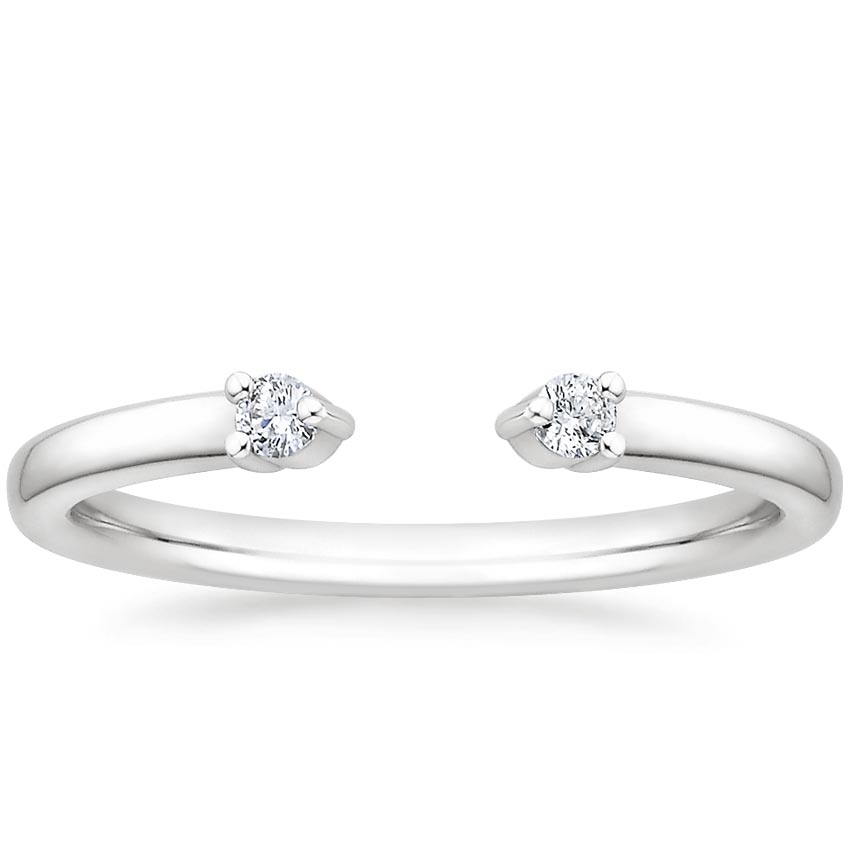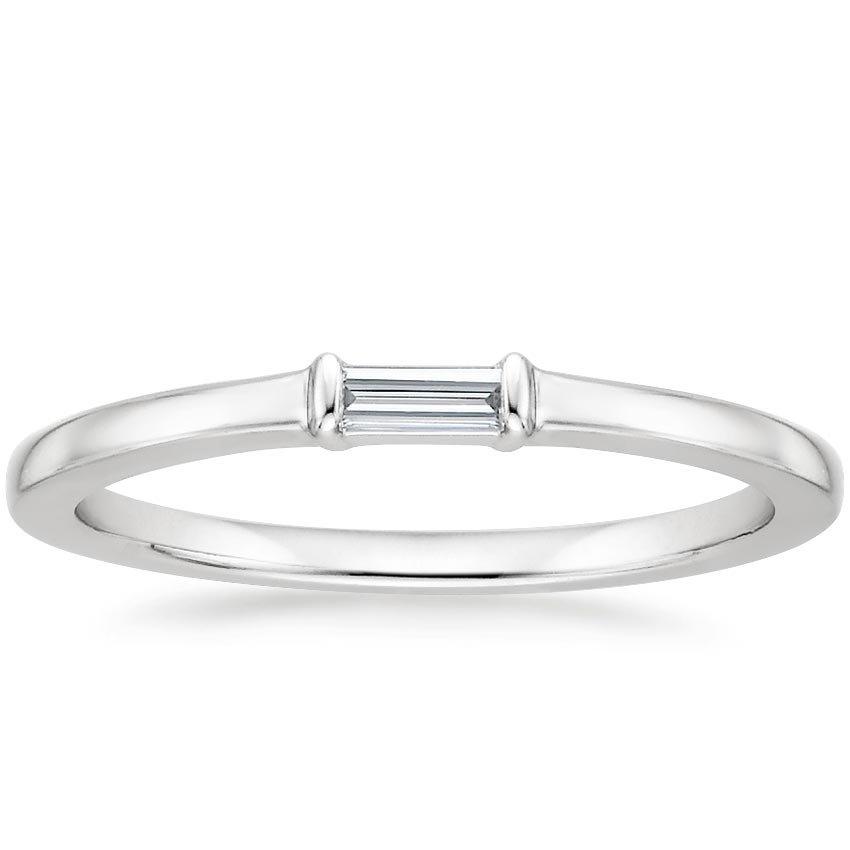 When it comes to rings, we are all for stacking on the sparkle! Brides have increasingly been seen adding multiple wedding bands to their ring finger, creating a trendy stack with their engagement ring. We love mixing and matching various band types for a look that's truly unique to the wearer.
Delicate Silhouettes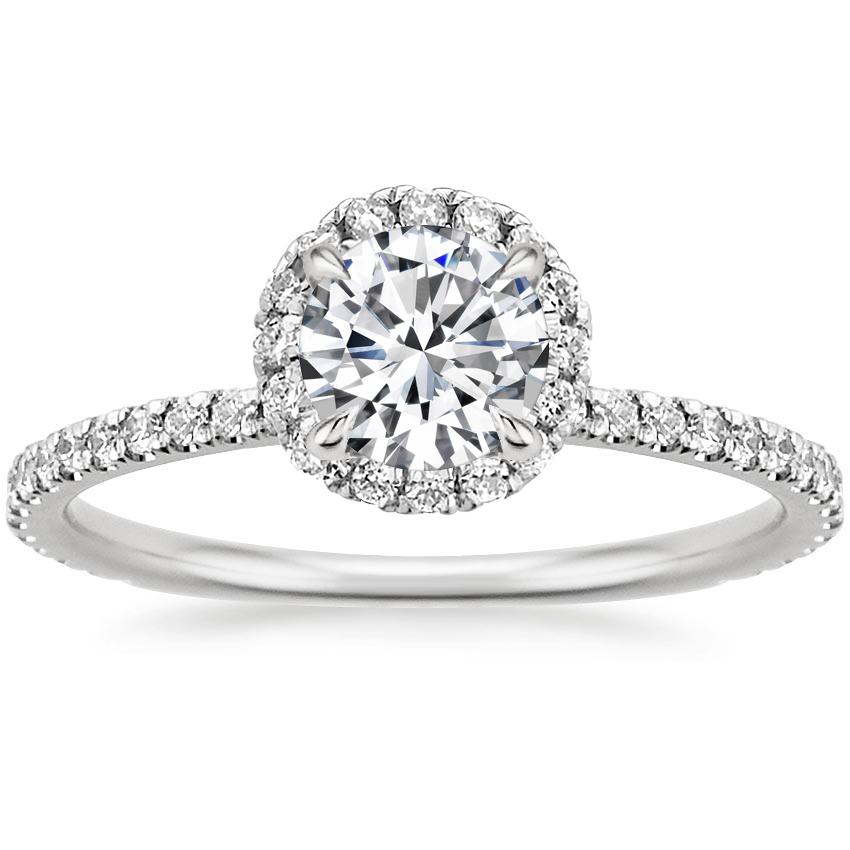 We've seen a return to classic elegance as couples opt for thin, petite bands, both in engagement and wedding rings. Often these rings feature accent diamonds that add subtle shimmer and make the center gemstone really pop, as seen in the Lissome Diamond Ring, which features scalloped pavé diamond accents on a thin band that rises to a cathedral setting.
Black Rhodium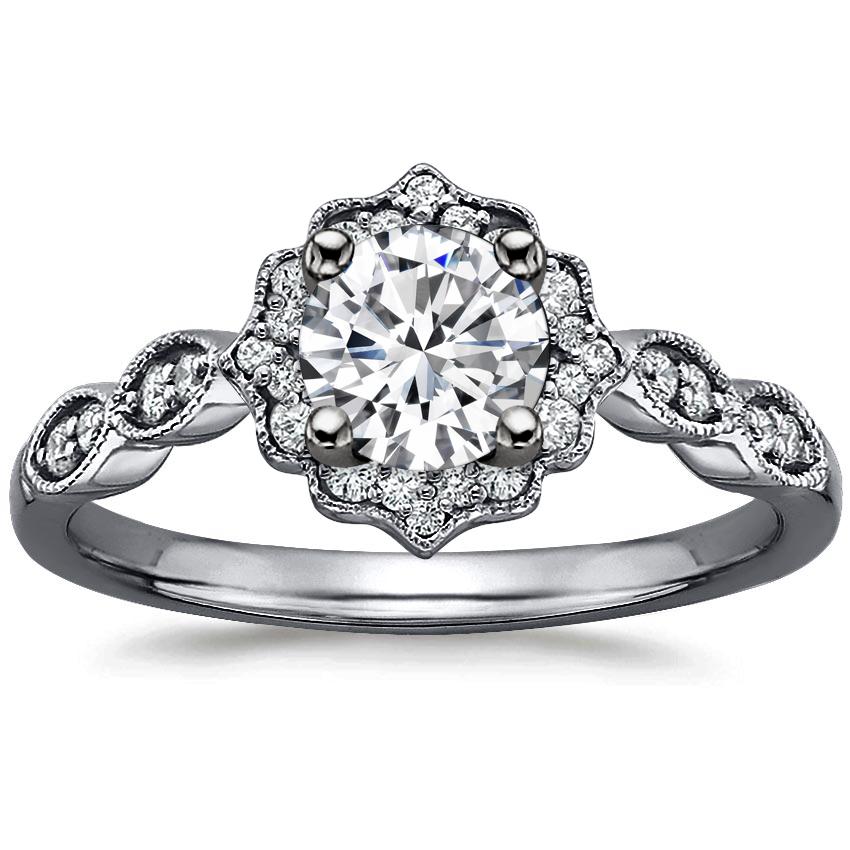 When thinking of engagement ring metal types, our minds typically go to platinum or gold variations, but what about a darker colored metal? Non-traditional black rhodium is a great way to create a chic statement with your engagement ring and its dark coloring makes both diamonds and colored gemstones pop!
Rose-on-Rose Rings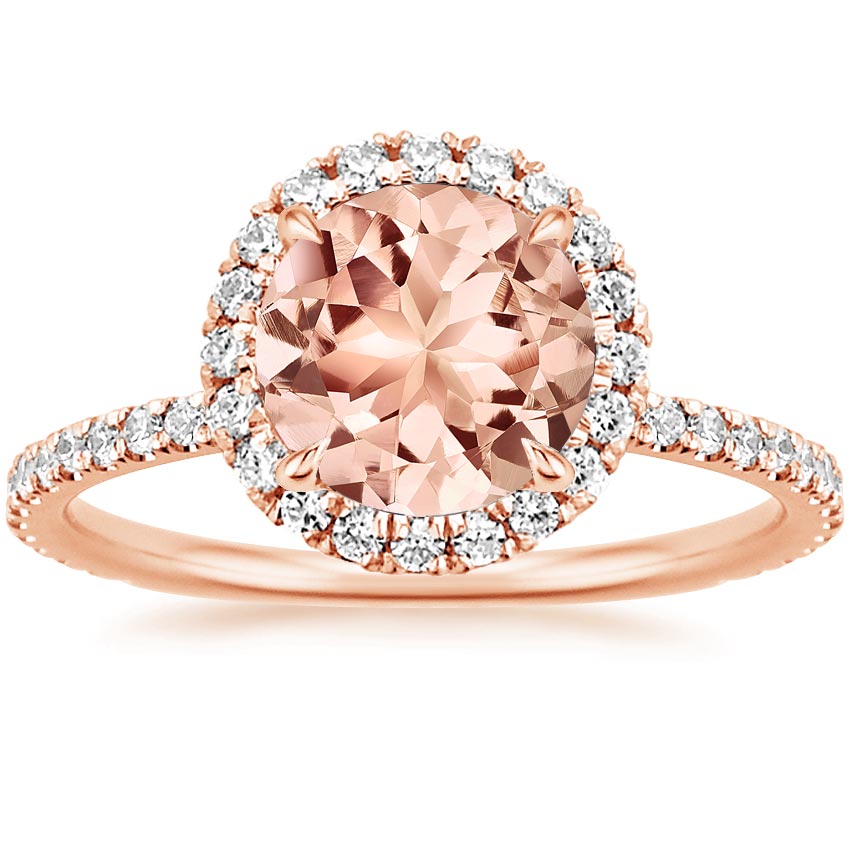 Rose gold has been beloved by brides-to-be in recent years, and now those who adore this warm and romantic look are taking it a step further and combining gorgeous morganite gemstones with rose gold settings. Morganite is a semiprecious gemstone with a warm pink hue and sparkling clarity, and when set in rose gold it creates a breathtaking effect that reflects your rosy outlook on your future together. Rose gold halo engagement ring settings, such as the Morganite Waverly Ring in rose gold, above, add dazzling diamonds to create a bit of contrast, while solitaire styles, such as the Morganite Hudson Ring in rose gold have a gorgeous all-rose look that draws attention to the detailed setting.
Final Thoughts
What do you think of these engagement trends?  Have you recently become engaged?  Share your story with us in the comments below, or on our Instagram, Facebook, or Twitter!