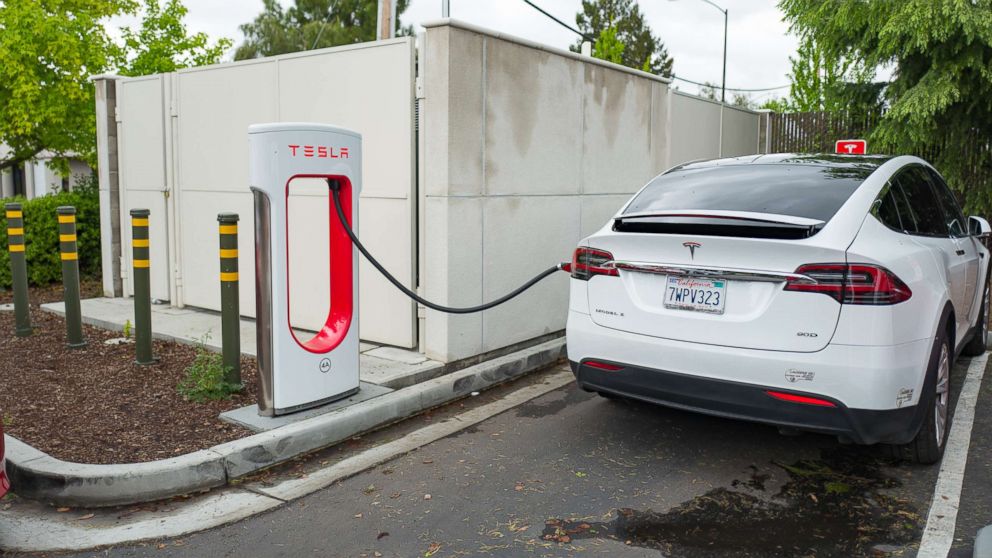 — — The auto industry will close out 2017 with U.S. sales of 17.1 million units — its first sales decline in seven years. How will automakers respond? And will SUVs and CUVs continue their domination in 2018? Here are the five biggest trends to watch for drivers and carmakers.
9 new cars that have the 'wow' factor
Car sales
A luxury sports car sits on display in a dealership in Manhattan, Nov. 30, 2017 in New York City.
A luxury sports car sits on display in a dealership in Manhattan, Nov. 30, 2017 in New York City. Spencer Platt/Getty Images
Auto sales in 2018 will be "OK but not great," according to Dave Sargent, vice president of global automotive at J.D. Power. He predicts automakers across the board will offer generous incentives to boost sales.
"It's great for consumers … there are fantastic deals right now," he noted. "Automakers are still trying to clean out inventory."
There are several reasons for the dip. Consumers are holding onto cars longer because reliability "is the best it's ever been," he said. People are also choosing used cars, a trend that has diluted new car sales. Moreover, 3 million lease vehicles are coming back to the market, adding to supply. Almost a third of all new vehicles sold in the U.S. are now leased, according to Brandon Mason, a director in PricewaterhouseCoopers' automotive practice.
"You can get a lot more car for your money with a used vehicle," Sargent said.
Automakers can still bank on sales of SUVs and CUVs and are about to flood the market with an influx of new models.
"If an automaker's lineup is heavily sedan, it's a very uncomfortable place to be," Sargent said. "Consumers are leaving this segment in droves."
Even though SUVs can be more expensive than sedans, "Consumers are willing to pay for the utility they get … which is hard to pass up," according to Rebecca Lindland, an executive analyst at Kelley Blue Book.
Mason said light trucks, a category that includes SUVs and CUVs, hold a 64 percent market share versus 36 percent for passenger cars.
He forecasts U.S. sales of 16.7 million to 16.8 million units in 2018. "Still a healthy number," he said.
Fewer subprime loans could also affect sales. Subprime financing declined significantly in the third quarter of 2017, according to Experian data.
"Whether the industry can remain disciplined on things like subprime financing, incentives and fleet sales will be closely watched in 2018," Mason added.
For Eddie Alterman, editor-in-chief of Car and Driver magazine, next year's slowdown can be attributed to another factor: "People who wanted to buy new cars have already bought them."
Subscription model
Automakers are jumping on the subscription service model bandwagon. Porsche, Volvo, Cadillac and Lincoln have all introduced programs that allow drivers to swap vehicles every week for a set fee.
"Carmakers are doing this because they want to keep people in the brand," Alterman said, adding that this could appeal to consumers who want to test-drive new vehicles.
The subscriptions bundle insurance, roadside assistance, vehicle tax and registration and maintenance costs into one monthly payment. Membership is often month to month with no long-term requirement. Flexibility does come at a price, though. The monthly fees are significantly more than an average lease or finance payment.
"Carmakers are dreaming here," Alterman said.
Porsche's program, called Porsche Passport, allows subscribers up to 22 different Porsche models and unrestricted mileage. There are two membership plans: the "Launch" ($2,000 a month gives subscribers access to eight models, including the 718 Boxster and Cayman S) and the "Accelerate" (22 vehicles, such as the 911 Carrera S and Panamera 4S sports sedan, are included for $3,000 a month).
Cadillac said its BOOK by Cadillac program gives members access to "popular Cadillac vehicles without the commitment of leasing, financing or buying."
The company charges a monthly flat fee of $1,500. Vehicles are delivered "via white-glove concierge to members' requested locations and exchanged at their leisure or as their needs change."
Sargent pointed out the hassles of driving a different car each week, like moving personal belongings from one vehicle to the next.
"This is for people who have a lot of money and time to swap out these cars," he said. "It sounds like fun if you live next door to the dealer."
Electric cars
A Chevy Volt charges at the Greater Portland Council of Government, May 23, 2017, in Portland, Maine.
A Chevy Volt charges at the Greater Portland Council of Government, May 23, 2017, in Portland, Maine.Brianna Soukup/Press Herald via Getty Images
There's a second arms race going on between automakers: electric cars.
"No one wants to miss out," said Sargent. "Carmakers are rushing the idea of an electric vehicle."
Just one problem: a very small subset of consumers actually enjoy electric cars.
"Most people are intrigued by them, but they're not ready to make that leap," noted Sargent. "For most people, a [federal] tax credit of $7,500 is not enough."
Having a car that emits zero emissions can certainly have its drawbacks: No long road trips. Scarce public charging stations. High sticker prices.
Electric vehicles will get their day of reckoning, Sargent said. The price will drop and charging will become faster, and less frequent.
"Carmakers are not seeing any returns [on electric cars] because most of them are sold at a loss," he explained. "But carmakers have to be ready for when people want them."
Electric cars accounted for just 0.4 percent of the U.S. auto market in November, according to Kelley Blue Book. Of the 1.4 million vehicles sold in November, 5,686 were electric. Even so, the category has seen a 17 percent increase year over year.
EVs may still lack practicality but more will be unveiled by automakers, said Alterman. One promising market for EVs will be in Europe, where drivers and automakers are shifting away from diesel-powered vehicles.
Lindland said there's really only one reason automakers are scurrying to produce these cars.
"Consumer demand is not driving these cars — regulation is," she said. "Automakers have to meet very stringent fuel economy standards."
She also sees a push for hydrogen fuel cell cars, which are electric but do not require hours of charging like EVs. Hydrogen gas powers these cars' electric motors, and heat and water are released from the tailpipe when the hydrogen is converted into electricity.
Some models, such as the Honda Clarity, can get a range of 366 miles. California is the only state right now that sells hydrogen fuel cell cars.
Ride-sharing services
A traveler waits at a ride service pick up area at Los Angeles International Airport (LAX) in Los Angeles, Nov. 13, 2017.
A traveler waits at a ride service pick up area at Los Angeles International Airport (LAX) in Los Angeles, Nov. 13, 2017.Bloomberg via Getty Images
Uber and Lyft have forever changed how Americans get around, and the accessibility of ordering a car via an app will likely disrupt the auto industry even more in the foreseeable future.
Lindland said younger people, especially millennials, prefer ride-sharing services to car ownership, a serious problem for automakers.
"Young people don't want to tie up their money with an expensive car payment," she said. "They want experiences rather than stuff."
Owning a vehicle in many U.S. cities has become impossible because of the high cost, according to Alterman, and Uber and Lyft are now the de-facto choices of transportation for city dwellers.
Their ubiquity has also led to the downfall of taxi drivers.
"Uber and Lyft are so much better than traditional taxi service in America's major metros," he said. "They are taxi cab replacements and should be seen as that."
New blow for Uber: Top EU court likens it to taxi service
Autonomous vehicles
A self-driving car traverses a parking lot at Google's headquarters in Mountain View, Calif. Jan. 8, 2016.
A self-driving car traverses a parking lot at Google's headquarters in Mountain View, Calif. Jan. 8, 2016. Noah Berger/AFP/Getty Images
Tesla was at the forefront of autonomous driving technology, and carmakers have been playing catch-up ever since. It still may take years for fully functional self-driving cars to be street legal, but new vehicles produced today come equipped with second-level autonomous technology, such as rear park assist.
The technology, however, has also sparked a debate on what mainstream consumers want, said Mason.
"It's not very economical to have some of this new technology," he noted. "There's a premium for all this."
Lindland said a large percentage of drivers are totally unaware of the technology available.
"The average car on the road is over 10 years old," she said. "A lot of drivers haven't experienced lane departure warning or other such technology."
What drivers can expect in the short term are improved semi-autonomous safety features, Alterman said. However, "Automakers are spending money on this technology because they want to stop looking like dinosaurs," he explained. "It's become a PR race between them."
Alterman argues that fully autonomous vehicles are completely "overhyped" and doubts that Americans are ready to give up control to a machine.
"There are challenges beyond just the technology," he said. "There are big legal, regulatory and psychological hurdles. Acceptance is harder than anyone realizes."