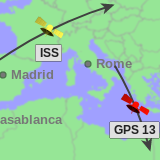 Live Map of Satellite Positions
by Dominic Ford
Date
12345678910111213141516171819202122232425262728293031JanFebMarAprMayJunJulAugSepOctNovDec
Time
000102030405060708091011121314151617181920212223 : 000102030405060708091011121314151617181920212223242526272829303132333435363738394041424344454647484950515253545556575859
Time slider
Showing Time
—
Freeze motion
Show labels
Show tracks
Search
Selection
Showing — spacecraft.
Select satellites groups below to change selection.
Click on satellites to see full details.
Try reducing the number of spacecraft selected if the map is slow to respond. The number of spacecraft shown below has been reduced to — to improve performance. You currently have — spacecraft selected, taking — seconds per frame to calculate.

Mapping provided by https://hilltopviews.org.uk
Select satellites