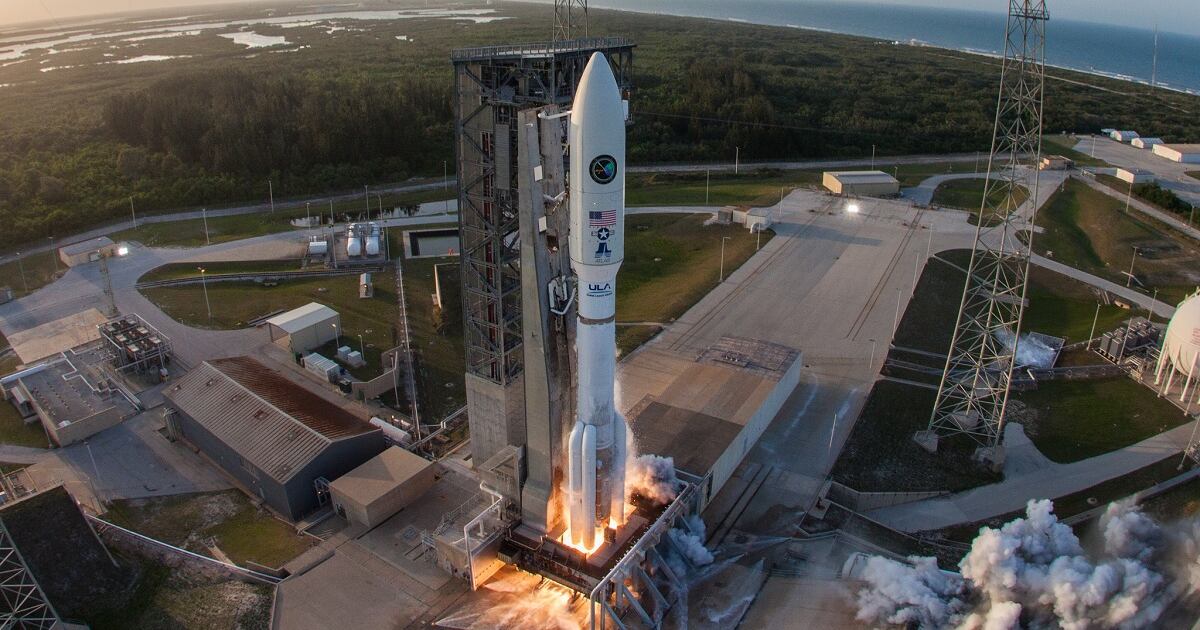 United Launch Alliance successfully launched two Air Force satellites aboard an Atlas 5 rocket from a launch complex at Cape Canaveral in Florida April 14.
The Air Force's dual-payload mission included an experimental satellite bus, known by the acronym EAGLE, and a secretive communications satellite, the Continuous Broadband Augmented SATCOM spacecraft (CBAS).
The Air Force had kept the identity of CBAS (pronounced "sea bass) under wraps until April 6. Even after acknowledging its existence, the service declined to identify the the contractor who built CBAS and only released a short description dressing the spacecraft's mission.
"The mission of CBAS is to augment existing military satellite communications capabilities and broadcast military data continuously through space-based, satellite communications relay links," the Air Force's Space and Missile Systems Center said in a release.
In the lower position of the payload shroud, attached to aft of the CBAS, sat the Evolved Expendable Launch Vehicle (EELV) Secondary Payload Adapter (ESPA) Augmented Geosynchronous Laboratory Experiment satellite, dubbed EAGLE. Developed by Orbital ATK for the Air Force Research Laboratory, EAGLE is both a satellite and bus platform hosting a suite of other experiential payloads for the Department of Defense.
EAGLE's primary mission is to demonstrate a maneuverable vehicle design which can transport up to six payloads to GEO, according to a ULA release.
The Air Force's EAGLE satellite is based on Orbital ATK's ATK's ESPAStar, which seeks to provide a modular, cost-effective, and highly capable infrastructure resource for hosting technology development and operational payloads.
One payloads on board the EAGLE is the Mycroft satellite. Named after the older brother of Sherlock Holmes, the Mycroft is a mini satellite designed to deploy away from the EAGLE only to return within one kilometer of its parent spacecraft. From there it will evaluate the EAGLE's surroundings using an space situational awareness camera and sensors to perform guidance, navigation and control functions on the EAGLE, according to an Air Force fact sheet.
"Together, EAGLE and Mycroft help train operators and development of tactics, techniques and procedures during exercises or experiments to improve space warfighting," the fact sheet reads. "Other experiments hosted on the EAGLE will detect, identify and analyze system threats such as man-made disturbances, space weather events or collisions with small meteorites."
Mycroft is a follow-up to the ANGLES satellite which was launched in 2014 and ended its mission in November. ANGLES was used by the Air Force to evaluate space-based threats and to expand techniques used to maneuver closer to specific objects on orbit.
The satellites launched Saturday were part of the Air Force's multi-manifested mission called Air Force Space Command (AFSPC)-11. The Air Force declared the launch a success shortly after 2 a.m. EDT on Sunday in a press release.
Raytheon's Infrared Imaging Space Experiment (IRISX), was also included in the launch. The IRISX is an electro-optical instrument placed in geostationary orbit, to test new concepts for persistent Earth viewing, the company said.
"IRISX will explore the applicability of advanced imaging and data processing techniques for Department of Defense remote sensing applications," according to a release. "The results will be used to verify, validate, and update physics-based phenomenology models in order to advance the scientific knowledge underlying imaging techniques."