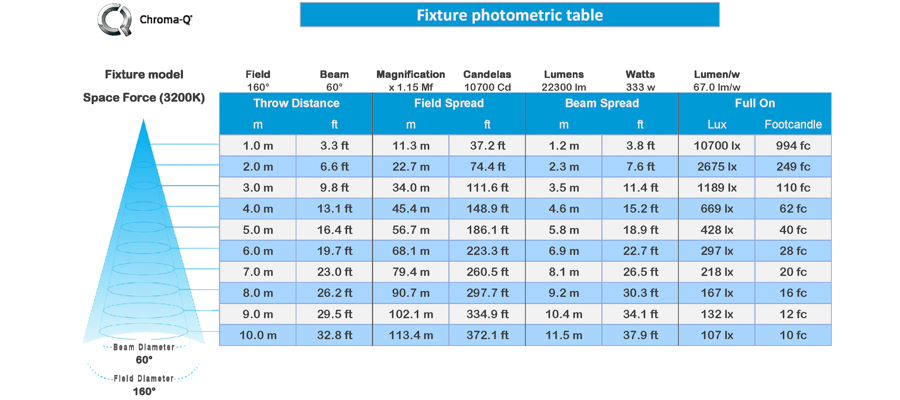 Smooth, Soft Output
The Space Force™ is highly efficient and natively single source, removing the need for skirts or silks to diffuse the light.
Easy Setup
As a result of its low profile, lightweight (only 8 kg / 17.6 lbs) and skirt-free design, the Space Force™ is quick and easy to set up at any height.
A White Light for Every Application
The Space Force™ is available as a variable white 2,800K – 6,000K. Every unit is factory calibrated, to ensure consistent output and colour temperature.
Energy-Efficient
The Space Force™ uses a fraction of the power required by conventional fixtures, while delivering all of the performance you require – providing an output of up to 26,700 lumens, which is comparable to a traditional 6kW fixture. Not only is the power consumption lower, so too is the heat produced – ensuring a cooler environment and lower air conditioning costs.
Convection Cooled
Using the same proven convection cooling technology found in other Chroma-Q® LED models – which eliminates the need for noisy cooling fans – the Space Force™ provides totally silent running in operation.
Long Life
The Space Force™ utilises LED technology to ensure consistent long life performance – removing the need for costly regular maintenance associated with conventional fixtures.
High Colour Rendering Indexes
The Space Force provides high color rendering indexes, which are requirements for light sources used in the film and TV industry to ensure accurate colour rendering.
Theatrical Grade Dimming
All Chroma-Q® products come with theatrical grade dimming, and the Space Force™ is no exception. This technique emulates the extremely smooth dimming curve of a tungsten fixture, ensuring there is no stepping on the output. This allows the output to be smoothly controlled even at the low end of the dimming curve.
Built to Last
Built to last, the Space Force requires minimal maintenance and retains colour consistency between units owing to our LED emitter inspection and proprietary ColorSure™ LED calibration system.
Flicker-Free Operation
The Space Force™ features adjustable PWM frequencies to provide flicker-free operation on even the most demanding shoots.
Complete Control
Unlike conventional fixtures, the Space Force™ has on-board power and control electronics – eliminating costly power cables and the need for dimmer racks. Control of colour temperature and intensity is available via DMX wired, the optional LumenRadio CRMX wireless, or locally via the onboard encoders.
Versatile Mounting Options
The Space Force™ features multiple mounting options. In addition to a built-in standard bridle and suspension hanger brackets for stacking multiple units together, optional accessories include a manual yoke and a low-profile hanging bracket.
Full Range Of Accessories
For real versatility, the Space Force™ is available with a range of optional accessories, including a black mini skirt, soft egg crate, cyc skirt / silk, soft target kit, and a soft lantern. In addition, the optional LumenRadio connectivity is also available as a user-installed accessory, for retro-fitting if required at a later date.
Product Code
CHSPFV – Space Force Variable w Bridle
CHSPFVLR – Space Force Variable w Bridle LumenRadio Installed
Net Dimensions (WxHxD)
655mm x 203mm x 655mm / 25.8″ x 8″ x 25.8″
Net Weight
8kg / 17.6lb
Shipping Dimensions (WxHxD)
737mm x 737mm x 254mm / 29″ x 29″ x 10″
Shipping Weight
11kg / 24lb
Power Supply
Built-in
Power Input Rating
100-240V AC 50-60Hz 400VA
Power Factor
0.97
Power Consumption
333W @ 120V AC, 331W @ 230V AC
Inrush Current
56A @ 120V AC, 82A @ 230V AC
Idle Power Consumption
18W @ 120/230V AC
Residual Current (max.)
0.4 mA
Power Connectors In/Out
powerCON TRUE1
Data Connector In/Out
XLR 5-pin
Operating Temperature
0°C to 40°C
Control Protocol
ANSI E1.20 RDM over ANSI E1.11 USITT DMX 512-A
Cooling System
Convection
Construction
Powder Coated Aluminium
Colour
Black
Built-In Hardware
Suspension Hanger Brackets
IP Rating
IP20
Approvals
CISPR 22:2008 / EN55022:2010 (Class A), & CISPR 24:2010 / EN55024:2010, FCC Part 15 Subpart B:2015, ICES-003:2012; UL 1573:2003 / R:2014-01, CSA C22.2 No. 160-M1983 IEC 60598
Control Modes
Manual Intensity / Colour Temperature,
2 channel Intensity / Colour Temperature,
Focus,
Link,
Memory 1 / 2,
Addressing
Dimming Curve
Theatrical
Hot Lumen Output
Up to 26,700 lm
Optics
High Efficiency Diffuser
Beam Angle
60°
Beam Distribution
Symmetrical Direct Illumination
CCT
2,800 – 6,000K (+/- 200K)
CRI
Up to 97
TM-30-18
Up to Rf 94, Rg 100
SSI
Up to 87
TLCI
Up to 97
Sound Level
24.6 dB
Lamp Life
L70 at 50,000 hours
Space Force™ (3200K)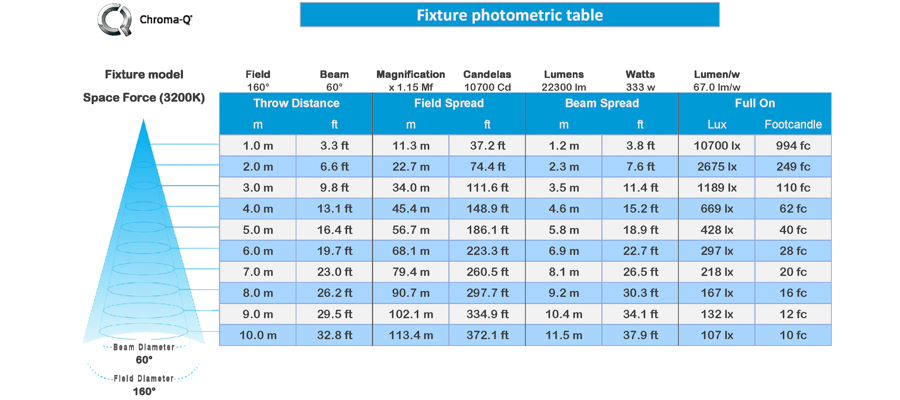 Space Force™ (4700K)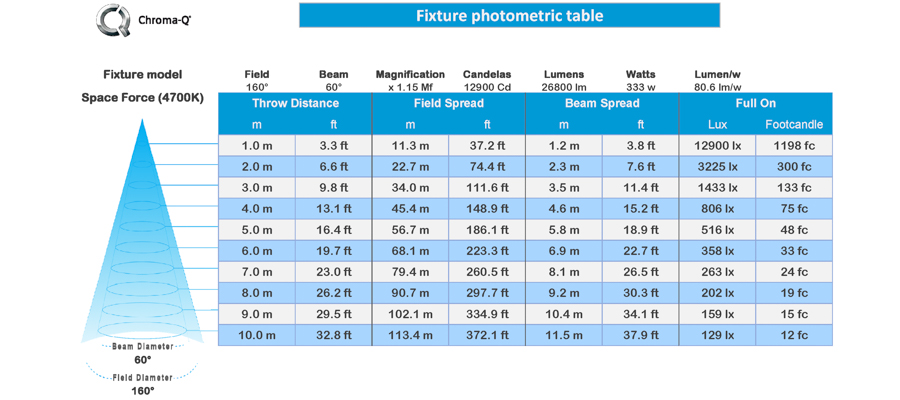 Space Force™ (5600K)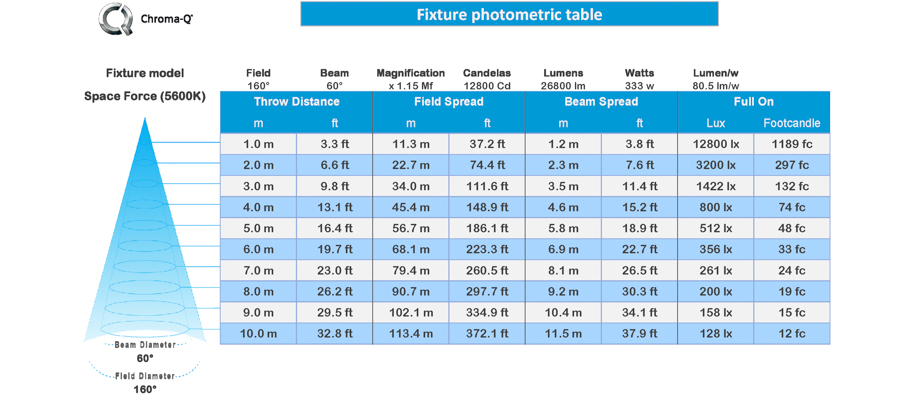 | | |
| --- | --- |
| Product Code | CHSPFV – Space Force Variable w Bridle |
| Net Dimensions (WxHxD) | 655mm x 203mm x 655mm / 25.8″ x 8″ x 25.8″ |
| Net Weight | 8kg / 17.6lb |
| Shipping Dimensions (WxHxD) | 737mm x 737mm x 254mm / 29″ x 29″ x 10″ |
| Shipping Weight | 11kg / 24lb |
| Power Supply | Built-in |
| Power Input Rating | 100-240V AC 50-60Hz 400VA |
| Power Factor | 0.97 |
| Power Consumption | 333W @ 120V AC, 331W @ 230V AC |
| Inrush Current | 56A @ 120V AC, 82A @ 230V AC |
| Idle Power Consumption | 18W @ 120/230V AC |
| Residual Current (max.) | 0.4 mA |
| Power Connectors In/Out | powerCON TRUE1 |
| Data Connector In/Out | XLR 5-pin |
| Operating Temperature | 0°C to 40°C |
| Control Protocol | ANSI E1.20 RDM over ANSI E1.11 USITT DMX 512-A |
| Cooling System | Convection |
| Construction | Powder Coated Aluminium |
| Colour | Black |
| Built-In Hardware | Suspension Hanger Brackets |
| IP Rating | IP20 |
| Approvals | CISPR 22:2008 / EN55022:2010 (Class A), & CISPR 24:2010 / EN55024:2010, FCC Part 15 Subpart B:2015, ICES-003:2012; UL 1573:2003 / R:2014-01, CSA C22.2 No. 160-M1983 IEC 60598 |
| | |
| --- | --- |
| Product Code | CHSPFVLR – Space Force Variable w Bridle LumenRadio Installed |
| Net Dimensions (WxHxD) | 655mm x 203mm x 655mm / 25.8″ x 8″ x 25.8″ |
| Net Weight | 8kg / 17.6lb |
| Shipping Dimensions (WxHxD) | 737mm x 737mm x 254mm / 29″ x 29″ x 10″ |
| Shipping Weight | 11kg / 24lb |
| Power Supply | Built-in |
| Power Input Rating | 100-240V AC 50-60Hz 400VA |
| Power Factor | 0.97 |
| Power Consumption | 333W @ 120V AC, 331W @ 230V AC |
| Inrush Current | 56A @ 120V AC, 82A @ 230V AC |
| Idle Power Consumption | 18W @ 120/230V AC |
| Residual Current (max.) | 0.4 mA |
| Power Connectors In/Out | powerCON TRUE1 |
| Data Connector In/Out | XLR 5-pin |
| Operating Temperature | 0°C to 40°C |
| Control Protocol | ANSI E1.20 RDM over ANSI E1.11 USITT DMX 512-A |
| Cooling System | Convection |
| Construction | Powder Coated Aluminium |
| Colour | Black |
| Built-In Hardware | Suspension Hanger Brackets |
| IP Rating | IP20 |
| Approvals | CISPR 22:2008 / EN55022:2010 (Class A), & CISPR 24:2010 / EN55024:2010, FCC Part 15 Subpart B:2015, ICES-003:2012; UL 1573:2003 / R:2014-01, CSA C22.2 No. 160-M1983 IEC 60598 |