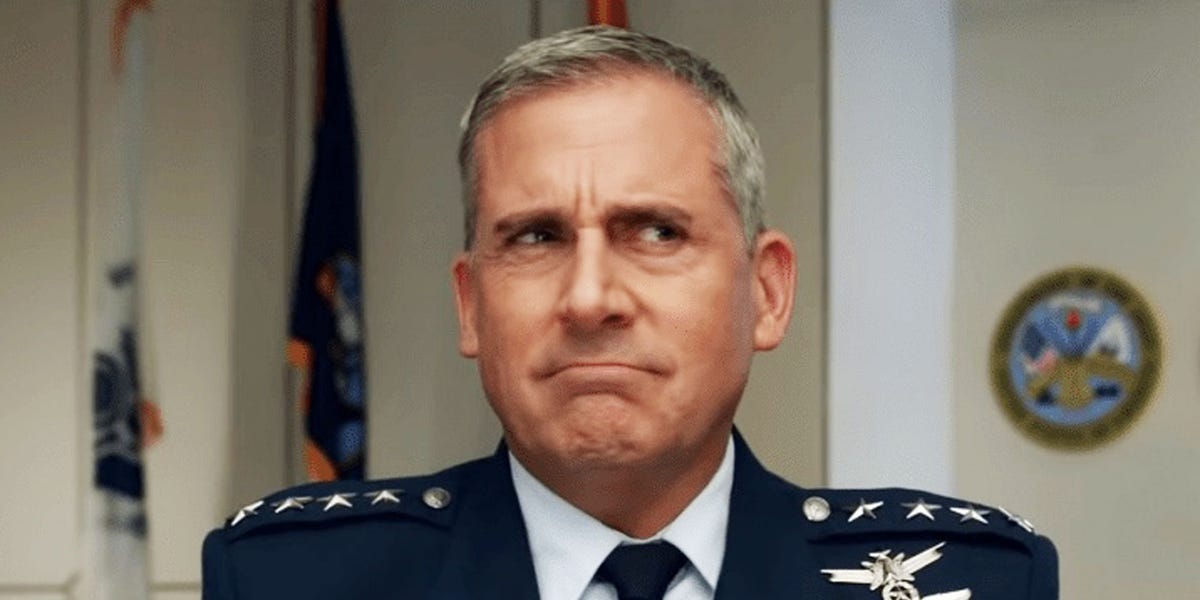 We earn a commission for products purchased through some links in this article.
Get ready for take off.
26/05/2020
The Office's Greg Daniels and Steve Carell have teamed up for another workplace comedy, albeit in notably shinier surroundings.
Space Force is a ten-part series which arrives on Netflix on Friday (May 29) and boasts a cast full of comedy favourites – Carell appears alongside Lisa Kudrow, Jane Lynch, Roy Wood Jr and Patrick Warburton to name just a few.
But while Carell sits firmly at the centre of this narrative, those other personalities are used sparingly, which may leave some viewers feeling shortchanged given that its official trailer opens with several of those faces.
Kudrow in particular – the former Friends star plays Maggie, the wife of Carell's General Mark Naird, head of the US military's newest agency, but she doesn't feature in every episode.
If you've watched Mae Martin's Feel Good, you'll know that Kudrow is also used economically in that. But there it works.
In this series, you're left wanting more, and not in a good way. It's just frustrating.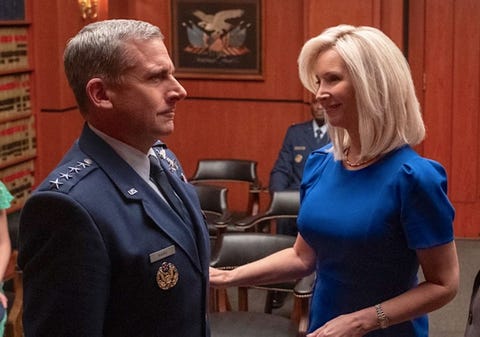 Netflix
Speaking of the surname Naird, Digital Spy asked Daniels if it's a play on the word nerd – a term that could certainly be used to describe Mark – and this is what he had to say: "I love to come up with names and I also really like it when a dynamic person is saddled with an awkward name.
"So [Parks and Recreations'] Lesley Knope is the most optimistic person and her name is a synonym for negativity. So it just seemed like Mark Naird is a very high-integrity person but the name has got an unpleasant ring to it."
That attention to detail is evident throughout Space Force.
You couldn't tell this story without splashing the cash on sets and costume, and clearly no expense has been spared. It feels authentic, with the space suits fit for purpose and the control room fully functioning.
There are, as you'd expect from a comedy revolving around space science and exploration, implausible moments. A monkey is tasked with repairing a damaged satellite, for example.
We're not talking something as simple as pulling a lever, which astrochimps of old were trained to do, but picking up a drill, leaving the spacecraft and attempting to fix a piece of broken equipment.
But head scientist Dr Adrian Mallory (John Malkovich) and his number two Dr Chen Kaifang (Jimmy O Yang) ensure that the dialogue and various scientific challenges remain rooted in some sort of reality, whether accurate or complete fabrication.
The monkey gag, we should add, rumbles on long past its expiration date, and other moments just don't land. The humour throughout the series is largely juvenile, which will appeal to some. Others, not so much.
We've been blessed with some truly magnificent TV comedies during the past few years – Fleabag, Atlanta, Barry and Derry Girls, to name just a few – which makes the job of any newcomer tricky. But while Space Force gives it a good old go, it doesn't reach those starry heights.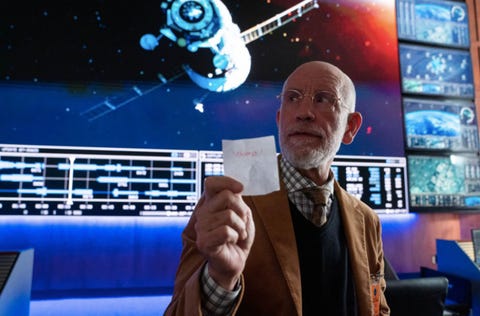 Netflix
If you know your history, you will pick up on several fascinating anecdotes which are so bizarre, those who aren't in the know would never for a second believe that they were real.
"The history of space is filled with great details," Daniels told Digital Spy.
"The history of women astronauts has been very interesting to research… Some of the awkwardnesses of a largely male engineering staff preparing for female astronauts are kind of humorous."
He recalled one example, which does make it into the show, where "the engineers had put in – for maybe a two-day orbit – over 1,000 tampons".
It was clear from chatting to Daniels that he had submerged himself in the research and taken great care in curating what made the final cut.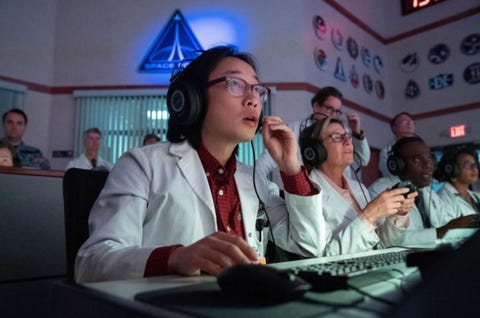 Netflix
But the timing of its release is the show's greatest asset.
The recent unveiling of the official flag for the actual American Space Force – the first new US military service in more than 70 years – turned heads across the globe.
The flag was a big moment in the real Space Force's five-month history and gave President Trump an opportunity to brag about a new "super-duper missile".
It all played out like a scene from Space Force, which is where the series' main comedy value lies.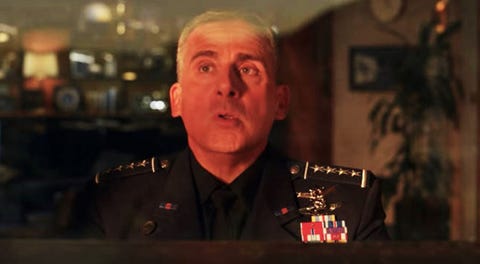 Netflix
The casting, also, is *chef's kiss*.
Carell was obviously the only man for the job and doesn't put a foot wrong. You get the sense that it's not a particularly challenging role for him, but that doesn't impinge on his performance.
And while some of the bigger names are more absent than we initially expected, that gives other characters an opportunity to shine.
Diana Silvers (from Booksmart) plays Mark's daughter Erin and nails the various layers of teen angst and frustration.
The strained relationship between Mark and Erin is familiar and can, at times, feel like a paint-by-numbers job. But Silvers and Carell are so good in their roles, they make it work seamlessly.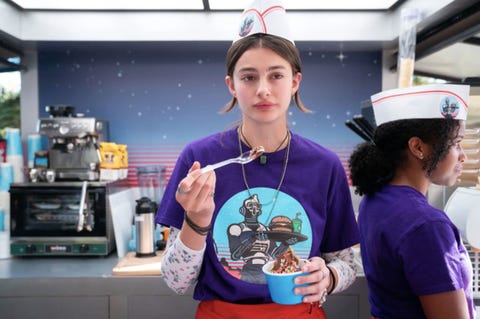 Netflix
There's also Angela Ali (Tawny Newsome), a helicopter pilot with big ambitions, and the aforementioned Chen, who are both delightfully sketched characters who bond over a shared love of K-pop.
It's during that scene that the deftness of Daniels' writing really comes through when both characters talk about their respective cultural struggles in a way that simultaneously scolds and rolls its eyes at white people for not doing better.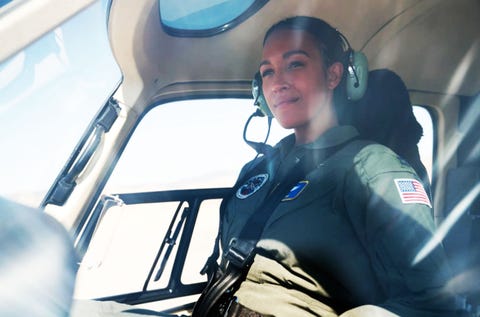 Netflix
A nod must also go to Malkovich's Dr Mallory, a measured yet confrontational scientist who is driven to foot stomping and snarling by the idiots around him, of which there are many.
Mark's inept assistant Brad (Don Lake) and media guru F Tony Scarapaducci aka F**k Tony, played by Ben Schwartz, are both exasperating, idiotic and incompetent. Again, they feel familiar, but their comedic delivery and timing is, once again, a testament to the superb casting.
Space Force is a group effort. The carousel of characters keeps the action moving and the dialogue flowing, and while it isn't particularly groundbreaking, it'll go some way to taking your mind off the hellscape that is the new normal we're all still adjusting to.
But best of all, given how the upper ranks of the US government and POTUS in particular are painted, Trump will undoubtedly hate it, and that's the greatest compliment you could ever receive.
Catch Space Force on Netflix from Friday, May 29.
Digital Spy now has a newsletter – sign up to get it sent straight to your inbox.
Looking for more TV recommendations and discussion? Head over to our Facebook Group to see new picks every day, and chat with other readers about what they're watching right now.
This content is created and maintained by a third party, and imported onto this page to help users provide their email addresses. You may be able to find more information about this and similar content at piano.io
This commenting section is created and maintained by a third party, and imported onto this page. You may be able to find more information on their web site.
Advertisement – Continue Reading Below