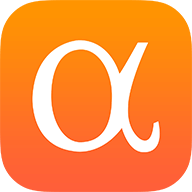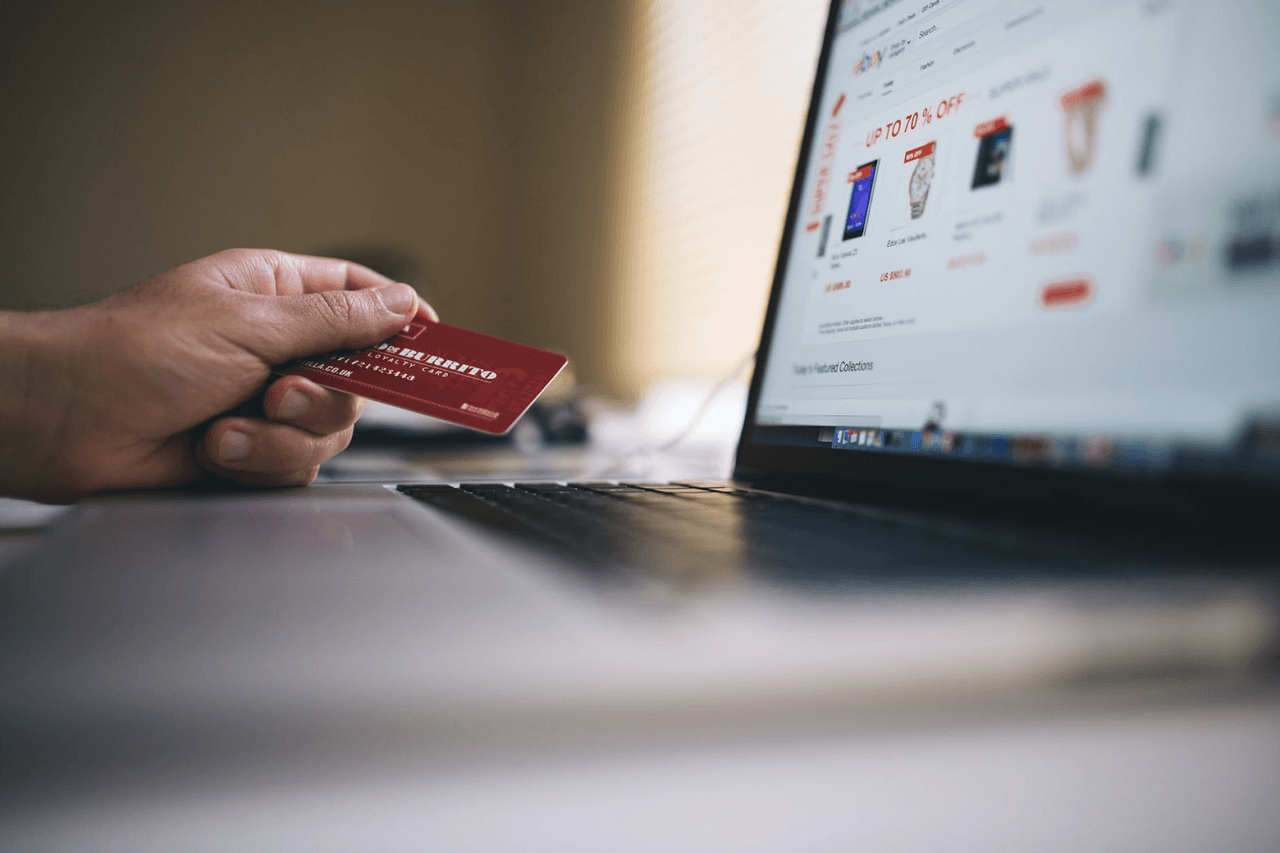 (Source: Pexels)
After weeks of stagnation and slowly increasing stock prices, equities have found themselves in another wave of volatility. The Nasdaq 100 ETF (QQQ) declined a staggering 5% on Thursday along with most major indices. The fund was previously up 40% this year, making 2020 both a near-record year for expected GDP losses and, paradoxically, a near-record year for Nasdaq 100 performance.
Certain sectors within the technology space have seen even better performance. Most notably, cloud/related companies, gaming companies, and online retail. While most of these firms have seen increased revenue due to COVID-19 impacts, their stock prices have risen at a much faster pace than their revenue. Even more, most will likely see a reversal next year and are not necessarily immune to the longer-lasting economics impacts of the current situation.
I recently explained the bear case for cloud stocks under the ETF Global X Cloud Computing ETF (CLOU) in "CLOU: Expect Rain With So Many New Cloud Companies" as well as gaming stocks under the ETF VanEck Vectors Video Gaming and eSports ETF (ESPO) in "ESPO: The Gaming Boom Is Near Its End". Now I'd like to cover online retail under the Amplify Online Retail ETF (IBUY). Quite frankly, IBUY may be the best risk-adjusted short opportunity available today.
The fund owns online retail companies which either directly sell online, like Wayfair (W) and Carvana (CVNA), or benefit indirectly from online sales, such as PayPal (PYPL). It also includes companies such as Overstock.com (OSTK), Peloton (PTON), and Etsy (ETSY). Like most people, I am a happy customer of many of these firms, but liking a company as a customer is rarely a strong long thesis.
Online Retail's Strong Performance Is Slowing
IBUY has had extremely strong performance this year, rising about 80% before crashing this week. This beat its benchmark consumer discretionary ETF (XLY) by a significant margin, as you can see below:
The lower chart depicts the price ratio of the two funds. The ratio's numerical level is not important, its trend is what matters. When the price-ratio trend is rising, it means IBUY is outperforming XLY. When it is falling, it means IBUY is underperforming. In many instances, relative performance is often a strong leading indicator of future gross performance. If you look closely, you can see that the IBUY/XLY ratio began to decline about a month ago, which implies IBUY's outperformance streak may be coming to an end.
Indeed, this technical pattern is backed up by the fundamentals. A large number of companies in IBUY do not make a profit, so they do not have a reasonable P/E ratio. Price-to-sales ratios vary widely from company to company, but we can generally assume that they should be nearly constant for a single company, with expected revenue changes being the major determinant. As you can see below, the TTM P/S ratio of the median company in IBUY's top-ten holdings has risen by about 80% this year:
Now, it is true that COVID-19's stay-at-home efforts have spurred increased sales for virtually all of these companies. This is the primary long thesis that has caused these stocks to nearly double in value. If we assume revenue will stay as high as it is and continue to grow as these firms mature into profitability, IBUY may not be too overvalued. That said, investors may not be thinking about the longer-lasting economic consequences of the lockdowns. Evidence suggests that online retail sales today may actually have declined back toward pre-COVID-19 levels.
Google Trends Analysis of Online Retail
One thing that is great about online retail is that Google Trends search volume is often a great proxy for revenue, since many people use Google to go to popular websites. This is demonstrated in the article "Using Google Trends To Predict Peloton's Holiday Sales (And Cancelations)".
Interestingly, Google Trends gives us a very clear view of the COVID-19 sales bump for line retail. The keyword is "bump", since it is ending in a full reversal for most companies.
Here is a time series chart of relative Google U.S search volume for the keywords of major companies in IBUY: "Grubhub" (GRUB), "Wayfair", "Etsy", "Overstock", "Peloton", and "Carvana", as well as the average of the group: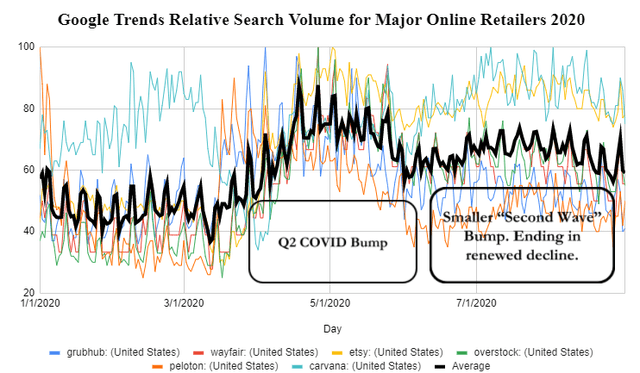 (Source: Google Trends)
Note: Wayfair's data for 7/9-7/21 is excluded due to a spike relating to news that is unlikely to be correlated to sales.
As you can see, the average tends to rise on weekends, when many people take to online shopping, and fall during weekdays. There is a significant spike from mid-March, when the first wave of COVID-19-related lockdowns began. This ended in late May as the first wave ended, but was quickly followed by a smaller spike over summer, which may be due to a mix of summer sales and the second wave of lockdowns in many areas.
The most important inference from this data is the recent decline that began in August. This implies Google Search volumes for major online retailer are declining back to pre-COVID-19 levels. If Google Search volumes continue to be a strong predictor of sales, this implies that most of these firms will see large sales declines in Q3 and Q4 from Q2 levels. Despite this, the valuations of these stocks imply the sales boost will be permanent and possibly accelerate growth, which means they may see significant declines as this is realized by the market.
Bottom Line: Online Retail is Still Retail
In the long run, COVID-19-related lockdowns may permanently benefit these companies as small brick-and-mortar retailers go out of business. However, the fact remains that COVID-19 will hurt consumer spending, whether it is online or not. This risk does not seem to be priced into the stocks in IBUY.
The unemployment rate remains around 10%, which is around the record level in 2008. Even in August, about 1 in 3 renters and homeowners could not make full payments (such levels have persisted since May). Additionally, consumer spending has continued to plummet, as has consumer sentiment: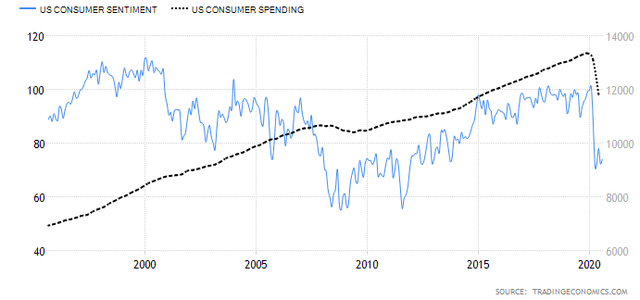 (Source: Trading Economics)
Put simply, if someone cannot make housing payments, then it is likely they cannot buy a car on Carvana or a new bed on Wayfair. It is true that such companies saw large revenue improvement in Q2 due to a spike in market share, but the market is rapidly declining. It is also likely that online retail sales were boosted temporarily by $1200 stimulus checks and unemployment bonuses.
In short, online retail sales are likely to decline rapidly over the coming quarters. Despite this likelihood, analyst revenue growth expectations show near straight-line revenue growth for most of these companies, including Wayfair, Carvana, Etsy, and most others in IBUY. I believe these estimates will come back down to earth over the coming months, which should cause these stocks to decline back toward (at least) early 2020 levels.
In my opinion, the technical short setup for IBUY is very strong. The ETF has been at resistance for weeks and finally broke lower this week. My base-case expectation is that there is a small possible "dip-buying" bounce followed by large declines. The short borrowing fee for IBUY has risen to 6% over the past few months as demand for shorting the stock has risen, but I do not believe this cost is too high.
Since most of these companies do not generate earnings, it is difficult to value them fundamentally. That said, my price target for IBUY is $50, which is its pre-COVID-19 price, since it does not seem lockdowns will result in permanent gains for these companies in the foreseeable future. The resistance level of $95 is a solid stop-loss, since the ETF may break out if it makes a new all-time high.
Interested In More Alternative Insights?
If you're looking for (much) more research, I run the Conviction Dossier here on Seeking Alpha. The marketplace service provides an array of in-depth portfolios as well as weekly commodity and economic research reports. Additionally, we provide actionable investment and trade ideas designed to give you an edge on the crowd.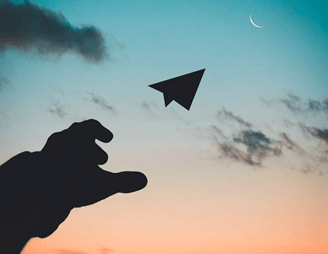 As an added benefit, we're allowing each new member one exclusive pick where they can have us provide in-depth research on any company or ETF they'd like. You can learn about what we can do for you here. 
Disclosure: I/we have no positions in any stocks mentioned, but may initiate a short position in IBUY over the next 72 hours. I wrote this article myself, and it expresses my own opinions. I am not receiving compensation for it (other than from Seeking Alpha). I have no business relationship with any company whose stock is mentioned in this article.