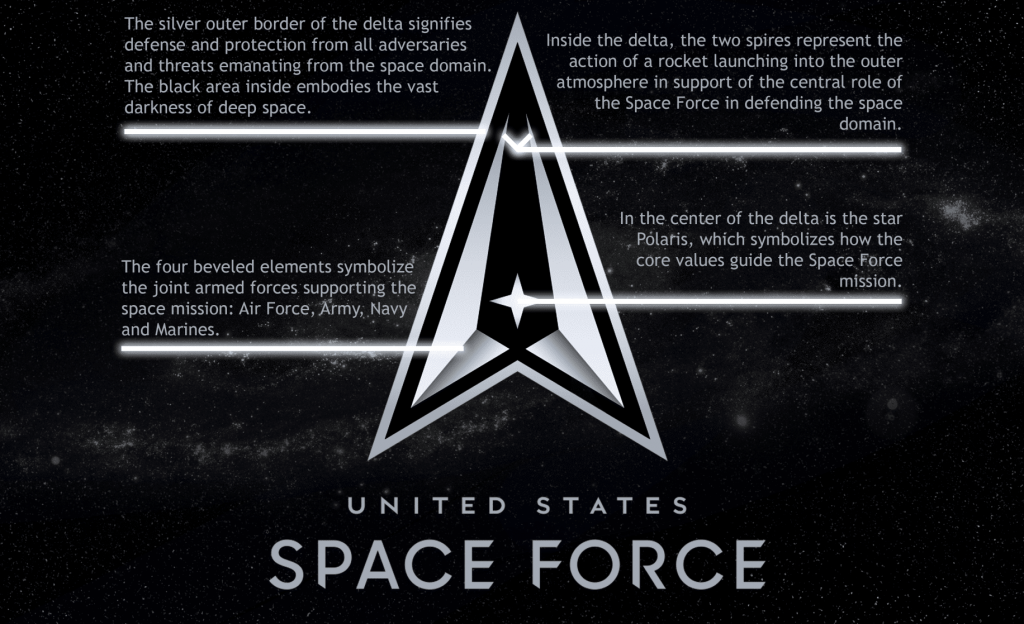 U.S. Space Force Logo (U.S. Space Force/Released)
The U.S. Space Force unveiled its official logo and motto Wednesday according to a document obtained by American Military News.
The new service logo is a delta shape with the North Star at the center "to serve as our guiding light as we build a new Service to secure the space domain," the Space Force document states.
U.S. Space Force Logo (U.S. Space Force/Released)
A similar delta symbol has been used throughout the new service's iconography. The Space Force unveiled its official service flag at the White House in May. The flag includes a flat gray delta in front of a globe, with an on object orbiting the delta and globe.
The service also announced its latin motto, similar to the motto of the U.S. Marine Corps, Semper Fidelis. The latin motto for the newest U.S. military branch is Semper Supra, meaning "always above."
"Recognizing the space domain is the ultimate high ground, our official motto is Semper Supra, 'Always Above,'" Barrett said of the sister branch's motto. "This motto reminds us of the strategic imperative to ensure that our space capabilities and the advantages they provide the nation and our Joint and Coalition partners ae always there. We can accept nothing less. Semper Supra!"
A Space Force infographic released separately on Wednesday further detailed the symbolism in the new service logo. The graphic notes the silver outline of the logo represents the element of defense and protection. Within the delta logo, two triangular spires represent the action of a rocket launch. The beveled elements at the bottom of the delta shape also represent the other armed services assisting in the space mission, including the Air Force, Army, Navy and Marines.
The Space Force began in December of 2019 when it received its initial funding. Since then the service has been implementing various facets of its distinct branch culture.
The Space Force has already released its first and second recruitment ads. At the same time the new U.S. military branch has been staffed temporarily with Air Force service members and civilian personnel.
The service recently selected more than 2,400 Air Force Airmen to permanently transfer to the new branch and more than 8,500 more Airmen trained in space related specialties have volunteered to transfer to the Space Force.
Currently, the Space Force is still using Army and Air Force camouflage patterns for its uniforms rather than adopting a service specific uniform of its own. The Space Force justified its uniform decision as a way to save "costs of designing/producing a new one."