A computer rendering of a OneWeb Low Earth Orbiting (LEO) satellite.
OneWeb and SatixFy UK plan to add a digital technology pathway with a full digital payload into OneWeb's launch schedule during 2021, the companies announced Monday. The technology is designed so that satellites with a higher level of flexibility can support peaks in demand without oversizing the constellation.
OneWeb launched its first satellites in February 2019 and will shortly start a regular launch program to deliver global commercial broadband services at the end of 2021. OneWeb Satellites, a joint venture of OneWeb and Airbus, opened a satellite production facility on Florida's Space Coast in July 2019, with the goal of building out a satellite network initially numbering 648 total satellites.
Under the partnership with SatixFy UK, development of the digital-transparent payload will demonstrate full beam hopping capability in both forward and return links. It will include an on-board processing subsystem capable of running independent links on the user and gateway links on the ground with different capacities. Electronically steered multi-beam antenna with true time delay beam-forming, capable of pointing and switching multiple beams to multiple directions simultaneously are an additional major feature.
"This leading-edge satellite will be fully operational and is a great opportunity to showcase what can be delivered with our payload technology," OneWeb CTO Massimiliano Ladovaz said. "The improved performance, greater efficiency and targeted capacity, together with sophisticated ground infrastructure, puts us at the forefront of LEO communications network services."
In a press release describing how its digital payload will provide benefits for OneWeb, SatixFy UK notes that the beam hopping capability will enable "seamless handover for mobile devices, between beams and satellites." Their example provided is how a OneWeb compatible in-flight connectivity terminal will be able to operate on both LEO and GEO networks simultaneously and maintain "make-before-break connectivity between the rising and setting satellites."
"Maximum capacity can be directed from multiple sources to hot-spots like busy airports," according to SatixFy UK.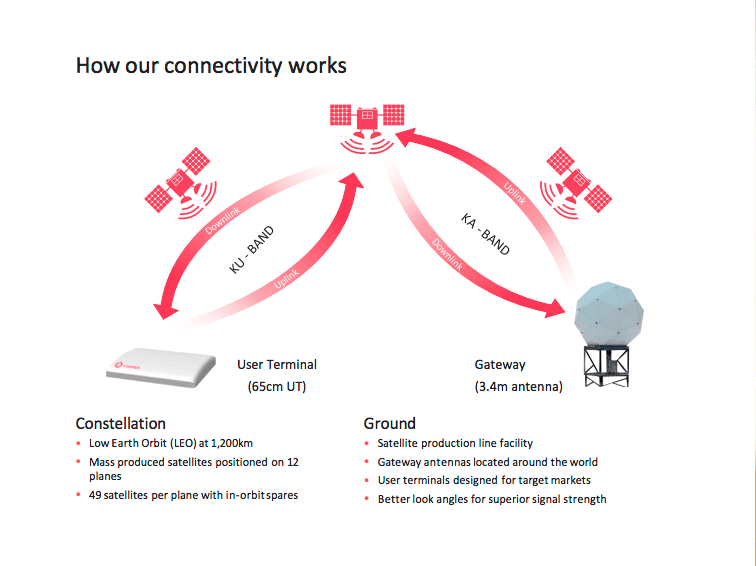 An overview of how OneWeb's LEO network will function. (Photo: OneWeb)
Based on public statements, partnerships and recent interviews with Avionics International and coverage by sister publication Via Satellite, the low latency Low Earth Orbit (LEO) satellite network goals of OneWeb have the potential to disrupt the economics and performance of current in-flight connectivity service offerings available to commercial and private charter airlines. The company's goal is to launch a Low Earth Orbit (LEO) network of satellites situated approximately 750 miles above earth, whereas traditional geostationary satellites are typically at a height of about 22,000 miles.
In July, OneWeb reported its currently-launched satellites are producing an average latency of 32 milliseconds. Throughout 2019, OneWeb made a number of new hirings and partnerships geared toward building out its service offerings, supplier ecosystem and knowledge base for providing in-flight connectivity to airlines and business aviation operators.
These included the launch of a business aviation team, unveiled during the annual National Business Aviation Association (NBAA) conference, that will be led by Dylan Brown, the head of OneWeb's new business aviation government and maritime sectors team. He will be joined by Carol Plessy, who formerly worked on satellite mobility technology for Inmarsat, and Ed Slater, who previously worked on airborne communications systems and planning for Air Force One.
Prior to that, Ben Griffin was hired to lead OneWeb's commercial aviation team, after previously serving as Inmarsat's Vice President of aviation for the Middle East and Asia Pacific region. Shortly after Griffin's hiring, OneWeb also signed a memorandum of understanding with Iridum to explore potential combined service offerings for aviation and other verticals.
| | |
| --- | --- |
| | Want to hear more on aircraft connectivity applications? Check out the Global Connected Aircraft Podcast, where Avionics editor-in-chief Woodrow Bellamy III interviews airlines and industry influencers on how they're applying connectivity solutions. |
During a September 2019 interview with Avionics, Griffin said OneWeb is focusing on agility and capacity for the aviation market.
"While big strides have been made in the last decade. the onboard service isn't perfect today. There is a lack of consistent inflight broadband coverage across oceans and polar routes, especially the northern tracks. This is due to a number of factors; bandwidth contention around hubs, differing capacity in different regions and in many cases, pure physics. This means that airlines are often paying for a service that isn't delivering value," Griffin said.
In February 2019, OneWeb demonstrated the satellites' capacity during tests which delivered high definition video streaming from space. The tests delivered live Full HD (1080p) streaming video at latency of less than 40 milliseconds and with speeds of over 400 Mbps.
"We are currently testing in a lab environment (in Florida). Once we have achieved certification, which we hope to gain by the fourth quarter of next year, we can live test on aircraft with various terminals, which are already under development. We aim to be offering full demos in early 2021," Griffin said.
Rachel Jewett, assistant editor for Via Satellite, contributed to reporting featured in this article.