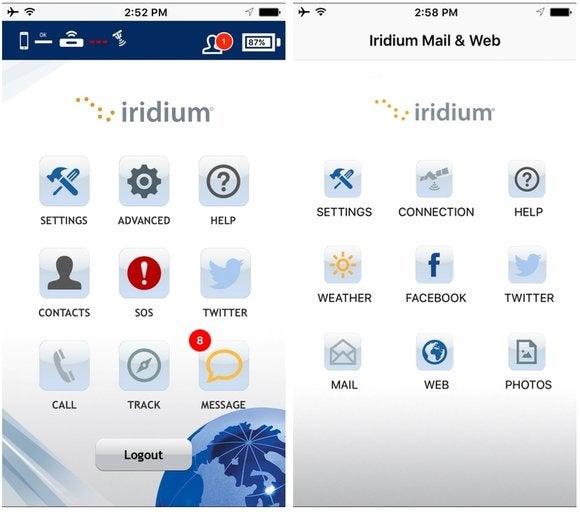 At a Glance
Expert's Rating
Pros
Lightweight , dust proof, shock and water resistant
Vehicle mountable
USB rechargeable
Connects up to five devices at once
Cons
Crazy expensive data plans
Can only be used outdoors
Unreliable voice calling
Sub-par social media experience
Only Iridium's email service can be used
Our Verdict
The Iridium Go wants to be the future of off-the-grid communications, but its functionality is very much stuck in the past.
The Iridium Go is an $799 portable satellite hotspot designed to provide voice, SMS, weather reports, Internet, email and social media connectivity for up to five iOS and Android devices simultaneously.
A satellite hotspot?
Yeah! Unlike a traditional portable hotspot that connects to a cellular network, the Go is designed to upload and download data via Iridium's world-spanning satellite network. Ideally, if you're outside and have an unobstructed view of the horizon, the Go should be able to connect to Iridium's network.
Leveraging the data that the Go's network connection provides is made possible through the use of two free apps (available in the iTunes Store or via Google Play) that provide satellite voice/SMS capabilities and data optimized Twitter, Facebook and email clients. (I'm at a loss for why Iridium wouldn't bake all of the Go's functionality into a single app, but here we are.) Browsing is made possible via Opera Mini—but don't expect to visit your favorite sites: in an effort to save bandwidth, Iridium limits browsing mobile site lookups only. But it's hard to begrudge them that, since the data is being beamed down from space.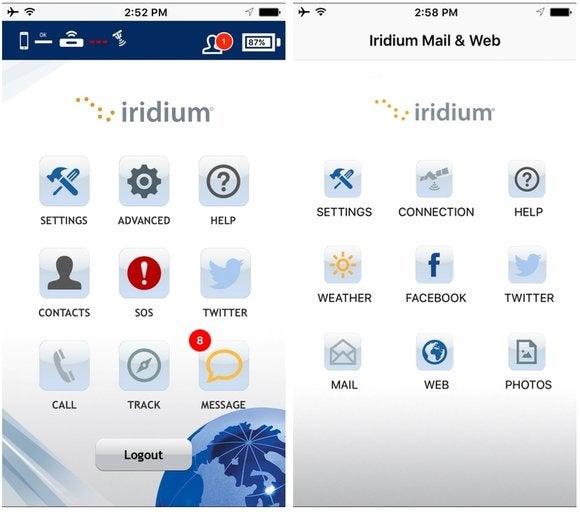 The Iridium Go app (left) allows you to make calls, send texts, and tweet. To send email and access web content, you need to use the separate Iridium Mail & Web app (right).
In addition to letting users stay in touch with the outside world, the Go can also be set to emit a GPS distress beacon that'll bring first responders to your location almost anywhere in the world.
Because Iridium assumes that the Go will be used in the sorts of environments where you might need the ability to send out an SOS, they designed the Go to be tough: it comes with an IP Code of 65. That means it's completely dustproof and it's water resistant enough to survive being dinged by a strong stream of liquid.
How it works
After using it for a few hours, I discovered that a device which I thought would be very James Bond was in fact, Johnny English. Almost nothing with the Go works quite the way you'd want it to.
On the plus side, text messaging via the Iridium Go app works pretty well: a message I sent was received and responded to in under 40 seconds. Not too shabby, considering the data was bounced back and forth from space. That said, Iridium caps message lengths at 1,000 characters.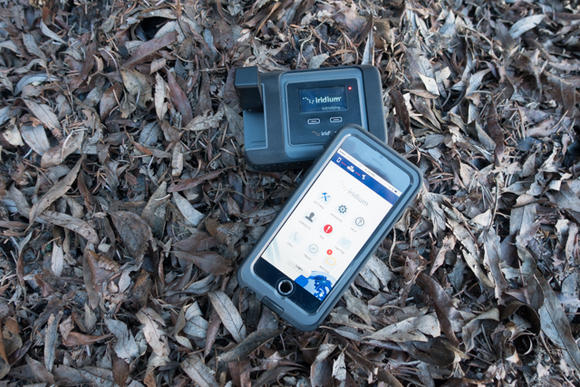 Now, let's talk about what made me want to beat this thing to death with a chair.
Making an audio call was a miserable experience. Unobstructed by mountains, trees or buildings, I tried to make several calls to the few people that will still talk to me. In each instance, despite the fact that the Go registered a strong signal, I experienced delays of a few seconds between when I would stop talking and the party on the other end of the line would hear what I had said. And once the message was received, the people I talked to reported that the audio was full of static and at times, broken. Given that I've successfully used other Iridium products in the past under nearly identical conditions without any of these issues, I'm hard pressed to blame this issue on the company's network.
The Iridium Go app also promises to deliver GPS-specific weather reports. But after five attempts to get the service to work for me, I surrendered.
I found the Go's handling of social media just as frustrating. Facebook posts can be made through a rudimentary portal in the Iridium Go app, but they're capped at 255 characters. Twitter posts are 140 characters in length, but I found that the Iridium Go app's interface sent my messages into the ether more often than not. Posting them à la 2008 via SMS was a lot more dependable. And while you can send and receive email through the Go, it's only by using an Iridium-specific email address. Should you ever cancel your service with the company, you'll lose access to your account.
Oh, and speaking of service, using an Iridium Go ain't cheap. 400 pre-paid data airtime minutes, which expire after 180 days will set you back close to $500. For individuals looking for a reliable communications lifeline to the outside world, that might be OK, were the Iridium Go actually reliable.
Bottom line
While the idea of being able to use your smartphone or tablet off the grid might be appealing, the Iridium Go, in practice, isn't as convenient or as reliable as using a dedicated satellite handset.